Latest:
Dans la série MDFDE/Éducation internationale :
Quand de jeunes lycéens français et pakistanais humanistes sont plus déterminés que certains adultes à défendre le droit à l'éducation des garçons et des filles à travers le monde… on ne peut que les encourager…. E.J.
Pakistan's Malala Yousafzai meets with Queen Elizabeth at palace
By Laura Smith-Spark, CNN October 18, 2013 — Updated 1431 GMT (2231 HKT)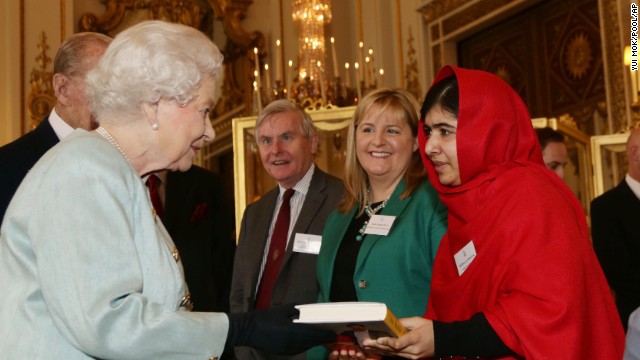 Malala gives a copy of her book to Britain's Queen Elizabeth II during a reception for youth, education and the commonwealth at Buckingham Palace in London on Friday, October 18.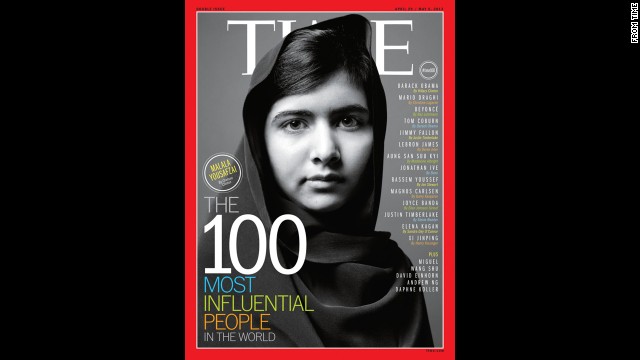 Malala was one of seven people featured on the cover of Time magazine's 100 most influential people edition in April. New threats by the Taliban surfaced on Monday, October 7. The Taliban have denied targeting her for promoting education for girls.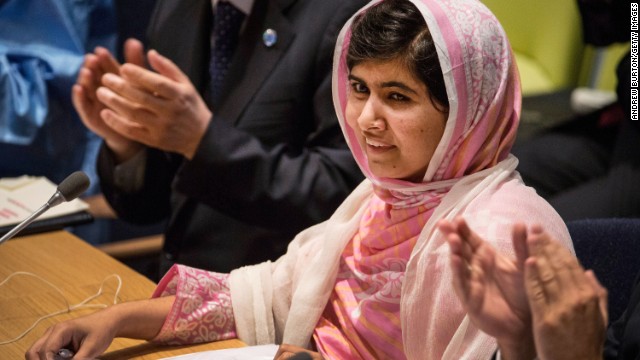 Malala is applauded before she speaks at the United Nations Youth Assembly in New York City on July 12, her 16th birthday. "They thought that the bullets would silence us, but they failed," she said. "And then, out of that silence, came thousands of voices."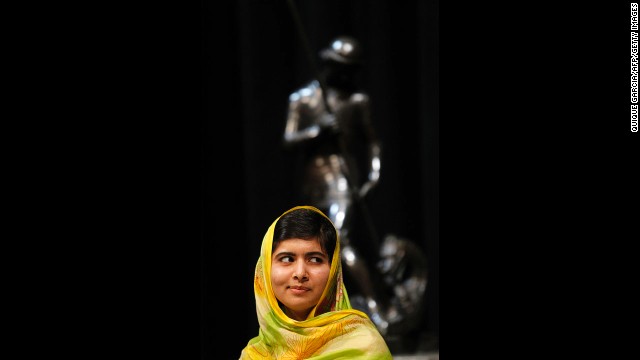 The teen receives the XXV International Prize of Catalonia award in Barcelona, Spain, on July 26. The prize recognizes those who have contributed to the development of cultural, scientific and human values around the world.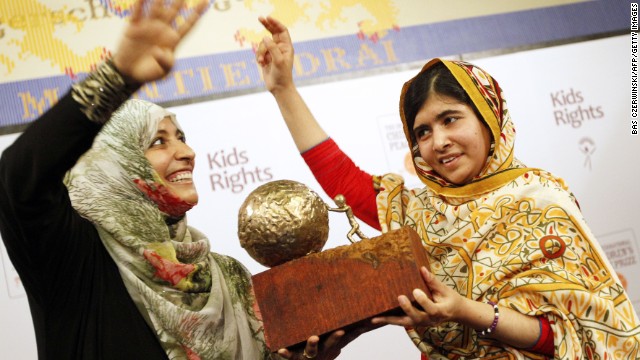 Malala receives a trophy from Yemeni civil rights activist and 2011 Nobel Peace Prize winner Tawakkul Karman after being honored with the International Children's Peace Prize in the Hague, Netherlands, on September 6.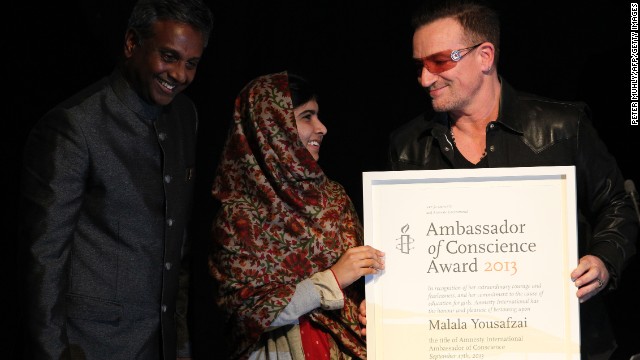 Musician Bono and Secretary General of Amnesty International Salil Shetty honor the teen with the Amnesty International Ambassador of Conscience Award for 2013 at the Manison House in Dublin, Ireland, on September 17. The award is Amnesty International's highest honor, recognizing individuals who have promoted and enhanced the cause of human rights.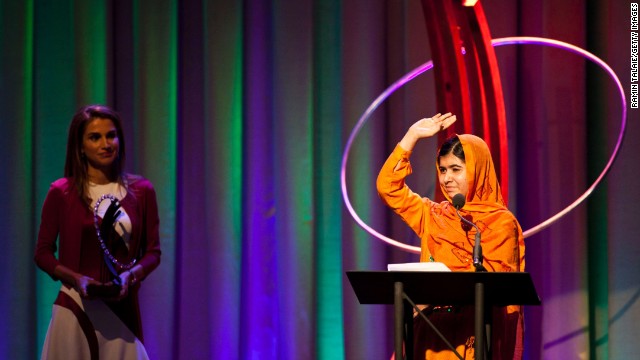 Queen of Jordan Rania Al Abdullah presents the Leadership in Civil Society award to Malala at the Clinton Global Citizen Award ceremony in New York City on September 25.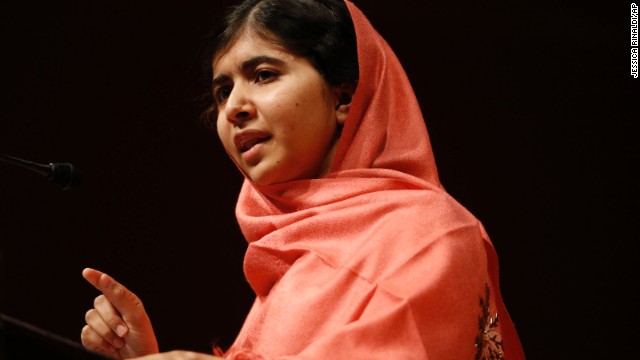 Malala addresses students and faculty of Harvard University in Cambridge, Massachusetts, after receiving the 2013 Peter J. Gomes Humanitarian Award on September 27.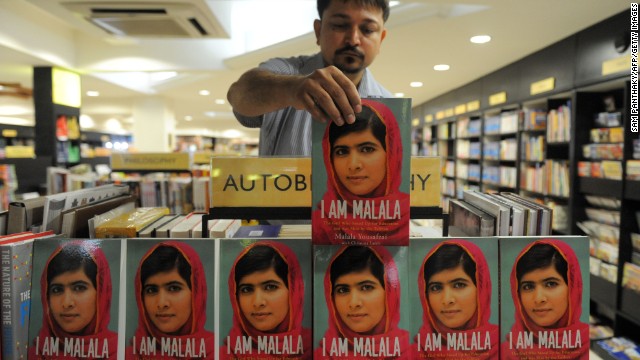 A man arranges Malala's memoir, 'I Am Malala' at a bookstore in Ahmedabad, India, on October 9. The book marks the anniversary of her shooting, it follows her journey from near-death to global fame.
Who cares where a child, an adolescent with difficulty comes from: should we now hold a minor child responsible if, indeed, his parents lied to the authorities? I think not. 
L'insertion, l'intégration au sein de la société française des minorités, des "étrangers" et ce qu'ils soient Roms, Italiens, Arméniens ou de toute autre nationalité ne peut se concrétiser que par la bonne éducation, le libre accès de leurs enfants dans nos écoles républicaines.   
Elisabeth Jenssen 
Protests After France Expels 2 Immigrant Students
Benoit Tessier/Reuters
High school students demonstrated in Paris on Thursday after the government deported two young immigrants.
By ALISSA J. RUBIN Published: October 17, 2013
PARIS — Shock over France's recent expulsion of a 19-year-old Armenian student and a 15-year-old Kosovar girl, whom the police took off a school bus so that she and her family could be sent back to Kosovo, gathered momentum on Thursday with protests by students condemning the deportations and calling for the resignation of the interior minister.
Related in Opinion

Hazir Reka/Reuters
Leonarda Dibrani, 15, speaking to reporters in Mitrovica, Kosovo.
The minister, Manuel Valls, a member of the Socialist government of President François Hollande, has been a strong proponent in particular of deporting the Roma. But Mr. Valls has also removed others who lacked proper immigration papers, a policy also followed by the previous government, which was led by the conservatives.
On Thursday, it appeared that the government was questioning Mr. Valls's judgment, at the least, in allowing the police to pull children out of school to be deported.
"If they stopped a school bus to seize a child in front of her classmates, then it's extremely shocking," said a government spokeswoman, Najat Vallaud-Belkacem, referring to the case of the Kosovar girl.
The racial politics surrounding the Roma minority in France shadowed the expulsion of the Kosovar girl, Leonarda Dibrani, who is also Roma, but not the case of the Armenian student, Khatchik Kachatryan. He was deported Saturday.
Many had expected the government of Mr. Hollande to adopt a less confrontational approach to France's troubles with the Roma than the previous government of Nicolas Sarkozy, but there have been few changes. The European Union has expressed dismay and threatened sanctions after reports of the deportations.
Most of the Roma, a minority of 20,000 in France, come from Bulgaria and Romania and live on the outskirts of cities, often in makeshift camps, and they sometimes travel from place to place. Some have been accused of running criminal gangs of young girls and children who prey on tourists, especially in Paris, Marseille and Lyons.
The Interior Ministry has begun an investigation into the case of Ms. Dibrani, who was expelled on Oct. 9. The findings were expected Friday, and the government has promised to annul the expulsion if irregularities are found.
Mr. Valls has been increasingly outspoken about the social difficulties that Roma immigrants pose. In September, his remark in a television interview that "the majority must be returned to the borders" set off a wave of criticism. In the interview, with BFM Television, he said that France was "not here to welcome these populations."
He said in another interview that "only a minority" of the Roma could be integrated into French society.
His candor, more than the government's expulsion policy, shocked many people. Polls showed that a majority of French people agreed with him that the Roma should be expelled, and Mr. Valls enjoys wide popularity.
Despite the pervasive image here of the Roma as petty criminals and pickpockets, it did not reflect the situation of Ms. Dibrani, who was forced to get off a school bus and into a police car in front of her classmates, leaving some thinking that she had committed a crime, her teachers said.
Ms. Dibrani had lived in France for nearly five years and spoke "perfect French," said her teachers, who wrote an open letter of protest over the incident that was posted online by the Network for Education Without Borders, a group that defends the right of immigrant children to study in France.
"We are profoundly shocked by the methods used to send back the children of the Roma minority to countries they do not know and where they cannot speak the language," wrote the teachers, from André Malraux Junior High School and Toussaint L'Ouverture High School in Levier, where Ms. Dibrani was a student.
Richard Moyon, a spokesman for the Network for Education Without Borders, said that his organization's work had sharply reduced the number of families with children in school who were expelled from the country. But such expulsions, he said, were "irresponsible" of the government because they could lead to a more severe policy on deportations if a more conservative government came to power.
A version of this article appears in print on October 18, 2013, on page A4 of the New York edition with the headline: Protests After France Expels 2 Immigrant Students.
Link: http://www.nytimes.com/2013/10/18/world/europe/protests-follow-frances-expulsion-of-two-minority-students.html?_r=0
18 octobre 2013
VU DES ÉTATS-UNIS •
La "colère française" contre les expulsions
Le quotidien international affiche à sa une la photo des lycéens français qui ont protesté, le 17 octobre, contre le rapatriement forcé de deux des leurs : Leonarda Dibrani, une Kosovare de 15 ans, et Khatchik Kachatry, un Arménien de 19 ans. "Le gouvernement [français] remet désormais en question sa propre politique", souligne le journal, qualifiant ces rassemblements de "colère française".
International New York Times indique que les manifestants réclamaient le départ du ministre de l'Intérieur, Manuel Valls, "grand partisan de l'expulsion des Roms". "Le gouvernement semble se poser des questions sur l'opportunité de la décision du ministre, au moins en ce qui concerne l'autorisation donnée aux policiers de retirer des enfants de l'école pour les expulser", constate le journal, qui fait observer que la politique envers les Roms "a très peu changé" depuis la présidence Hollande.
Lien : http://www.courrierinternational.com/une/2013/10/18/la-colere-francaise-contre-les-expulsions