Mr. Patrick BOURBON, Founder & CFA of Bourbon Financial Management, LLC (BFM) in Chicago, Illinois.    
"Discovery consists of seeing what everybody has seen and thinking what nobody has thought."
~ Nobel Laureate Albert Szent-Gyorg
« With a library and a foundation on the South Side of Chicago, not only will we be able to encourage and affect change locally, but what we can also do is attract the world to Chicago. »
- President Obama
http://www.francaisdeletranger.org/en/2015/08/02/mdfdeusa-congrats-thelma-golden-on-joining-the-obama-foundations-board-of-directors/
For Immediate Release:
Mr. Patrick BOURBON named Executive Director of Cultural Affairs MDFDE/Chicago and Head of Delegation #MDFDE/Paris-NYC16/Midwest.

Dear members MDFDE, dear Internet friends,
I am honored to announce the appointment of my dear friend Patrick BOURBON, as our new Executive Director of Cultural Affairs MDFDE/Chicago and Head of Delegation #MDFDE/Paris-NYC16/Midwest. In this capacity, Patrick will help us rally the French community, Francophones, Francophiles and fellow Americans of Illinois and the Midwest for their massive participation during the celebration of the 130th anniversary of the Statue of Liberty next year in New York City.
Patrick is a talented and dedicated investment professional, with a client-centered focus, who wishes to share his investment passion and experience.
Patrick grew up in the city of Toulouse in the south of France.
In 1996, Patrick took his early passion for finance to Paris, where he opened an investment club, and managed a portfolio of stocks and mutual funds in Euros. He graduated top of his class, earning his Master of Science in Engineering (EPF Ecole d'Ingenieurs). In the meantime, he discovered how the financial markets worked during internships at BNP Paribas in Chicago, JP Morgan in Paris, and Euronext/NYSE in London and Chicago. His early work experience in financial services impressed upon him the values of excellence and integrity.
In 1999, he relocated to Chicago to work again for Euronext/NYSE, and started to manage a second fund of funds (in U.S. Dollars this time). He also earned a Master of Science in Finance (Illinois Institute of Technology – graduated Beta Gamma Sigma).
In 2000, Patrick joined the prestigious equity team in Chicago at UBS Global Asset Management-Brinson Partners, which managed $600 billion, where he quickly rose in the ranks. He became the youngest associate investment analyst. Patrick began to develop a reputation for his expertise in equity research and portfolio management. While his education in engineering and finance has given him a solid foundation in financial analytics, it is his thorough understanding of the valuation and investment process and systems that truly set him apart.
After 15 years of helping friends with their investments, he created Bourbon Financial Management, and decided to bring his money management experience to help individuals and families live the life they want. His goal is to give you the best possible chance of having a successful and comfortable retirement. Being competent was no longer enough. He wanted meaning.
When one knows how dedicated Patrick and his TEAM BFM are at serving their clients. When one knows how Patrick always finds the time to help the French of Chicago despite his very busy schedule. Help the noble cause of our young Americans such as the South Shore Drill Team serving as their dynamic… Treasurer (see photo and comments of our First Lady Michelle Obama, born and raised in Chicago, below) after their performance at the second inaugural parade of President Barack Obama, born and partly raised in Honolulu, Hawaii, and adoptive son of Chicago…
France can surely be proud of her citizens living overseas, of all the French residing in Chicago and throughout the Midwest with whom our beautiful Mouvement des Français de l'Étranger (MDFDE) French & Francophones Abroad is truly excited to partner with so we can do great things together. Thank you and welcome aboard the MDFDE Patrick and the UFEC! The adventure has just begun… All united!
Yours faithfully,
Elisabeth Jenssen
http://www.francaisdeletranger.org/blog/mdfdeusa-mr-patrick-bourbon-nomme-directeur-executif-culturel-mdfdechicago/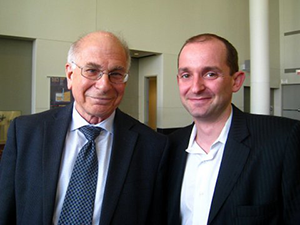 Dr. Daniel Kahneman, expert in decision-making, was awarded the Nobel Memorial Prize in Economic Sciences. He is the author of the best seller Thinking, Fast and Slow which is one of the best book Patrick has ever read.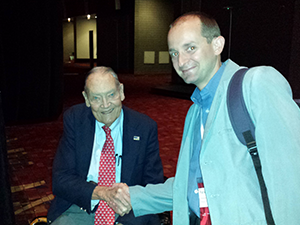 Jack Bogle, founder and retired CEO of The Vanguard Group, one of the largest mutual fund company in the world. He founded the first index mutual fund available to the public: the Vanguard 500 Index Fund.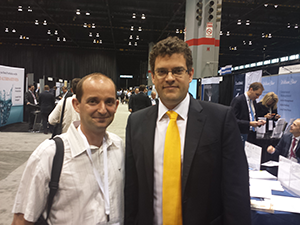 Dr. Michael Hasenstab, Chief Investment Officer, portfolio manager of Templeton Global Bond since 2001. He is one of the largest bond managers in the world (more than $200 billion in 2015). He also summited Mount Everest.
Patrick and France
Patrick is very engaged in Chicago's civic community, actively serving as chairman of Stuart Investments, member of the Board of Overseers of the Stuart School of Business at the Illinois Institute of Technology, and the treasurer of the South Shore Drill Team. In 2006, he was elected President of UFEC (www.bonjourchicago.jimdo.com).
In 2014, he was elected "Conseiller Consulaire" with the Consulate of France (www.francais-damerique-ensemble.org/chicago/). He also created the LinkedIn group http://tinyurl.com/BonjourChicago with more than 2,000 members with information to help the French expats in the USA. And co-founded the Comité des Associations Françaises et Francophones du Midwest (CAFFM), which has been organizing the very popular « Bastille Day Chicago » since 2010 (www.bastilledaychicago.org).
http://www.consulfrance-chicago.org/
Patrick and World Finance
Investment 101: Be Prepared
https://www.youtube.com/watch?v=FSU4Qqlt0q0
Mise en ligne le 19 juin 2011 Bourbon Financial Management, LLC
Patrick is the founder of Bourbon Financial Management and he is your personal Chief Financial Officer. He is knowledgeable in preserving and growing your wealth, as well as risk management, asset allocation, and mutual funds selection having relationships with more than 400 investment managers. His aspiration is to make sure that you have enough assets as long as you live so that you can enjoy a comfortable retirement at your chosen lifestyle.
Patrick's main goal is to give you the best tools possible to improve your financial decisions, given your risk tolerance. He provides knowledge and customized strategies in order to make effective diversified investments. He explains all possibilities, so that you can make better long-term decisions depending on your unique situation.
Patrick's passion for investments started in his early teens, after a visit of Paris stock exchange. At that time, he was given a $2 bill. From that point on, he became fascinated by currency management and he started to check its value in French Francs every week.
Patrick loves sports. For 10 years, he participated in ski and tennis competitions, winning more than 25 contests. He enjoys traveling and wine tastings (Pomerol is his favorite). So far, he's been to more than 30 countries and speaks English, French, and Spanish. He also studied Japanese, Russian and Greek.
To contact Patrick BOURBON :
Bourbon Financial Management, LLC
Excellence ~ Expertise ~ Ethics
616 W. Fulton St., Suite 411
Chicago, IL 60661
+1 312-909-6539 ~
http://www.fr.bourbonfm.com/notre-%C3%A9quipe
Member of the Financial Planning Association and Academic Affiliate of the National Association of Personal Financial Advisors
*****************
Patrick and the French of Chicago
President Barack Obama and First Lady Michelle Obama walking in the inaugural parade following the public inauguration at the United States Capitol building (January 21, 2013).
« The impressive talents of the South Shore Drill Team truly captured the spirit of the occasion, and delighted our European guests. Thank you for helping us set the tone for the event. "
– First Lady Michelle Obama
The South Shore Drill Team of Chicago perform during President Barack Obama's inaugural parade in Washington, Monday, Jan. 21, 2013, following the president's ceremonial swearing-in ceremony during the 57th Presidential Inauguration. ( AP Photo/Jose Luis Magana)
South Shore Drill team, Illinois float step off early in Presidential Inaugural Parade
http://www.southshoredrillteam.org/
Escapade à la campagne ! Juillet 2015

Bastille Day Chicago 2015