Get up close and personal with Lady Liberty in MoMA and Milan.
https://epeak.info/2017/05/10/get-up-close-and-personal-with-lady-liberty-in-moma-and-milan/
Latest:
http://heavy.com/news/2017/06/obama-paris-climate-agreement-withdrawal-statement-trump/
Dear members MDFDE, my fellow Americans,
Seriously? Our United States of America Withdrawing from Paris climate deal? Could it be?
As we all know, the Paris Agreement was adopted on 12 December 2015 at the twenty-first session of the Conference of the Parties to the United Nations Framework Convention on Climate Change held in Paris from 30 November to 13 December 2015. http://unfccc.int/paris_agreement/items/9444.php
There is simply no room, no way for some fool to renegociate while gorging on chocolate cake!
Let's NOT be discouraged! Let's NOT be divided! Let's all defend Liberty "à la" BARTHOLDI!
As usual, CALIFORNIA, NEW YORK and WASHINGTON STATE did not wait a second to step up to the plate!
Here is how three BRAVE Governors – three 21st Century Musketeers – echoing President Obama, immediately showed the World what REAL LEADERSHIP is all about!
Hang tough Everyone! We Shall. We Will. Overcome. Adversity! All United! Long Live the United States Climate Alliance!
Yours faithfully,
Elisabeth Jenssen
#RESIS
TANCE
#PARIS
AGREEMENT
#
U.S.CLIMATE
ALLIANCE

| | |
| --- | --- |
| FOR IMMEDIATE RELEASE: | Contact: Governor's Press Office |
| Thursday, June 1, 2017 | (916) 445-4571 |
CA Governor Brown, NY Governor Cuomo and WA Governor Inslee Announce Formation of U.S. Climate Alliance
Brown, Cuomo and Inslee Will Serve as Co-Chairs, Urge Other States to Join Alliance
SACRAMENTO – In response to President Donald Trump's decision to withdraw from the Paris Climate Agreement, California Governor Edmund G. Brown Jr., New York Governor Andrew Cuomo and Washington State Governor Jay Inslee today announced the formation of the United States Climate Alliance, a coalition that will convene U.S. states committed to upholding the Paris Climate Agreement and taking aggressive action on climate change.
"The President has already said climate change is a hoax, which is the exact opposite of virtually all scientific and worldwide opinion," said Governor Brown. "I don't believe fighting reality is a good strategy – not for America, not for anybody. If the President is going to be AWOL in this profoundly important human endeavor, then California and other states will step up."
California, New York and Washington, representing over one-fifth of U.S. Gross Domestic Product, are committed to achieving the U.S. goal of reducing emissions 26-28 percent from 2005 levels and meeting or exceeding the targets of the federal Clean Power Plan.
"The White House's reckless decision to withdraw from the Paris Climate Agreement has devastating repercussions not only for the United States, but for our planet. This administration is abdicating its leadership and taking a backseat to other countries in the global fight against climate change," said Governor Cuomo. "New York State is committed to meeting the standards set forth in the Paris Accord regardless of Washington's irresponsible actions. We will not ignore the science and reality of climate change which is why I am also signing an Executive Order confirming New York's leadership role in protecting our citizens, our environment, and our planet."
"I am proud to stand with other governors as we make sure that the inaction in D.C. is met by an equal force of action from the states," said Governor Inslee. "Today's announcement by the president leaves the full responsibility of climate action on states and cities throughout our nation. While the president's actions are a shameful rebuke to the work needed to protect our planet for our children and grandchildren, states have been and will continue to step up."
Together, California, New York and Washington represent approximately 68 million people – nearly one-in-five Americans – and the states account for at least 10 percent of greenhouse gas emissions in the United States. California will continue to work closely together with other states  to help fill the void left by the federal government.
With input from all participants, the U.S. Climate Alliance will also act as a forum to sustain and strengthen existing climate programs, promote the sharing of information and best practices, and implement new programs to reduce carbon emissions from all sectors of the economy.
California's Leadership on Climate Change
Today's announcement complements the Under2 Coalition – an international pact among cities, states and countries to limit the increase in global average temperature to below 2 degrees Celsius, the level of potentially catastrophic consequences – formed in 2015 by California and Baden-Württemberg, Germany in the lead up to COP21. The growing coalition now includes 170 jurisdictions on six continents that collectively represent more than 1.18 billion people and $27.5 trillion GDP – equivalent to 16 percent of the global population and 37 percent of the global economy.
Eighteen U.S. jurisdictions, including climate alliance co-chairs New York and Washington State, have joined the Under2 Coalition, representing 89 million people and 28 percent of the U.S. population. The Governor's upcoming trip to China includes meetings in Sichuan and Jiangsu, the first Chinese provinces to join the Under2 Coalition.
Building on the global momentum to combat climate change and continuing California's leading role in broadening collaboration amongst subnational leaders, Governor Brown will travel to China tomorrow to strengthen California's long-standing climate, clean energy and economic ties with the nation. The Governor will also attend the 2017 United Nations Climate Change Conference (COP23) in Bonn, Germany to represent subnational jurisdictions that remain committed to climate action.
Earlier today, Governor Brown issued a statement reaffirming California's ongoing commitment to aggressive action on climate change and last month called on the administration to keep the United States in the Paris Climate Agreement.
California, the sixth-largest economy in the world, has advanced its nation-leading climate goals while also growing the economy. In the last seven years, California has created 2.3 million new jobs – outpacing most of the United States – cut its unemployment rate in half, eliminated a $27 billion budget deficit and has seen its credit rating rise to the highest level in more than a decade.
In March, Governor Brown reaffirmed California's commitment to exceed the targets of the Clean Power Plan and the state's efforts to curb carbon pollution, which include establishing the most ambitious greenhouse gas emission reduction targets in North America and the nation's toughest restrictions on destructive super pollutants. The Governor has also signed legislation that directs cap-and-trade funds to greenhouse gas reducing programs which benefit disadvantaged communities, support clean transportation and protect natural ecosystems.
This action builds on landmark legislation the Governor signed in October 2015 to generate half of the state's electricity from renewable sources by 2030 and double the rate of energy efficiency savings in California buildings. Governor Brown has also committed to reducing today's petroleum use in cars and trucks by up to 50 percent within the next 15 years; make heating fuels cleaner; and manage farm and rangelands, forests and wetlands so they can store carbon.
The Governor has traveled to the United Nations headquarters in New York, the Vatican in Italy and the Climate Summit of the Americas in Toronto, Canada to call on other leaders to join California in the fight against climate change. These efforts build on a number of other international climate change agreements with leaders from the Czech Republic, the Netherlands, Mexico, China, North America, Japan, Israel, Peru, Chile, Australia ,Scotland and Sweden and Governor Brown's efforts to gather hundreds of world-renowned researchers and scientists around a groundbreaking call to action – called the consensus statement – which translates key scientific climate findings from disparate fields into one unified document.
###
Governor Edmund G. Brown Jr.
State Capitol Building
Sacramento, CA 95814
http://cert1.mail-west.com/nmc7rm8Gyj8T/Ggtmyuzja/418/12aoam4qk/zwy/qk418Gqvnq8Gd/wndftyy7/8ggwqi?_c=d|ze7pzanwmhlzgt|14xd7llgsqajtt8&_ce=1496352028.84238a643a3a483c0e3280af557058b1
From ancient Arles (800 BC) to The Statue of Liberty (1886) at Liberty Island, New York… We must also protect our world landmarks! E.J.
Operation Condor and the Statue of Liberty: two photography exhibits in Arles address freedom and repression
By Liz Chilsen, Tuesday at 9:17 pm
One day last summer at 'Les Rencontres de la Photographie' (The Arles Photography Festival), I saw two exhibits that in retrospect seem a dark premonition of today's political 'scape. Even their location, in a museum dedicated to fallen Roman rule seems prescient.
The shows were both presented at the 'Musée départemental Arles Antique', Arles' Archaeology Museum. I've written about a previous visit to this striking place, and late one morning, I stepped out of the simmering Provencal sun into the Museum's chilly expanse.
I'd come to see the show on the ground floor "Operation Condor". Upstairs was a historical exhibit tracing the development and creation of the Statue of Liberty which I didn't plan to see. She seemed settled history; what new could be learned there? In any case, I only had a few days in Arles; with scads of work to take in, "Lady Liberty" wasn't a top priority. In retrospect, Liberty had a lot to say, and the pairing of the two exhibits was unexpectedly resonant.
"Operation Condor" presented the passionate work of Portuguese artist Joao Pina, who spent 10 years documenting its complexities. I went to see the show almost the way you might check in on an old acquaintance. Having spent time in the 1980's heading a non-profit that promoted peace through people-to-people 'citizen diplomacy' during Nicaragua's Contra war, I'd learned some about Latin American dictatorships and U.S. intervention. Operation Condor was notorious. A coordinated anti-communist program conducted against citizens by governments of six South American countries with support of the CIA. Tens of thousands of people were tortured and killed.
The installation was extremely dark. Life-sized, full-body mug shots of exiles lined the entrance walls. There were portraits; survivors of torture and imprisonment accompanied by stories of what they'd risen above in order to continue living. There were photographs of torture chambers, sites of mass death, and unmarked graves. Unspeakable pain.
Pina's doggedness is evidenced in one photograph in particular. A plane mounted on a pole, angled above a lumberyard. He'd tracked it down. This plane was used by the Argentine security forces to transport tortured humans, living bodies they pushed out over the jungle or into the sea. Disappeared. Pina includes a photograph of the sea. Meditations on the depths to which some descend.
The exhibit followed a rough timeline – presenting near the end photographs from the trials of government and military leaders responsible for the torment. Years after perpetrating these crimes against humanity, they are sentenced, finally, to prison.
The show was an inspiring testament to survival and courage. What struck me was the life this history still held. How people keep going. It had seemed to me settled and in the past, but Pina's message is that life goes on. The past keeps living in the present, and in the future of these people.
Diogenes Moura who curated the show describes the photographs as "outcries frozen in time". Joao Pina's "Operation Condor" unfreezes these stories into the present day.
On an impulse I decided to take a look at the show upstairs after all. "Lady Liberty" surprised me – bright expressions of shared optimism for enlightened democracy, paired against the dark repression and fear in the show below. Each of these exhibits, drawing in its way on humanity's capacity for greatness and compassion – but from such opposite directions.
"Lady Liberty: the Photographic Making of an Icon" was curated by Luce Lebart and Sam Stourdze, the latter in his second year as director of the Rencontres. He's put a mark on the festival that takes on big ideas, and the pairing of these two shows was brilliant.
There were many discoveries for me in the Liberty show. I'd not been aware of the numerous iterations she'd gone through, nor of sculptor Auguste Bartholdi's obsession with bringing her to the world stage.
More: http://www.chicagonow.com/neighborland/2017/05/statue-of-liberty-operation-condor-photography-exhibits-arles-freedom-repressionm/#image/1
https://www.francaisdeletranger.org/blog/mdfdefrancearles-kudos-a-luce-lebart-sam-stourdze-pour-leur-expo-lady-liberty-mdfdejesuisladyliberty130-nps100/
How Do You Save the Statue of Liberty From Drowning?
Lady Liberty is a towering symbol of our national vulnerability to the changing planet.
by Patrick Clark
How do you save a 225-ton statue standing on a small island in New York Harbor from rising tides? First, you call someone like Jerry Matyiko of Expert House Movers Inc. of Maryland. He won't hesitate when faced with the question of how to save the Statue of Liberty.
Forget about a barge, he said. The monument's massive foundation and heavy stone pedestal would make it impractical to drag the structure away from Liberty Island. "We're not going to move her," Matyiko suggested, "we're just going to jack her up on stilts and put her on a rotisserie, so New Jersey can stop bitching that she doesn't face them."
He's one of the few with experience in monument relocation. The National Park Service called on him to solve a similarly complicated problem in the 1990s, when erosion threatened to drop a brick lighthouse at Cape Hatteras, N.C., into the Atlantic Ocean. The 4,800-ton landmark needed to be whisked away from the shore.
Matyiko worked with Joe Jakubik, a project manager at International Chimney Corp. in Buffalo, to devise a solution. The movers dug under the lighthouse, shifting its weight from the original granite foundation to a timber shoring system. Then they jacked the lighthouse onto rollers, taking care to make sure that gravity didn't tear the brittle beacon apart. It took 30 days to roll the lighthouse to its new foundation, located a half-mile inland.
"You don't set land speed records with lighthouses," said Jakubik.
There'll be plenty of demand in the years ahead for those with experience moving or protecting vulnerable coastal structures. Sea level rise could force millions of Americans to move from seaside communities by the end of the century, washing away hundreds of billions of dollars in real estate value. Cultural landmarks are similarly unprotected. More than $40 billion in National Park assets are located along coasts deemed "high exposure" risks, according to a 2015 survey published by the agency.    
Lighthouses look easy compared with, say, a torch-bearing icon recognizable to almost everyone on the planet. So what should we do when the waters come for the Statue of Liberty?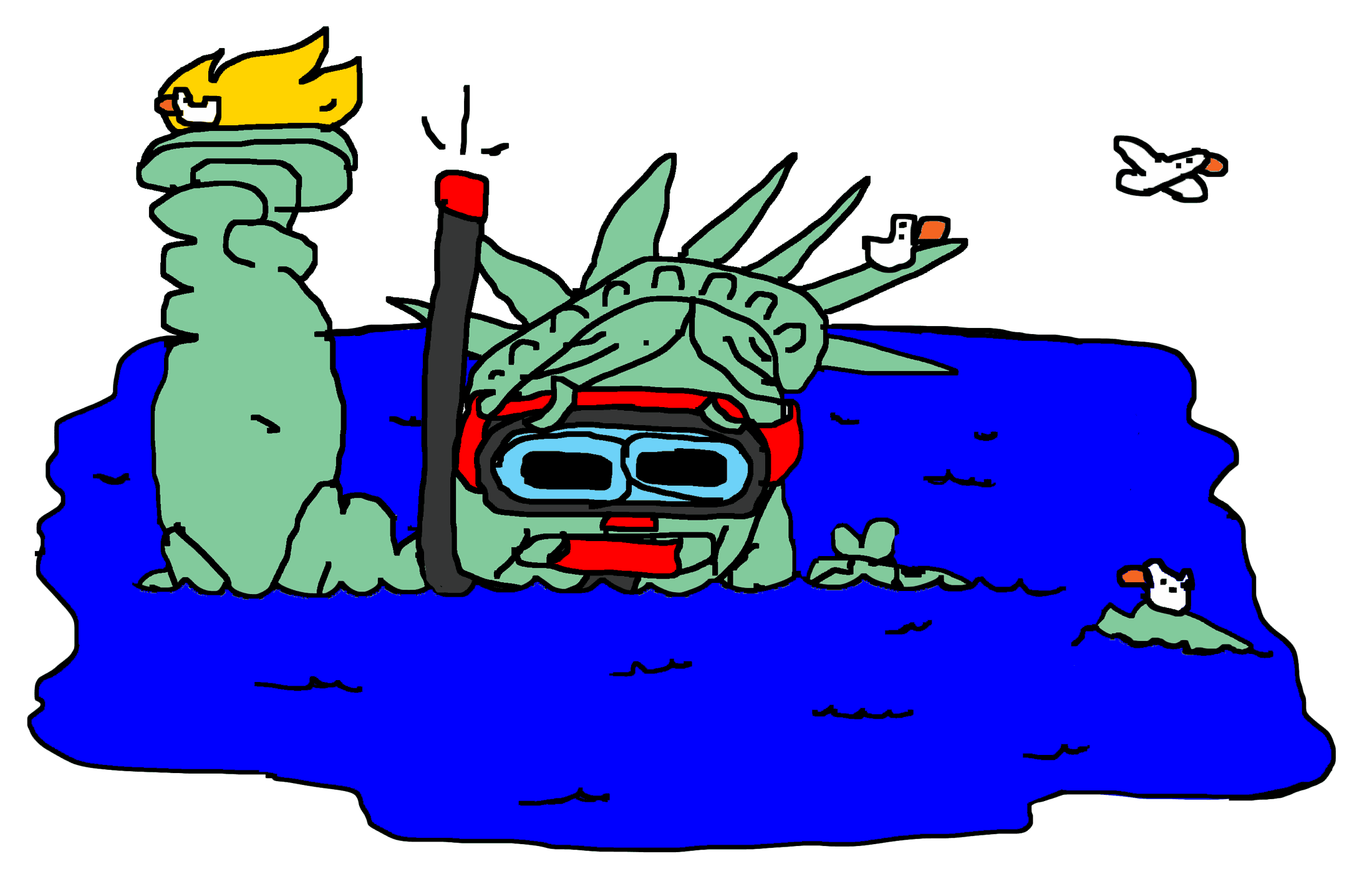 The Statue of Liberty was fabricated in the late 19th century out of copper panels, each about the thickness of two pennies, fastened together and attached to an iron skeleton. The 150-foot monument stands atop an 89-foot stone pedestal, which in turn rests on a 65-foot foundation.
In her current position, with her toes about 154 feet above the waterline, Lady Liberty is better protected than many of her human neighbors. In one extreme scenario posited by the website Climate Central, melting ice sheets in Antarctica would cause sea levels to rise roughly 12 feet by 2100. That would be enough to produce average high tides 2 feet above the flood level caused by Hurricane Sandy, which swamped Liberty Island and destroyed its electrical systems.
If rising sea levels or increasingly violent storms were to one day trouble the base of the statue, New York Harbor will be facing plenty of other problems—including how to protect Manhattan's million-plus residents and billions in real estate value. The city's efforts to protect itself could even produce barriers that protect the harbor, although such a sea wall would be expensive to build.
More: https://www.bloomberg.com/news/features/2017-05-24/saving-the-statue-of-liberty-from-climate-change