« No hate, no fear, immigrants are welcome here! »
As of February 9, 2017, the MDFDE is very proud to announce that, thanks to our
9th Circuit Court, our Golden State of California is NOT and NEVER will be a
Banana Republic! So « Welcome to the United States of America » and Have a
GREAT DAY Everyone! E.J.
9th Circuit rules against reinstating travel ban
By
Ariane de Vogue
and
Laura Jarrett
, CNN Updated 0339 GMT (1139 HKT) February 10, 2017  
(CNN) President Donald Trump's travel ban will remain blocked, a federal appeals court ruled Thursday.
The unanimous ruling from a three-judge panel means that citizens of seven majority-Muslim countries will continue to be able to travel to the US, despite Trump's executive order last month.
Full text: 9th Circuit rules against reinstating travel ban
It is a significant political setback to Trump's new administration and raises questions about how the courts will view his apparent vision for an expansive use of executive power from the Oval Office on which he is anchoring the early weeks of his presidency.
More: http://edition.cnn.com/2017/02/09/politics/travel-ban-9th-circuit-ruling-immigration/index.html
BREAKING NEWS
An appeals court has rejected the Trump administration's request to immediately reinstate its immigration order
Sunday, February 5, 2017 5:21 AM EST
A federal appeals court early Sunday rejected a request by the Justice Department to immediately restore President Trump's targeted travel ban, deepening a legal showdown over his authority to tighten the nation's borders in the name of protecting Americans from terrorism.
More: https://www.nytimes.com/2017/02/04/us/politics/visa-ban-trump-judge-james-robart.html?emc=edit_na_20170205&nl=breaking-news&nlid=67022749&ref=cta
US Travel Ban Suspended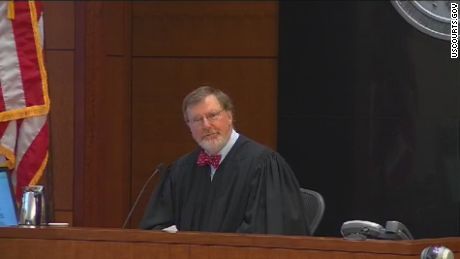 Décret Trump sur l'immigration: les Français des USA doivent-ils le craindre ?
"Ça part dans tous les sens". Il n'y a pas que dans les aéroports américains et internationaux que le décret de Donald Trump sur l'immigration a semé le trouble. Dans les cabinets d'avocats d'immigration comme celui de Florian Dauny, aussi.
Cet avocat français basé à Miami, comme d'autres à travers le pays, se retrouve en première ligne pour répondre aux questions de demandeurs ou de titulaires de visas ou de cartes vertes inquiets de ne pas pouvoir arriver ou revenir aux Etats-Unis. Et pour l'heure, compte-tenu des changements presque quotidiens survenus depuis la signature du décret, vendredi soir, difficile d'apporter des réponses définitives.
Une chose est sûre, cependant: "le décret ne concerne pas les Français à moins qu'ils aient une double nationalité avec l'un des sept pays" visés par la suspension de 90 jours d'entrée sur le territoire américain (Yemen, Irak, Iran, Syrie, Soudan, Somalie, Libye), rappelle l'avocat.
"Il n'y a pas d'inquiétude à avoir pour les Français qui ne partagent pas leur nationalité avec l'un de ces sept pays", renchérit Julie Leiba Gharagouzloo, fondatrice du cabinet JLG Immigration à Boston. Aux binationaux français dont la seconde nationalité est visée par le décret, elle conseille de présenter leur passeport français lors de leur arrivée à la frontière. "S'ils ont eu leur visa en tant que Français, ils devraient pouvoir passer sans problème". Même chose pour les titulaires d'une carte verte.
Mais, cautionne-t-elle, la confusion est telle parmi le personnel d'immigration aux frontières, que les conditions d'admission sur le territoire peuvent varier d'un point d'entrée à un autre. Selon elle, l'aéroport international Logan à Boston serait l'un des plus sûrs en raison de la décision, dimanche matin, d'un juge fédéral de Boston interdisant les expulsions et la mise en détention d'immigrés en situation régulière. Bémol: cette décision ne vaut que pour sept jours.
"Etre précautionneux"
"Plus que jamais, je conseille à tous les immigrés aux Etats-Unis de respecter leur statut car il y a un raffermissement de la politique d'immigration. Pour les touristes, il est important de ne pas travailler ou d'accepter une activité qui créé de la valeur. Les étudiants aussi ne peuvent pas travailler à moins d'avoir une autorisation spécifique, poursuit l'avocate. Les gens se laissent prendre au piège. Il faut être précautionneux".
Basée à New York, Sophie Raven recommande, elle, à ses clients ayant une bi-nationalité issue de l'un des sept pays visés de ne pas quitter le territoire pour la durée du décret, soit 90 jours. Les autres aussi doivent s'attendre à des changements. "Les demandes de visas vont être plus scrutées, surtout quand elles émanent de musulmans ou de personnes avec des noms musulmans. Cela ne veut pas dire que les visas seront refusés", avance-t-elle.
L'avocate dit avoir été contactée par des Français inquiets de la possibilité de voir s'arrêter le programme d'exemption de visa. D'autres, des francophones libanais, se demandent si le Liban sera ajouté à la liste des pays interdits. "Je peux seulement répondre que la situation est mouvante. Je ne veux pas parler au conditionnel pour ne pas faire plus peur que nécessaire", poursuit maître Raven.
L'administration Trump a, en tout cas, signalé son intention de réviser certains programmes de visas, comme le H-1B, pris pour cible par Donald Trump pendant la campagne.
"Pour ceux qui envisagent de faire une demande de H-1B, on ne sait pas pour le moment à quelle sauce ils vont être mangés. Je ne pense pas qu'il y aura de changement radical, mais il se peut que les détails soient modifiés. Les détails peuvent avoir leur importance, souligne Florian Dauny. Des postes clés de l'administration sont occupés par des gens qui sont anti-immigration depuis longtemps. Il faut bien comprendre que les choses vont changer, mais on ne sait pas dans quel sens pour le moment".
Lien : https://frenchmorning.com/decret-trump-limmigration-francais-usa-doivent-savoir/
  Me Sophie RAVEN, New York City, U.S.A.  
Si vous souhaitez solliciter les conseils de Me Sophie RAVEN, Directrice Exécutive juridique MDFDE/NYC, Experte en Immigration pour les 50 États des USA, et Chair de notre Conférence 2016 #MDFDEJeSuisLadyLiberty130 (voir vidéo ci-dessous) à la New York Law School :
The Law Office of Sophie Raven
17 State Street, 40ème étage
New York NY 10004
Téléphone : (646) 481.6832
http://www.ravenimmigration.com/french/about.html
http://www.ravenimmigration.com/french/services.html
https://www.linkedin.com/pub/sophie-raven/4/730/384
http://www.safepassageproject.org/
http://www.francaisdeletranger.org/en/2015/01/27/mdfdeusa-immigration-attorney-sophie-raven-named-director-of-legal-affairs-mdfdeusa-nyc/
http://www.francaisdeletranger.org/blog/mdfdeusa-me-sophie-raven-nommee-directrice-juridique-mdfdeusa-nyc/
Liens + Vidéo de notre Conférence #MDFDEJeSuisLadyLiberty130 du mercredi 26 octobre 2016 à la New York Law School :
http://www.francaisdeletranger.org/en/2016/10/21/mdfdeusa-invitation-to-attend-our-mdfde-intl-conference-at-the-new-york-law-school-mdfdejesuisladyliberty130-nps100/
http://nyls.mediasite.com/mediasite/Catalog/catalogs/nyls-immigration-and-business-law-panel
 *****************
The only Libyan refugee who made it into the US last year
  By
Paul P. Murphy
, CNN; Video by
Samantha Guff
, CNN Updated 1732 GMT (0132 HKT) February 3, 2017  
« I don't want to say refugee, I want to say new American »
Jetlagged and jittery, Hass walks through the arrivals door at John F. Kennedy International Airport — eyes darting left and right, scanning the sea of strange faces in front of him.
He spots someone: A woman from Catholic Charities jumping up and down to catch his attention. She holds a sign, a big one.
« Welcome to New York, » it says.
Hass sighs in relief. After more than two years — two years of bouncing from place to place, of hiding his true self — he has finally arrived in a place he can call home.
A company of one
In the fiscal year ending 2016, the US admitted 84,995 refugees, all from different walks of life and different parts of the world. The only thing they had in common was that they were all fleeing. Poverty. Persecution. War. Most came from the Democratic Republic of the Congo, Syria and Myanmar.
Hass was the only one admitted to America from Libya.
That's a bittersweet realization for him.
In the shadow of Lady Liberty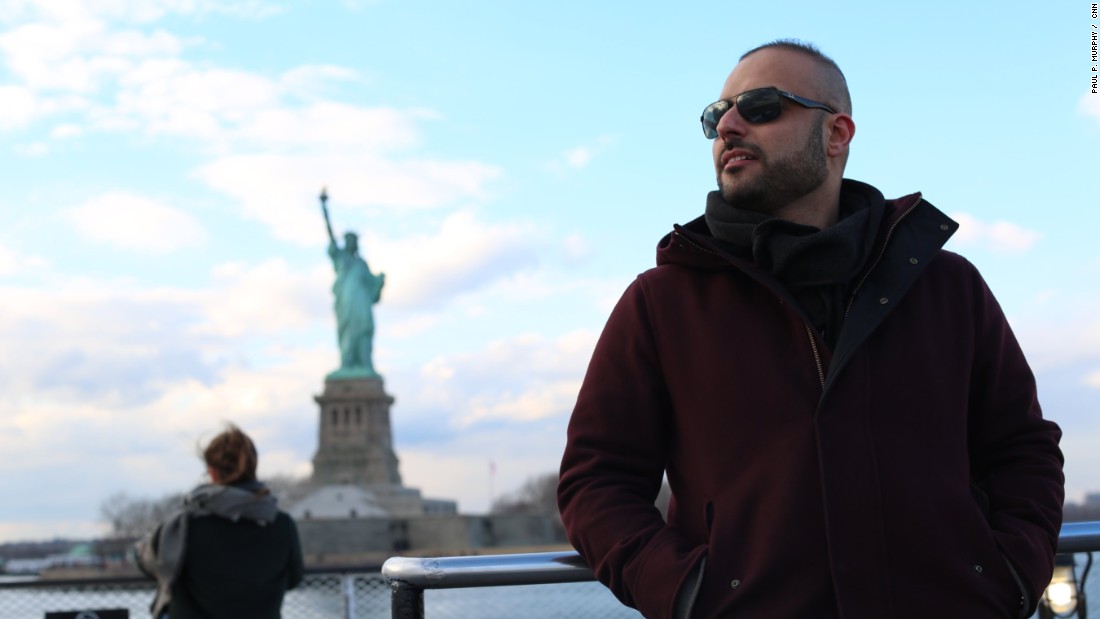 He spoke to CNN from the house that once belonged to poet Emma Lazarus. Her sonnet, « The New Colossus, » is inscribed on a plaque on the Statue of Liberty.
« Until I got here, I didn't know who lived here. It makes me feel like I live inside the Statue of Liberty, » he said. « I cannot imagine me starting a life in any place else better than this. »
He's certain that's the same for every other refugee — the « homeless, tempest-tost, » as Lazarus put it.
More/Video: http://edition.cnn.com/2017/02/03/us/libyan-refugee-hass-trnd/index.html