Sarah Wolfgang has come up with the perfect idea for a coffee shop. And guess what? It includes dogs. Her vision for
The Dog Cafe
combines good coffee, fun pups, and the chance to adopt the dog of your dreams.
http://barkpost.com/indiegogo-dog-cafe/
The​ Dog Cafe
America's first Dog Cafe is now open in Los Angeles!
Visit. Play. Join the movement to revolutionize dog adoption.
SOFT OPENING HOURS:
11am-7pm
(Last Entry at 6:10pm)
wednesday-sunday
Grand Opening: April 7!
240 N. Virgil Ave (Unit 13)  
Los Angeles, CA 90004
Where Virgil Ave., Silver Lake Blvd., and Temple St. meet. 
(213) 810-2872
If you love dogs, The Dog Cafe is about to become your new favorite joint. Play with pups as you grab your coffee fix, or catch up with friends over lattes, snuggling lap dogs. And if you fall in love with one? You're in luck – all dogs are rescues looking for their forever homes.
The Dog Cafe's mission is to revolutionize dog adoption by reinventing the way people connect with rescues who need homes. The Dog Cafe offers a comfortable and fun space for humans and dogs to hang out with each other, away from overcrowded shelters, which can provoke fear and aggression in perfectly adoptable pups. In addition to helping worthy pups find homes, we also offer the opportunity for people unable to have pets of their own to spend quality time with furry friends (and vice versa) without the commitment of adoption.
Lend a helping hand! We are currently accepting contributions to fund medical expenses for our rescue dogs.
Please note, your contributions are not tax-deductible.
 ****************************
There's a dog cafe in Silver Lake where you can play with dogs and drink coffee

If you're looking to spend an afternoon with coffee and cute canines, there's a new cafe in Silver Lake designed to help you do just that. It's called the Dog Cafe, and its owner is billing it as the first such cafe in the U.S.
The idea is to create a new way for people to adopt shelter dogs. Beginning April 7, customers will be able to buy a coffee or tea drink, then sit in an adjacent dog lounge area, where they can play with dogs from a nearby shelter. All of the dogs in the lounge are up for adoption.
Sarah Wolfgang, the cafe's founder and owner, said she was inspired by the animal cafes found in South Korea, but notes that the dogs in those cafes came from puppy mills.
Her Dog Cafe focuses on "rescuing dogs who have been at the shelter the longest due to health or behavioral issues and are at the highest risk of being euthanized," according to the cafe's website.
The coffee shop portion of the cafe features drinks made with products from Grounds & Hounds Coffee Co. and Dogs Drink Coffee (both donate a portion of their proceeds to animals in need): pour-over coffee, teas, lattes, a mocha latte made with carob instead of chocolate and flavored lemonades. Due to the proximity to dogs, there will not be any food served at the cafe.
There will also be a retail area with dog merchandise.
Admission to the dog lounge is $10 per person for a 55-minute block of time. You can make a reservation and find a full list of available dogs for adoption on the cafe's website.
The Dog Cafe lounge and coffee shop is scheduled to be open Tuesday to Sunday from 11 a.m. to 7 p.m.
240 N. Virgil Ave. (Unit 12), Los Angeles, (213) 810-2872, www.thedogcafela.com.
Link: http://www.latimes.com/food/dailydish/la-dd-dog-cafe-coffee-shop-silver-lake-20160327-story.html
Lattes With A Side Of Cuddles: Lessons From "America's First Dog Cafe"
How America's first "pup up" cafe, which allows patrons to meet potential pets for adoption, fared in Los Angeles.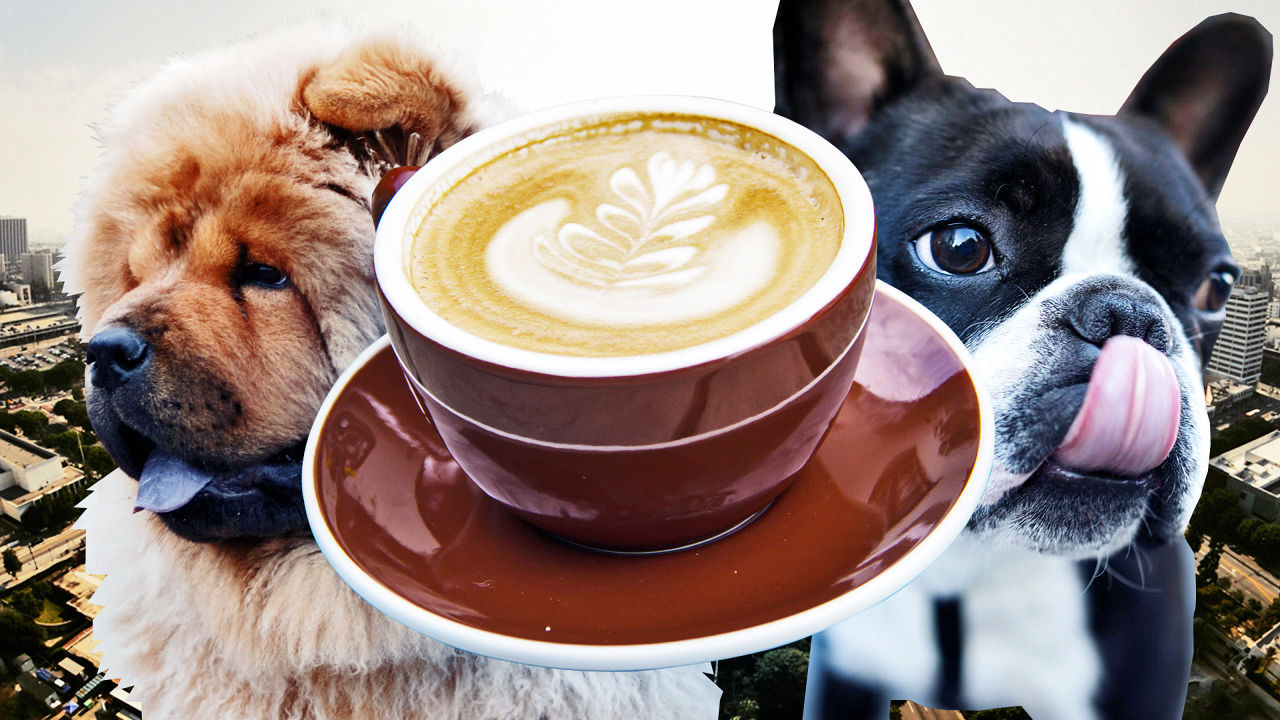 [Base Images: Boston Terrier: Flickr user
Christopher Michel
, Chow Chow: Flickr user
Olga Filonenko
, Coffee: Flickr user
Susanne Nilsson
, Los Angeles: Flickr user
Terminals & Gates
; Cafe Photos: Neal Ungerleider for Fast Company]  
More: http://www.fastcompany.com/3041161/lattes-with-a-side-of-cuddles-lessons-from-americas-first-dog-cafe
https://www.chien.fr/actualite/dans-ce-cafe-de-los-angeles-vous-pouvez-prendre-votre-espresso-et-adopter-un-chien-video/