#EURO2016
Love You PORTUGAL But FRANCE MUST AND WILL WIN! BIG TIME!
So Let's Hear It For France And The 130 ANGELS We Lost in Paris on Nov 13, 2015!
We've got to make their families, friends and the survivors smile!
TO VICTORY ON SUNDAY IN THE NAME OF LIBERTY! E.J.
France stuns Germany to make Euro 2016 final
By James Masters, CNN Updated 2142 GMT (0542 HKT) July 7, 2016
(CNN) It'll be a party in Paris — and France will be there.
As it did in 1984 and again in 1998, France reached the final of a home football tournament after stunning world champion Germany 2-0 in Marseille Thursday.
Antoine Griezmann, one of the outstanding players of the past season, scored both goals to set up a final clash with Cristiano Ronaldo and his Portugal team at Stade de France on Sunday.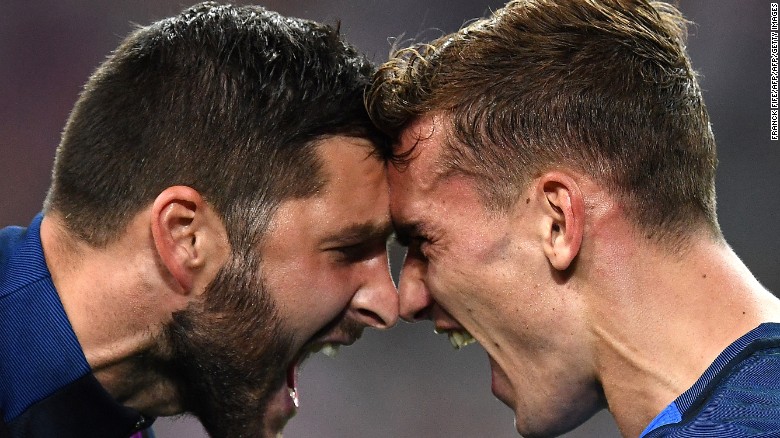 Griezmann celebrates with Andre-Pierre Gignac after sending France through to the final.
For France, a nation which has endured a turbulent year in the wake of the Paris attacks, much of the focus has been on events off the field of play.
But on a night of high tension it was the country's footballers who did it proud, producing a battling performance to see off a German side which had knocked it out of the World Cup two years ago.
For France, which won the Euros on home soil in 1984 and the World Cup in 1998, this represents another opportunity to secure sporting immortality.
It was a hard-fought victory for a team which had approached this tie with a certain amount of trepidation given the reputation of its opponent.
"I'm absolutely delighted and very proud," said Griezmann, whose six goals are double the next highest scorer at the tournament.
"There's still one match to go to finish with a flourish; it's going to be very tricky but I hope this won't be the end of things.
"It's our duty to win matches for the French public, and let's hope we can finish on a high too."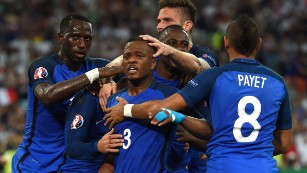 France will play Portugal in the final of Euro 2016.
No team in the history of international football has crashed more parties than Germany — just ask the six host nations it has kicked out of tournaments at the semifinal stage.
Few will forget the excruciating beating it gave Brazil at the World Cup two years ago — a 7-1 thrashing which left not only the players but an entire country decimated, and another jubilant as Germany later lifted the trophy.
In the semi, Germany led by five goals with just 29 minutes on the clock — it was not just a run-of-the-mill defeat but a national humiliation.
Others have been dealt with in rather gentler fashion, though their sentences were no less unforgiving.
In 2002, South Korea was dumped out of the World Cup it was co-hosting with Japan, as Michael Ballack's goal took Germany into a final clash with Brazil.
Euro '96 host England was made to suffer — beaten on penalties before Germany won the final days later at Wembley.
Four years earlier, Germany ousted host Sweden but lost the final to Denmark.
In 1976, Yugoslavia was vanquished as Dieter Muller scored a hat-trick in a 4-2 win to lead his team into the European Championship final, where Germany was beaten on penalties — its only shootout defeat — by Czechoslovakia.
In 1972, Germany beat Belgium in the last four, then defeated the Soviet Union 2-0 in the final.
The only time Germany faltered in the semis against the host nation was way back in 1958, when Sweden claimed a 3-1 win at the World Cup.
Confidence
So perhaps, given its history and experience on the big stage, it was not wholly surprising that Germany produced a fine first-half performance.
After an initial period of French pressure which forced Manuel Neuer to turn Antoine Griezmann's effort away, it was all Germany.
France, without the holding midfield presence of N'Golo Kante — who was left on the bench after a suspension — failed to deal with the movement of the Germans, who dominated possession.
First, Thomas Muller slid his effort wide of the far post after reaching Emre Can's cross as the world champions flexed their muscles.
Can, making his first start of the tournament, then went close himself, firing an effort into the ground and towards goal which Hugo Lloris parried.
While France struggled to keep hold of the ball, Germany eased upfield with ease.
Bastian Schweinsteiger, captaining the side, forced Lloris to turn his drive over the crossbar as France barely managed to get out of its own half.
And yet, it was the host which should have taken the lead just before the interval.
Olivier Giroud, who had been rather anonymous, took advantage of a rare mistake by Jerome Boateng and ran towards goal.
The Arsenal striker headed towards the penalty area, but his lack pace allowed Benedikt Höwedes to produce a sublime sliding tackle.
With the game heading towards halftime, France looked relieved to have seemingly escaped without conceding.
And yet, in the second minute of added time, the tie was turned on its head.
Patrice Evra's header towards goal was blocked by the arm of Schweingsteiger and referee Nicola Rizzoli awarded the penalty on the advice of his assistant.
Griezmann stood up to fire the ball past Neuer for his leading fifth goal of the tournament, leaving the Germans stunned.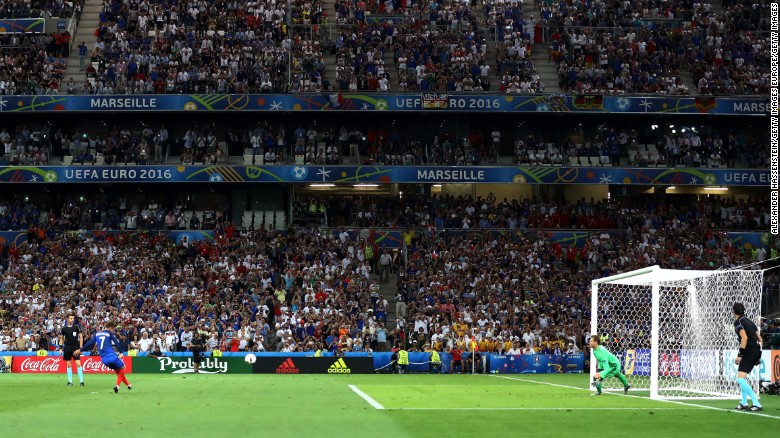 Griezmann fired home from the penalty spot to give France the lead at halftime.
Germany, clearly still bewildered by falling behind, failed to recapture the form it had shown earlier in the contest.
That palpable sense of self-belief appeared to have evaporated, with doubt now growing ever faster into its game.
The loss of defender Boateng to a hamstring injury further weakened Germany's cause as a sense of desperation began to set in.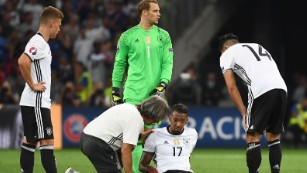 Boateng was forced to limp out of the game with a hamstring injury.
That sense of desperation was increased further when Griezmann doubled France's lead with 18 minutes remaining.
A mistake by Joshua Kimmich allowed Paul Pogba to run in behind the German defense and, after an outrageous dummy, his cross caused panic in the penalty area, allowing Griezmann to stab home when Neuer flapped ineffectively at the ball.
Those in the white shirts of Germany fell to the floor — those in the blue of France skipped away in jubilation and possibly even disbelief.
Still, Germany continued to fight. Kimmich, whose error had led to the second goal, curled an exquisite effort against the post from 20 yards, while Draxler fired his effort inches wide.
READ MORE: Full Euro 2016 coverage
Leroy Sane, on as a substitute for Schweinsteiger, went close with his first touch but his effort dribbled wide before Höwedes headed over from close range.
The constant near misses appeared to have broken the German spirit, it had no answer.
That cloak of invincibility which had long been worn around its neck at tournament football had slipped.
France, backed by a vociferous crowd, held firm, stood tall and refuse to yield.
Even when the defense was breached, Lloris was there to deny Kimmich's fierce header.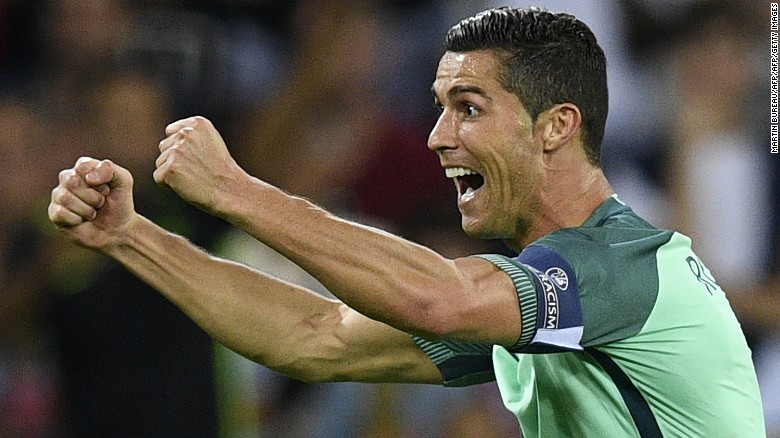 Cristiano Ronaldo and Portugal will meet France in the final.
The celebrations started as soon as the referee blew the final whistle — the dancing, the singing — joy unconfined.
But the biggest party of all is yet to come — and in a certain Mr. Ronaldo, there could yet be a rather unwelcome guest.
Link: http://edition.cnn.com/2016/07/07/football/germany-france-euro-2016/index.html
Sister of French Soccer Star Antoine Griezmann Recalls Terror of Paris Attacks
MACÔN, France — Maud Griezmann walked into the concert hall and looked around. It was a little before 9 p.m. on Nov. 13 at the Bataclan in Paris, and she admired the grand stage. She looked at the growing crowd. She watched, for a few moments, as a man at the souvenir stand sorted T-shirts and posters and CDs for the band Eagles of Death Metal, which was just about to begin its set.
Then Ms. Griezmann looked quickly at her phone. Her brother Antoine Griezmann is a star forward for France's national soccer team, and he was playing that night at the Stade de France, just outside the city limits. It was an exhibition match against Germany. The game and the concert were scheduled to start around the same time. Ms. Griezmann put her phone away. She wanted to listen to the music.
Because of that, she did not see on Twitter or Facebook that her brother, like many of the other players in the game, was jolted by the unmistakable sound of an explosion outside the stadium about 9:20. She did not know that two suicide bombers had blown themselves up near the match. She did not know that associates of those terrorists had sprayed bullets at restaurants in downtown Paris. She did not know that President François Hollande of France had been taken away from the stadium in a helicopter amid fears that Paris was under siege.
She only knew that, about 40 minutes after Eagles of Death Metal began to play — mostly rock, not heavy metal despite the band's name — a patter of loud pops could suddenly be heard over the music. It was not clear what has happening. "At first we thought it was a prank, a joke," Ms. Griezmann said Tuesday, speaking at length about her experience for the first time. "We thought it was part of the concert. But then we heard the screams."
She and her boyfriend, Simon Degoul, were pushed toward the front right corner of the room, by the edge of the stage, as three terrorists stormed into the hall with assault rifles and grenades. Ms. Griezmann and Mr. Degoul, like so many people around them, dropped to the ground in an attempt to avoid the bullets. A woman fell between them.
Emergency responders helping to evacuate a street near the Bataclan concert hall in Paris after it was struck as part of the terrorist attacks on the city on Nov. 13. Ms. Griezmann was in the Bataclan throughout the chaotic night. Credit Miguel Medina/Agence France-Presse — Getty Images    
The floor was hard against Ms. Griezmann's cheek. She pressed her face down, forcing herself to avoid looking at what was happening all around her. "If you moved, you were shot," she said. "A person next to me moved, and they shot him. They just shot him, and I heard him land."
She does not remember any distinguishing characteristics about the woman next to her. Blond or brunette, tall or short — nothing. She does not know her name or how old she was. She only remembers the woman's hands. Ms. Griezmann held one of them; Mr. Degoul held the other. As the terrorists killed people on the mezzanine and in the concert pit below, Ms. Griezmann and Mr. Degoul and the woman buried their faces and shut their eyes and held their bodies as still as possible except for the tiniest movements of the hands they clasped.
The movements traveled in a chain. Ms. Griezmann would begin with a squeeze to one hand, and the woman would pass the squeeze up the line to Mr. Degoul before he would send it back down toward Ms. Griezmann. They did this — squeeze after squeeze after squeeze — for 90 minutes. They did it in fear of what it would mean if the message they were sending each other stopped.
"It was the only way we could tell each other we were still alive," Ms. Griezmann said.
Keeping Soccer Separate
Ms. Griezmann smiles a lot. She is 28. She has hair that is dyed red, with small waves in it. She laughs and grins and talks animatedly about her family and her travels and her tattoos, which include Antoine Griezmann's date of birth; the name of her other brother, Theo; and, in a recent addition to the upper part of her right arm and still wrapped in protective plastic, a homage to the television show "Twin Peaks."
Sitting at a cafe here in the center of the town where she and her brothers grew up, Ms. Griezmann became brusque only when it was suggested that this week might stir unique emotions for her or her family, particularly with France playing in a European Championships semifinal against Germany on Thursday night in Marseille. This will be the first time France has played Germany since the Nov. 13 attacks that killed 130 people, about 90 at the Bataclan.
Spectators seeking safety on the pitch of the Stade de France, north of Paris, after explosions outside the stadium on Nov. 13 halted an exhibition game between the French and German national teams. Antoine Griezmann was playing for France while his sister was in the Bataclan. The attacks that night killed 130 people, about 90 at the concert hall. Credit Franck Fife/Agence France-Presse — Getty Images  
"It is an important game for Antoine, for the team, for the fans," Ms. Griezmann said. "But it is not something other than that. I don't think about football with what happened. I try not to think about it at all."
She knows, though, that is impossible. In the eight months since the attacks, she has not seen a therapist, she said, adding that "family and life is my therapy." She has talked about her experience at length with Antoine only once — about a week after the attacks in Madrid, where he lives and plays for Atlético — after which they both decided it was best to move on.
But that does not mean Ms. Griezmann will not open up. To the contrary, once she begins to speak, the recollections come flowing out.
Her memories of the night, like those of many people who have been involved in traumatic events, are a mix of necessarily hazy and glaringly sharp. She does not remember how many attackers there were or where they were standing or everything they shouted. She does remember, oddly, feeling more frightened when there were long periods of silence instead of the racket of gunfire. She remembers kicking off her shoes, Dr. Martens, so she could run faster. She remembers sprinting for the door when the police finally came in and seeing, so clearly, the man she had watched sorting items at the souvenir stand lying motionless on the ground.
She remembers waiting in a courtyard about 200 yards from the Bataclan with other survivors while the police continued their operation. She remembers calling her mother from Mr. Degoul's cellphone and shouting, "I'm out! I'm out!" over and over because she couldn't think of what else to say. She remembers walking, 10 or 15 minutes in her bare feet at 2 a.m., to Place de la Republique, where she and Mr. Degoul found a taxi, only to have to plead with the driver to take them home.
Antoine Griezmann (7) scoring in France's 5-2 European Championship quarterfinal victory over Iceland on Sunday. Griezmann and France will face Germany in a semifinal Thursday, the first meeting between the teams since Nov. 13. Credit Abedin Taherkenareh/European Pressphoto Agency
"I had blood all over my clothes," she said, shaking her head. "He was worried about his seats."
Shaken by Noises
In January, about two months after the Paris attacks, Ms. Griezmann began working with Antoine as his publicity strategist. She has a degree in public relations, and as her brother's stardom grew because of his play with Atlético, which reached the Champions League final in May, and with the national team, she wanted to help guide him toward the right partners, the right relationships.
She knows that some people say it is not a good idea to mix business and family, but she says she is not worried. She and Antoine have always been close and have always had a special relationship. Growing up here, in the Gautriats neighborhood of Macôn, about an hour north of Lyon, she watched Antoine, who is three years younger, kick his soccer ball, over and over, against the blue garage door of their house.
"My parents did not always like this," she said.
She was Antoine's goalkeeper when he wanted to practice shooting, and she encouraged him when he grew frustrated about his slight build and his shorter-than-average height, an attribute that most acknowledge is the primary reason high-level French clubs were not interested in scouting him.
Even now, as he has become a central cog in the French team at the Euros (he has scored 4 of the team's 11 goals), Ms. Griezmann still mostly thinks of him only as her little brother. When they visited New York a few years ago, just the two of them, they made a YouTube video of their giddy antics that featured encounters with Times Square's Naked Cowboy and Antoine dancing on his hotel bed.
Clockwise from top left: a poster of Antoine Griezmann hanging in front of the town hall in Macôn, France; a store front in the town; Griezmann's shirt from the Real Sociedad club, which he gave to the local club where he trained as a boy; a bar that the Griezmann family goes to in Macôn. Credit Viviane Dalles for The New York Times
Although Ms. Griezmann lives in Paris and Antoine lives in Madrid, she still comes here quite often to visit her parents, who also are reveling in their son's rise. A longtime family friend, Patrick Montero, said about 3,000 residents of the town will wear Antoine Griezmann masks and jerseys when they watch Thursday's game at the city's exhibition center.
"It is an amazing time for Antoine now," Ms. Griezmann said. "It is an amazing time for all of us."
She and her family will be at the game Thursday and, she added quickly, at the tournament final on Sunday, too, "since France will win." That match is at the Stade de France, but she has no concerns about what going to a game there — or anywhere — might do to her psychologically.
While French soccer and the attacks are, for many, still intertwined, Ms. Griezmann said she makes no connection between them. Most days, she said, are normal. She acknowledges what happened to her — she got a tattoo of the lead singer from the Eagles of Death Metal crying and hugging the Eiffel Tower — but is not shaken by overt confrontations with it.
Rather, it is the subtle things that poke at her, the little moments that twist her stomach. Since she did not see much of what happened that night, it is actually sounds, not images, that shake her.
Sudden shouts. Screams from out of nowhere. And, perhaps most of all, sounds of feet moving.
A few weeks after the attacks, she was in the grocery store shopping when a little boy behind her in the aisle suddenly started to run in the other direction. He was chasing his mother, perhaps, or just doing what boys do, but Ms. Griezmann stopped short.
"I heard it — the running," she said. "I thought people were being taken hostage in the store."
She paused.
"I don't know when that will stop," she said. "I don't know if it will."
Benoît Morenne contributed reporting.
A version of this article appears in print on July 7, 2016, on page B10 of the New York edition.
Link: http://www.nytimes.com/2016/07/07/sports/soccer/sister-of-french-soccer-star-antoine-griezmann-recalls-terror-of-paris-attacks.html?smid=tw-nytimes&smtyp=cur&_r=0