September 1, 2016
https://www.whitehouse.gov/photos-and-video/video/2016/09/01/2016-pacific-islands-conference-leaders
IUCN World Congress 2016: September 1 Opening Ceremony
https://www.youtube.com/watch?v=FqhFHtMLR4o
Obama highlights environment on Pacific atoll
US President Barack Obama tours Midway Atoll in the North Pacific marine reserve of Papahanaumokuakea on September 1, 2016 (AFP Photo/Saul Loeb)
Midway Island (United States) (AFP) – President Barack Obama went off the beaten track Thursday — way off — to a newly expanded marine reserve on an atoll in the middle of the Pacific Ocean, part of an effort to polish his environmental legacy.
Obama flew three hours west of his native Honolulu to Midway Atoll, on the far northwestern tip of the Hawaiian island chain.
The atoll is situated at the heart of Papahanaumokuakea, a vast Pacific marine reserve given protected status by then-president George W. Bush in 2006.
Obama recently quadrupled its size to make it the world's largest marine reserve, home to 7,000 marine species, including many endangered birds as well as the Hawaiian monk seal and black coral, which can live for 4,500 years.
"This is going to be a precious resource for generations to come," Obama told reporters on Midway's Turtle Beach.
All the atoll's 40 inhabitants — mostly US Fish and Wildlife Service staff — greeted him.
Until recently, the area was perhaps best known to military history buffs.
Seventy-four years ago, the Battle of Midway was a decisive naval fight in World War II that turned the tide of the war against Japan.
Obama praised the "courage and perseverance" of the vastly outnumbered American soldiers who repelled Japanese forces. "This is hallowed ground," he said.
Now, he added, protecting the vast ecosystem "allows us to study and research and understand our oceans better than we ever have before."
– 'Existential threat' –
The president was later set to go snorkeling with friends away from journalists, the White House said.
Since taking office in 2009, he has designated more protected areas than any of his predecessors using the Antiquities Act, signed in 1906 by Theodore Roosevelt, who established the first national monuments.
For the outgoing president, the visit is part of an eight-year effort to put the environment and tackling climate change higher on the political agenda.
Scientists would be able to undertake "critically important" study of climate change in the marine reserve, he said.
Although Bush created Papahanaumokuakea, he also earned international scorn by rejecting the global climate deal reached at Kyoto.
Obama, in contrast, has led the charge to secure the recently struck Paris climate agreement.
"Rising temperatures and sea levels pose an existential threat to your countries," he said in Honolulu earlier to representatives of Pacific island nations at the World Conservation Congress, a major conference of thousands of delegates, including heads of state, scientists and policy makers.
"And while some members of the US Congress still seem to be debating whether climate change is real or not, many of you are already planning for new places for your people to live," he added.
Asked on Midway whether he would focus on tackling climate change as part of his work after he leaves office in January, Obama said he may try to influence Republican politicians who deny the phenomenon.
"This is something that all of us are going to have to tackle and maybe I get a little more of a hearing if I'm not occupying a political office," he said.
After his Hawaii visit, Obama is set to attend a G20 meeting in China, where he is expected to announce the joint formal joining of the Paris climate accord with President Xi Jinping.
Links: https://ca.news.yahoo.com/conservation-confab-in-hawaii-starts-with-sunrise-ritual-225457948.html
http://www.lemonde.fr/planete/article/2016/09/01/barack-obama-cree-la-plus-grande-reserve-naturelle-marine-du-monde_4990740_3244.html
Midway: Why Barack Obama visited a tiny island in the Pacific
By Nick Thompson, CNN Updated 1206 GMT (2006 HKT) September 2, 2016
(CNN) It's not every day that there are more people on board Air Force One than in the place it touches down, but Thursday was one of those occasions.
Barack Obama landed on the remote Pacific island of Midway less than a week after the US President created the world's largest protected marine reserve in the area surrounding the tiny atoll.
It's a big green feather in Obama's cap as he seeks to cement his environmental legacy before he leaves office.
Obama has tried to portray himself as the eco-warrior-in-chief over the past eight years. He's pushed the world to act on climate change — which he calls the greatest threat to future generations — and he's using his powers as president to turn at-risk areas, like the waters around Midway, into national monuments.
WHERE AND WHAT IS MIDWAY?
Midway is a tiny ring of coral reef in the middle of the North Pacific Ocean, more than 1,300 miles and three hours by plane from Honolulu, where Obama was born. It's part of the Hawaiian archipelago, but it's the only island that isn't technically part of the state of Hawaii.
If the name "Midway" sounds familiar, it's because the island is where the US scored its most famous naval victory, defeating Japan at the Battle of Midway in 1942.
The battle transformed the Second World War in the Pacific, but today Midway is on the front lines of a different conflict — the fight to save the world's oceans.
WHY WAS OBAMA THERE?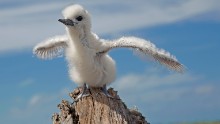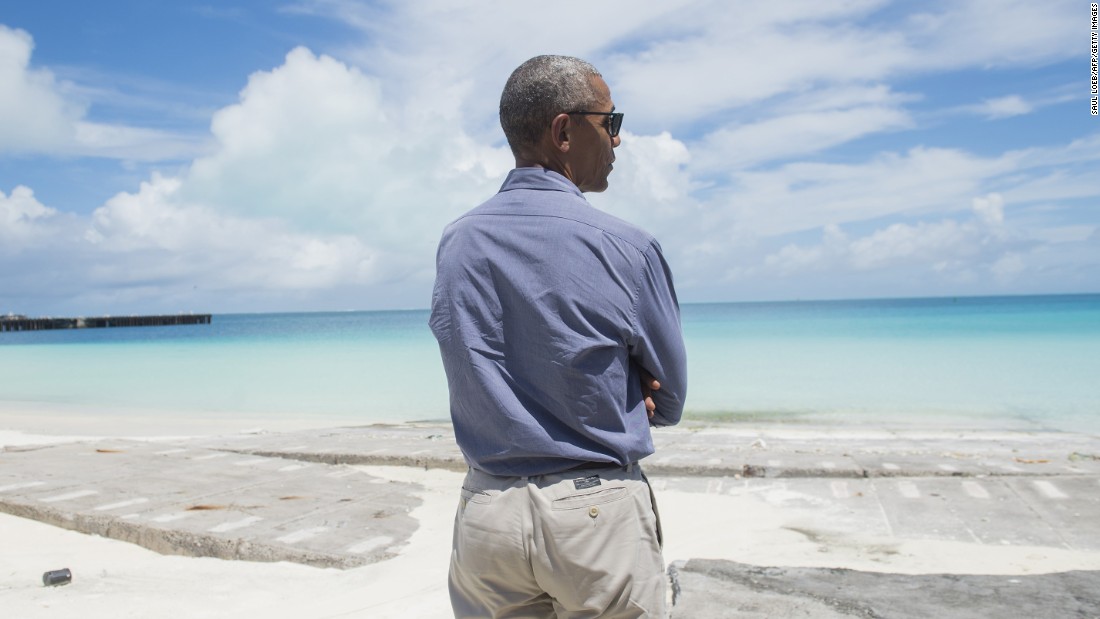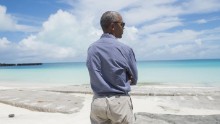 Photos: Midway: An oasis under threat. Barack Obama toured Midway Atoll in the Papahanaumokuakea Marine National Monument on Thursday. 1 of 11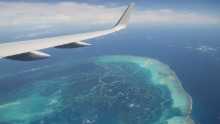 Obama visited Papahānaumokuākea Marine National Monument to underscore the efforts he's taken to preserve some of the world's threatened ecosystems.
Last week, he quadrupled the area of the sanctuary to nearly the size of the Gulf of Mexico.
On Thursday, he toured the island and met the managers of the refuge, which is home to more than 7,000 marine and bird species.
Obama pledged to ensure "not only that Midway itself is protected, that the entire ecosystem will be able to generate the kind of biodiversity that allows us to study it, research and understand our oceans better than we ever have before."
Endangered monk seals, green turtles and tiger sharks are among the species that share the fragile marine environment in Midway, which is also home to 19 bird species like the black-footed albatross and red-footed booby.
MIDWAY BY THE NUMBERS
Only 50 people live on Midway, which means the island's population tripled when Obama and his 100-member entourage of staff and journalists arrived.
But 1.5 million Laysan albatross call Midway home. The albatross carry five tons of plastic onto the island each year — plastic that was created, consumed and then dumped by humans, and is now is being fed by these birds to their chicks.
WHY YOU SHOULD CARE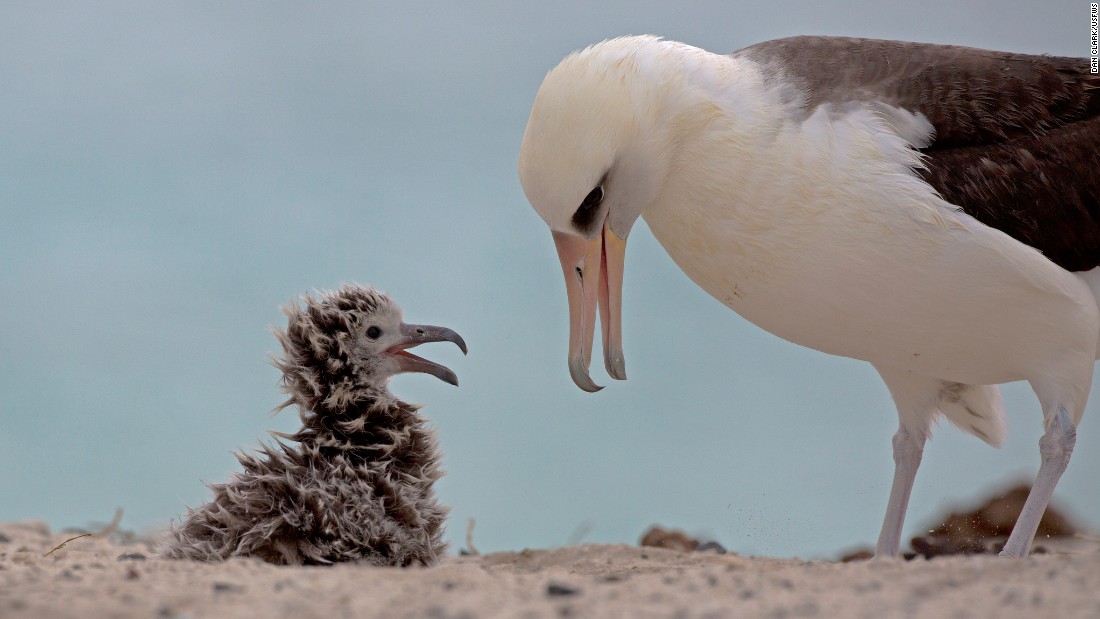 A Laysan albatross feeds its chick on Midway. The birds carry five tons of plastic waste onto the island each year.
The plastic bags, coffee cups and toothbrushes we use each day don't magically disappear when we throw them away. Some plastic gets recycled, but a lot of it — 8 million tons each year — ends up in the world's oceans.
CNN visited Midway this summer, where an endless plastic tide washes up on shore every day, poisoning and killing the island's rich wildlife. Plastic is part of the sand and part of the fish, and experts fear it could be making its way into the food we eat.
Our exclusive documentary from one of the remotest island chains on the planet is due out soon. It explores the damage that plastic pollution is doing to the world — and the damage it could be doing to you.
CNN's Kevin Liptak, Marianne Waller and Ingrid Formanek contributed to this story.
Link/Video/Photos: http://edition.cnn.com/2016/09/01/politics/midway-obama-preview/index.html