Latest:
Federal judge blocks new travel ban; Trump calls it 'judicial overreach'
http://edition.cnn.com/2017/03/15/politics/travel-ban-blocked/
#RESISTANCE HAWAIIAN STYLE
The basic design of Hawaii's state seal has been in use since 1894, but the legend now reads "State of Hawaii" rather than "Republic of Hawaii."
The Hawaiian coat of arms is supported by Kamehameha I and the goddess of liberty,
with a rising sun behind. The motto "Ua Mau ke Ea o ka Aina i ka Pono" (The Life of the Land Is Perpetuated in Righteousness) is along the bottom edge. Below the shield are various symbols: a phoenix rising from flames, taro leaves, banana foliage, and maidenhair ferns.
http://kids.britannica.com/elementary/art-55662/The-basic-design-of-Hawaiis-state-seal-has-been-in
USA State Song (Anthem): Hawai'i – Hawai'i Pono'i
https://www.youtube.com/watch?v=oJu5JvZSoCw
Blue Hawaii – Elvis Presley – 1961
https://www.youtube.com/watch?v=AMF0Wuk8x0c
Interesting REAL FACT: Elvis Presley filmed and recorded "Blue Hawaii" in 1961, the exact same year President Barack Hussein Obama was born – on August 4, 1961 – at the Kapiolani Maternity & Gynecological Hospital (today Kapiolani Medical Center for Women and Children) in downtown Honolulu, Hawaii.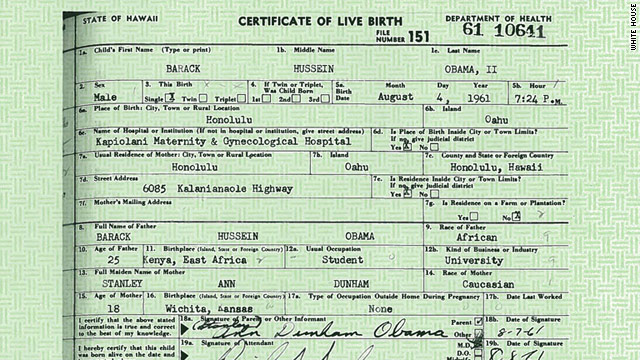 Hawaii's State Anthem: Hawai'i Pono'i
Hawaiʻi Ponoʻī is the state song and former national anthem of Hawaiʻi.
Hawaii has a national anthem and a state anthem (or state song). The national anthem of Hawaii is, of course, the "The Star Spangled Banner". Hawai'i Pono'i is the state anthem. This song was the fourth national anthem of Hawaii before she became one of the united states of America.
Hawai'i Pono'i can be translated as "Hawaiʻi's own true sons", and the lyrics were written in 1874 by King David Kalākaua.  Hawaii legislature proclaimed Hawai`i Pono`i the state anthem in 1967.
You find the lyrics and translation plus a video of Hawai'i Pono'i below. While listening, scroll down to learn about the history of the four national anthems of Hawaii.
Hawai`i pono`î
Nânâ i kou mô`î
Ka lani ali`i,
Ke ali`i Hui:
Makua lani ê,
Kamehameha ê,
Na kaua e pale,
Me ka ihe Hawai`i pono`î
Nânâ i nâ ali`i
Nâ pua muli kou
Nâ pôki`iHawai`i pono`î
E ka lâhui e
`O kâu hana nui
E u`iê
Hawaii`s own true sons
Be loyal to your chief
Your country's liege and lord
The chief Chorus:
Royal father
Kamehameha
Shall defend in war
With spears Hawaii`s own true sons
Look to your chief
Those chiefs of younger birth
Younger descent Hawaii`s own true sons
People of loyal heart
The only duty lies
List and abide
The History of Hawaii's four National Anthems
The history of Hawaii's National Anthems starts in 1860. Before this year, the kingdom of Hawaii did not have its own anthem, but used the British royal anthem "God Save The King".
1860 – 1866: E Ola Ke Aliʻi Ke Akua
E Ola Ka Mōʻī i Ke Akua or E Ola Ke Aliʻi Ke Akua First Hawaiian National Anthem. Ka Nūpepa Kūʻokoʻa. Reprinted. Jan. 7, 1871
In 1860, Kamehameha IV organized a contest to replace the British royal anthem with a song with Hawaiian lyrics set to the tune of "God Save The King". The winning entry of this contest was E Ola Ke Aliʻi Ke Akua, translated as God Save the King [lyrics on wikipedia].
The author (Prince William Charles Lunalilo, who later became King Lunalilo) is said to have composed the song in 20 minutes. He was given USD 10 as a reward.
E Ola Ke Aliʻi Ke Akua was replaced 6 years later by Queen Liliʻuokalani's composition "He Mele Lahui Hawaii".
1866 – 1876: He Mele Lahui Hawaii
Cover of the Hawaiian anthem between 1866 and 1876: "He Mele Lahui Hawaii" ("The Song of the Hawaiian Nation"). Published in 1872 by H.M.Whitney in Honolulu, Hawai`i
King Kamehameha V wanted to replace the merely translated British anthem by a song with a truly Hawaiian background. The new song "He Mele Lāhui Hawaiʻi" ("The Song of the Hawaiian Nation") was composed in 1866 by queen Lili'uokalani.
The lyrics of this song praise the Hawaiian Islands. It asks the lord for a blessing of the land, it's people, chiefs, and king. You can read a part of the song lyrics in Hawaiian (left) and translated to English (right) below. [Lyrics for the complete song]
This National Anthem survived for ten years until the brother of queen Lili'uokalani replaced it with his own composition "Hawaiʻi Ponoʻī".
E mau ke ea o ka `âina
Ma kou pono mau
A ma kou mana nui
E ola e ola ka mô`î
Grant your peace throughout the land
Over these sunny isles
Keep the nation's life, oh Lord
And upon our sovereign smile
1876 – now: Hawaiʻi Ponoʻī
Hawaiʻi Ponoʻī is the state song and former national anthem of Hawaiʻi.
King David Kalākaua wrote the words of Hawaiʻi Ponoʻī, and the music was composed by his royal bandmaster. This king has had quite an influence on current day Hawaiian culture.
King David nicknamed "the merry monarch" because of his love of the joyful elements of life, and during his reign hula was revived. The now immensely popular yearly merry monarch festival [wikipedia] on Hawaii was named after king David Kalākaua.
Hawai'i Pono'i was the adopted song of the Territory of Hawaiʻi, and later became the state anthem by an act of the Hawaiʻi State Legislature in 1967.
 Link: https://www.lovebigisland.com/hawaii-blog/hawaii-state-anthem/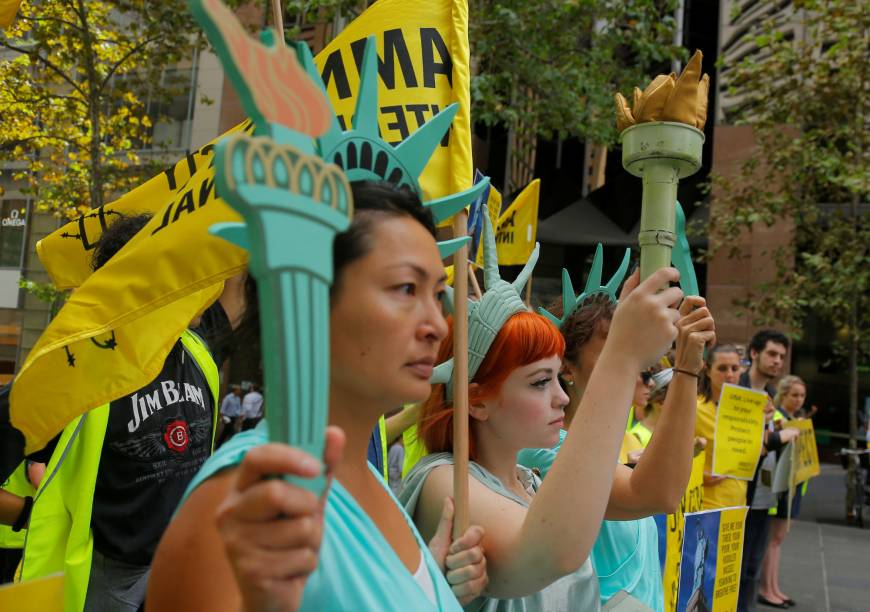 Protesters wearing Statue of Liberty outfits in Sydney on Thursday rally against U.S. President Donald Trump's new executive order temporarily banning the entry of refugees and travelers from six Muslim-majority countries. | REUTERS
Hawaii cleared to be first state to sue over new travel ban
AP
HONOLULU/WASHINGTON – A federal judge in Honolulu said Wednesday that Hawaii can move forward with filing what would be the first lawsuit challenging President Donald Trump's revised travel ban.
U.S. District Judge Derrick Watson granted the state's request to continue with the case and set a hearing for March 15 — the day before Trump's order is due to go into effect. It bars new visas for people from the six predominantly Muslim countries and temporarily shuts down the U.S. refugee program.
Officials in heavily Democratic Hawaii previously sued to stop Trump's initial ban but that suit was placed on hold amid legal challenges around the country.
A day after Trump's administration announced its new executive order, attorneys for the state filed their proposed revision in federal court Tuesday night, along with a motion asking that it be allowed to proceed.
Watson approved that motion and said the state will file the final lawsuit later Wednesday. The Hawaii attorney general's office did not provide further details on timing but has said the ban will harm Hawaii's Muslim population, tourism and foreign students.
The U.S. Department of Justice declined to comment on the pending litigation.
The state will argue at the March 15 hearing that the judge should impose a temporary restraining order preventing the ban from taking effect until the lawsuit has been resolved.
Hawaii's complaint says it is suing to protect its residents, businesses and schools, as well as its "sovereignty against illegal actions of President Donald J. Trump and the federal government."
Trump gave 10 days' notice before the order goes into effect on March 16. The new ban temporarily bars new visas for citizens of six predominantly Muslim countries — one fewer than the original, with Iraq removed from the list. It does not apply to travelers who already have visas.
Like the first order, it suspends the U.S. refugee program for four months and cuts the number of refugees the country is willing to take in from 110,000 to 50,000.
The order says people from Somalia, Iran, Syria, Sudan, Libya and Yemen "warrant additional scrutiny in connection with our immigration policies because the conditions in these countries present heightened threats."
Intelligence analysts at the Department of Homeland Security have questioned that rationale, concluding that citizenship is an "unlikely indicator" of terrorist ties.
Top Republicans welcomed the changes. House Speaker Paul Ryan said the order "advances our shared goal of protecting the homeland."
The response abroad was more critical.
The head of the U.N. refugee agency said it may compound the anguish of those fleeing strife or famine.
Somalia's new president, Mohamed Abdullahi Mohamed, acknowledged his nation's security troubles but said Somalis "have contributed to the U.S. economy and the U.S. society … and we have to talk about what the Somali people have contributed rather than a few people who may cause a problem."
Imam Ismail Elshikh of the Muslim Association of Hawaii, a plaintiff in the state's challenge, says the ban will keep his Syrian mother-in-law from visiting.
Trump's "executive order inflicts a grave injury on Muslims in Hawaii, including Dr. Elshikh, his family, and members of his mosque," Hawaii's complaint says.
A federal judge in Seattle issued a temporary restraining order halting the initial ban after Washington state and Minnesota sued. The 9th U.S. Circuit Court of Appeals refused to reinstate the order.
While Hawaii is the first to sue to stop the revised ban, the restraining order is still in place and could apply to the new one, too, said Peter Lavalee, a spokesman for the Washington attorney general's office.
University of Richmond Law School professor Carl Tobias said Hawaii's complaint seemed in many ways similar to Washington's successful lawsuit, but whether it would prompt a similar result was tough to say.
He said he expects the judge, an appointee of President Barack Obama who was a longtime prosecutor, to be receptive to "at least some of it."
Given that the new executive order spells out more of a national security rationale than the old one and allows for some travelers from the six nations to be admitted on a case-by-case basis, it will be harder to show that the new order is intended to discriminate against Muslims, Tobias said.
"The administration's cleaned it up, but whether they have cleaned it up enough I don't know," he said. "It may be harder to convince a judge there's religious animus here."
Tobias also said it is good that Hawaii's lawsuit includes an individual plaintiff, considering that some legal scholars have questioned whether the states themselves have standing to challenge the ban.
"This new executive order is nothing more than Muslim ban 2.0," Hawaii Attorney General Douglas Chin said in a statement Monday. "Under the pretense of national security, it still targets immigrants and refugees."
Links: http://www.japantimes.co.jp/news/2017/03/09/world/politics-diplomacy-world/hawaii-cleared-first-state-sue-new-travel-ban/
https://www.francaisdeletranger.org/en/2017/02/20/mdfdeusa-happy-past-president-day-dear-barack-hussein-obama-mdfdejesuisladyliberty131/
https://www.francaisdeletranger.org/blog/mdfdeusa-questions-sur-limmigration-contactez-me-sophie-raven-a-new-york-mdfdejesuisladyliberty131/
Hawai'i, Home of the La Perouse Memorial, Maui's most visited historic site (+ 1,000 international visitors/day).