How New Yorkers' obsession with Cuba gave rise to salsa
http://nypost.com/2017/06/14/how-new-yorkers-obsession-with-cuba-gave-rise-to-salsa/
Latest:
Attention Immigrants, Daughters and Sons and Grandchidren of Immigrants: Guess what? New York City and Lady Liberty still have your back! Don't you EVER forget that! As for Cuba… Let's all go to the MCNY for some much needed "inspiring" Salsa! Have a great week-end recharging your batteries Everyone! E.J.
"¿Que bolá Cuba?"
#RESIS
TANCE
Obama lands in Cuba as first US president to visit in nearly a century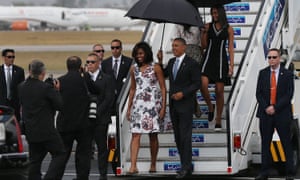 https://www.theguardian.com/world/2016/mar/20/barack-obama-cuba-visit-us-politics-shift-public-opinion-diplomacy
Hommy- A Latin Opera – Larry Harlow "Completa"
https://www.youtube.com/watch?v=Va987UBxWTI
Ajoutée le 18 sept. 2013 En 1973, en pleno auge de la salsa, Larry Harlow ya consolidado pianista de la Fania all Stars y de su propia agrupación, graba la primera opera latina, Hommy- a Latin opera. Basada en la Opera Tommy de la banda Inglesa "The Who" lanzado en 1969. La opera habla de la historia de un niño de nombre Hommy (interpretado por Junior González, cantante de la Orquesta de Harlow) que nace ciego, sordo y mudo, pero que Dios lo dotó de una capacidad para interpretar la percusión. Escrito por Henny Álvarez con los Arreglos musicales de Harlow y Álvarez.
Related Exhibition – Opens June 14, 2017
Rhythm & Power
Salsa in New York
1220 Fifth Ave at 103rd St., Open Daily 10am–6pm
Through November 26, 2017
Illuminating salsa as a social movement from the 1960s to today.
The story of New York salsa—an up-tempo performance of percussive Latin music and Afro-Caribbean-infused dance—is one of cultural fusion, artistry, and skilled marketing. Rhythm & Power: Salsa in New York illuminates salsa as a social movement from the 1960s to the present, exploring how immigrant and migrant communities in New York City—most notably from Cuba and Puerto Rico—nurtured and developed salsa, growing it from a local movement playing out in the city's streets and clubs into a global phenomenon. The exhibition also looks at the role of record companies and stores in supporting and promoting the movement, and salsa's often-overlooked ties to activism in the city. Rhythm & Power features dance costumes and musical instruments from some of salsa's leading figures, as well as audio and video that bring the sounds and movement of salsa to life.
Links: http://www.mcny.org/exhibition/rhythm-power
'Rhythm & Power': A Little Bling, a Little Politics, a Lot of Salsa
A view of the Museum of the City of New York's new exhibition, "Rhythm & Power: Salsa in New York," running through Nov. 26. Credit Jake Naughton for The New York Times
Music and dance are inseparable — as they should be — at "Rhythm & Power: Salsa in New York," the exhibition that opened this week at the Museum of the City of New York. It is the museum's first fully bilingual exhibition.
"Rhythm & Power" celebrates the Latin music that was forged in New York City from diverse Caribbean, Pan-American, African and European styles, and savvily marketed under the catchall term salsa. Musicians initially disliked the word; they preferred more specific designations like rumba or bolero. But using "salsa" could "put everything under one roof," said the Dominican musician Johnny Pacheco, who was the chief executive and creative director of Fania Records, which popularized the term. Calling the music salsa blurred specific national origins, drawing a broader audience in the New York City melting pot.
Salsa in its heyday — from the 1960s into the 1980s — was simultaneously an outlet for immigrant traditions, an experiment, an evolving art form, a cultural bulwark, a commercial product and, at its most idealistic, a voice for social change. It was also purposefully irresistible dance music: movement for a movement. "Rhythm & Power" touches on all of those roles.
Like so much art of the African diaspora, salsa is made not for typical museum-style contemplation, but for motion and participation. Entering the compact but copious exhibition, visitors are greeted by a video projection displaying dance steps, perhaps to carry them through the rest of the show, which has salsa playing unobtrusively through speakers. Around the room, artifacts from musicians — instruments, album covers, stage wear, sheet music — are displayed, pointedly, alongside photographs of dancing audiences and memorabilia from dancers.
Salsa was never short on bling. The exhibition includes Celia Cruz's gold platform shoes, Marc Anthony's microphone stand (with a big silvery crucifix built in) and Tito Puente's red sequined tailcoat and his multicolored timbales, looking like psychedelic stained-glass windows. Other objects commemorate salsa milestones, like Eddie Palmieri's Grammy Award for "The Sun of Latin Music," the album that inaugurated the Grammy category for Latin music in 1975, and a 1973 poster for an all-star Carnegie Hall performance of Larry Harlow's "Hommy," salsa's answer to the Who's "Tommy."
Shoes from Eddie Torres, who danced with Puente's band before systematizing his knowledge and becoming a leading Latin dance instructor, have his name embroidered into their soft leather sides and holes worn into them, one syncopated step at a time. An instructional 1990s videocassette from Mr. Torres plays on a screen and through headphones, detailing steps and hip twists. Elsewhere in the exhibition, the music is analyzed, too, in an interactive video display by Stephen C. Phillips that lets visitors hear and combine the components of a Latin percussion section.
Underfoot in the exhibition's main room is a gallery-length map of salsa's global sources, traced back to rhythms and dances from Cuba, Puerto Rico, Spain, Togo and Ghana, and connected to the jazz and R&B that would give salsa its New York City brawniness. Like the exhibition, it packs broad historical ambition into its limited space.
The show concentrates on salsa's past and on its New York City home turf; the music's worldwide repercussions are beyond its scope. "Rhythm & Power" glances back to salsa's New York City predecessor: the mambo craze of the 1950s, driven by an influx of Afro-Cuban musicians and ideas in the years before the embargo on Cuba. Salsa's emergence was catalyzed by new migration — primarily the surge of Puerto Ricans to New York in the 1950s — and by the ferment of the 1960s, as well as by the cross-cultural encounters with neighbors that New York City makes inevitable.
For a shining moment, during the 1960s and the 1970s, salsa songs addressed all that their primary listeners faced: discrimination, inequality, crime. (R&B songwriters like Marvin Gaye, Stevie Wonder, Sly Stone and Curtis Mayfield were making similar choices.) A wall of the exhibition is devoted to salsa in the early 1970s, when songwriters moved far beyond love ballads and party tunes. Musicians like Willie Colón, Rubén Blades and Ray Barretto linked their music to Latin pride and Latin struggles, both in the United States and across the Americas.
The exhibition includes the album cover of "The Big Break — La Gran Fuga," a 1970 album by Mr. Colón, a bandleader whose songs have reached into politics for decades, with the singer Hector Lavoe. Mocking stereotypes, it's a parody of an F.B.I. wanted poster, warning that "Willie Colón and Hector Lavoe have been known to kill people without provocation with their exciting rhythm."
Although Mr. Colón, Mr. Blades and others have persisted with politically aware songwriting, in recent years hip-hop and reggaeton have largely seized the mantle of urban realism. Salsa has survived commercially as Latin pop: in the form of love songs called salsa romántica. But, as the exhibition shows with its images of mass salsa gatherings in the 21st century, people are still dancing to it.
Wisely, "Rhythm & Power" reaches beyond the museum. Free concerts presented with SummerStage will feature music by the longtime salsa performers Joe Bataan (July 21 at Thompson Park in Staten Island), Frankie Negrón (July 29 at St. Mary's Park in the Bronx) and Andy Montañez (Aug. 11 at East River Park in Manhattan), with dance workshops before each show.
Links: https://www.nytimes.com/2017/06/15/arts/design/rhythm-power-salsa-in-new-york-exhibition.html
http://pictorial.jezebel.com/explore-the-history-of-salsa-in-a-new-museum-exhibit-1796109099
https://www.nytimes.com/2017/06/07/arts/design/salsa-museum-of-the-city-of-new-york.html?_r=0