Stone Cold‏ @stonecold2050
19 hil y a 19 heures
This little boy has been taken from his parents and has been assigned a number #47 which has been placed on his chest and arm. It reminds me of the Holocaust and sends chills up my spine.
#
ChildrensConcentrationCamps
#
separatingfamilies
#
ChildrenInCages
Latest:
Handcuffs, assaults, and drugs called 'vitamins': Children allege grave abuse at migrant detention facilities
By Blake Ellis, Melanie Hicken, and Bob Ortega, CNN Investigates Updated 0159 GMT (0959 HKT) June 22, 2018
https://edition.cnn.com/2018/06/21/us/undocumented-migrant-children-detention-facilities-abuse-invs/index.html
U.S. Quits UN Human Rights Council
By Laura Koran Updated 2213 GMT (0613 HKT) June 19, 2018
https://edition.cnn.com/2018/06/19/politics/haley-pompeo-human-rights-bias/index.html
THANK YOU Charlotte and Dave Willner from California! Will be in touch!
Elisabeth Jenssen
PLEASE CONTRIBUTE WHATEVER YOU CAN:
https://actionnetwork.org/fundraising/bondfund?source=direct_link&
Refugee and Immigrant Center for Education and Legal Services (RAICES)

Centro de Refugiados e Inmigrantes de Educación y Servicios Legales
Office Locations
214-295-9554 :: 1910 Pacific Ave, Suite 5045 :: Dallas, TX 75201
Felix Villalobos, Managing Attorney
Walk-In Appointments M-TH, arrive by 8AM
Services
Removal Defense :: Unaccompanied Children :: Low-Cost Legal Services/DACA
817-717-9377 :: 4200 South Freeway, Suite 702 :: Fort Worth, TX 76115
Jennifer de Haro, Managing Attorney
Walk-In Appointments M-TH, arrive by 8AM
Main 512-994-2199 :: 2800 IH-35 South, Suite 215 :: Austin, TX 78704
Alexandra Minnaar, Managing Attorney

Walk-In Appointments
Wednesdays, arrive by 8 AM
*Fee may be waived depending on income eligibility and capacity on Wednesdays only
Services Unaccompanied Children :: Low-Cost Legal Services :: DACA
$4,000 a minute pours in to help reunite separated immigrant families
By Amanda Jackson, CNN Updated 1312 GMT (2112 HKT) June 19, 2018
https://edition.cnn.com/2018/06/19/us/facebook-fundraiser-raices-trnd/index.html
Rep. Joe Kennedy Calls Separating Children From Families At Border 'Pure Inhumanity'
http://boston.cbslocal.com/2018/06/17/joe-kennedy-mexican-border-president-trump/
Texas deputy sexually assaulted undocumented immigrant's child, sheriff says
"The details of the case are quite frankly heartbreaking, disturbing, disgusting and infuriating all at the same time."
by Erik Ortiz /  / Updated 
A Texas sheriff's deputy was being held Monday on a charge of "super aggravated sexual assault" of a 4-year-old girl after authorities say her mother, an undocumented immigrant, was being blackmailed to stay silent about the abuse — or face deportation.
Jose Nunez, a 47-year-old detention officer with the Bexar County Sheriff's Office, was arrested early Sunday while he was off-duty after the mother took her daughter to a local fire station for help, officials said at a news conference. https://www.nbcnews.com/news/latino/texas-deputy-sexually-assaulted-undocumented-immigrant-s-child-sheriff-says-n884176?cid=sm_npd_nn_tw_ma
UPDATE: The entire Democratic caucus supports our bill to bar children from being taken from their parents at the border. I've heard countless Republicans say that they oppose children being taken from their parents. If that's true, they should support our bill NOW!
Here is the bill, S.03036: https://www.congress.gov/bill/115th-congress/senate-bill/3036/all-info … If your senator's name is not listed as a cosponsor, perhaps you should call him/her to encourage sponsorship at (202) 224-3121 or send a message via @resistbot
Inside Border Protection's processing detention center: Chain link fences and thermal blankets
By Susannah Cullinane Updated 1102 GMT (1902 HKT) June 18, 2018
(CNN) Chain link fences, mattresses on the floor and families queuing to be processed — and oftentimes separated. These are the photos of the processing detention center in McAllen, Texas, that the Customs and Border Protection agency wants you to see.
More than 1,100 immigrants — including children — were being held at McAllen when reporters were allowed in Sunday.
Dozens of protesters stood outside the center as reporters and democratic lawmakers arrived to learn more about the facility where the Department of Homeland Security is processing and detaining immigrants accused of illegally crossing the border.
The lawmakers came to south Texas, they say, to learn more about the agency's processing of undocumented immigrants entering the United States, including a Trump administration policy to refer all people who cross the border illegally for criminal prosecution on top of immigration proceedings.
As a result of enforcing that policy, families who cross illegally have been separated from their children because those accompanying the children are put into the criminal justice system.
Though media was able to tour the facility Sunday, they were barred from taking any pictures or video. CBP cited privacy concerns as the reason.
The agency released a handful of government images for publication — showing McAllen through the lens of those controlling it.
Democratic Sen. Jeff Merkley of Oregon, who first visited the South Texas border on June 3, described his second visit as more coordinated for Customs and Border Protection officials who gave the tour.
"We did see the children who were held inside here," he told CNN's Ana Cabrera in an interview.
"In wire-mesh, chain linked cages that are about 30×30, a lot of young folks put into them. I must say though, far fewer than I was here two weeks ago.
"I was told that buses full (of children) were taken away before I arrived. That was one of my concerns, that essentially, when you have to give lengthy notice, you end up a little bit of a show rather than seeing what's really going on in these centers."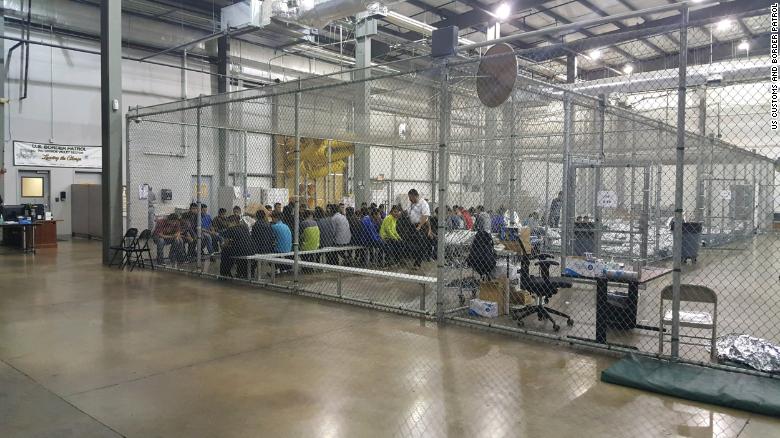 The warehouse-like facility has holding pens made from chain-link fences on the inside separating the immigrants.
Mattresses with thermal blankets were strewn on the floors.
More: https://edition.cnn.com/2018/06/18/politics/immigration-mcallen-border-patrol-photos/index.html
https://edition.cnn.com/2018/06/15/politics/dhs-family-separation-numbers/index.html
https://www.francaisdeletranger.org/en/2018/05/27/mdfdeusa-where-are-the-children-ou-sont-les-enfants-donde-estan-los-ninos-mdfdejesuisladyliberty132/