Capital Gazette shooting suspect charged with first-degree murder By Madison Park, Hollie Silverman and Janet DiGiacomo, CNN Updated 0957 GMT (1757 HKT) June 29, 2018.
The five who were killed are: Robert Hiaasen, 59, an assistant editor; Gerald Fischman, 61, editorial page editor; John McNamara, 56, a staff writer; Rebecca Smith, 34, a sales assistant and Wendi Winters, 65, who worked in special publications.
https://edition.cnn.com/2018/06/29/us/capital-gazette-shooting/index.html
"The only security of all is in a free press. The force of public opinion cannot be resisted when permitted freely to be expressed. The agitation it produces must be submitted to. It is necessary, to keep the waters pure."
–Thomas Jefferson to the Marquis de Lafayette, 1823. ME 15:491
https://famguardian.org/Subjects/Politics/ThomasJefferson/jeff1600.htm
Latest:
Tomorrow this Capital page will return to its steady purpose of offering readers informed opinion about the world around them. But today, we are speechless.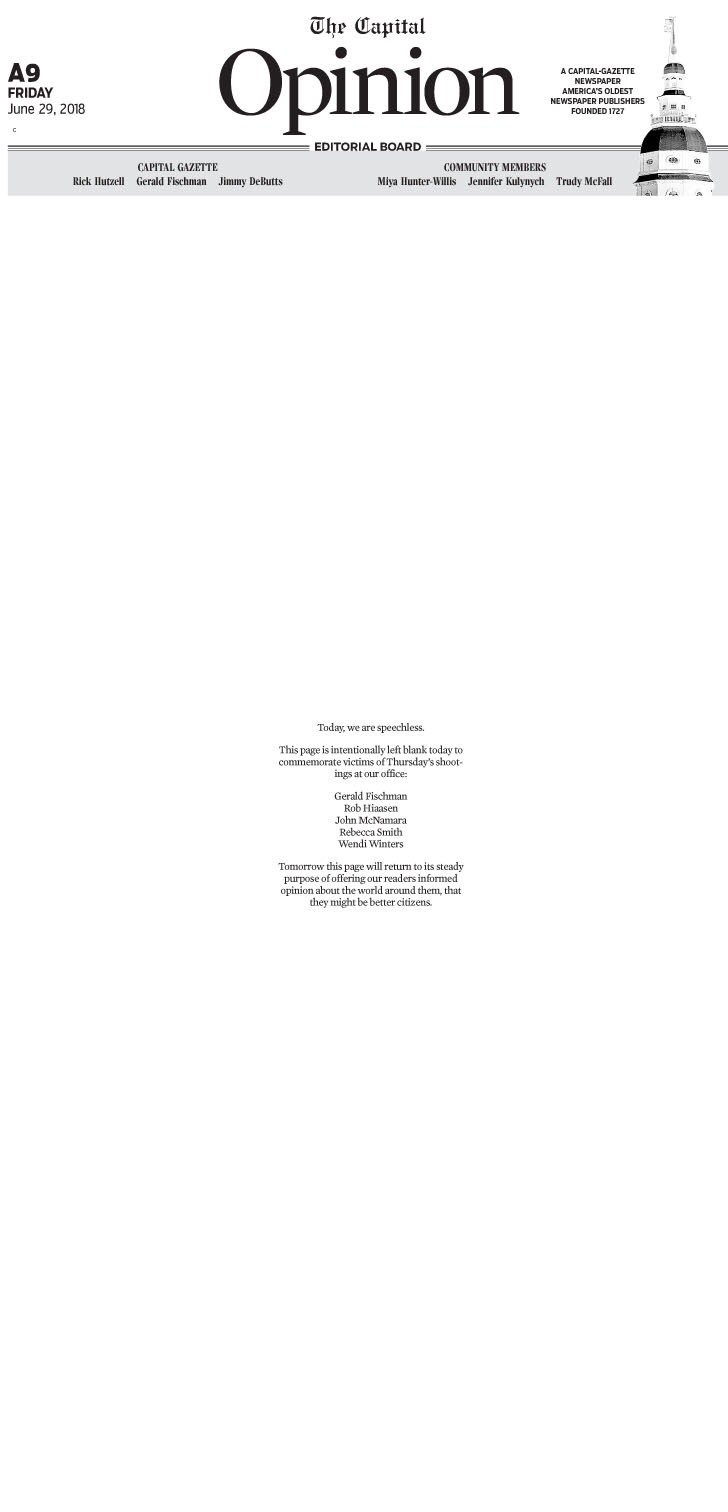 #GRATI
TUDE
#RESIS
TANCE
#MDFDE
Friendship
MerciTrain
70
© The Official French-American Project entirely conceived by Ms. Elisabeth JENSSEN to celebrate the 70th Anniversary of the Friendship Train and the Merci Train (2017- 2019). All rights reserved.
Chair, Elisabeth Jenssen Co-Chair, Tyler Abell
Honorary President: The Comte Gilbert de Pusy La Fayette
Contact: elisabeth.jenssen@francaisdeletranger.org
Freedom of the Press, AMERICA?
If only Drew PEARSON, the most fierce defenser of democracy and people-to-people friendship of his time, was still alive… E.J.
Washington D.C. syndicated columnist Drew Pearson, father of the Friendship Train (1947).
Photo by Joe Carvajal. Copyright by Harris & Ewing.

On a quiet, routine morning on Capitol Hill, news photographer Carvajal spotted famous newspaper columnist and radio journalist Drew Pearson walking into a hearing room, so he followed him on in.  Because the large double doors were wide open, Carvajal had not noticed the "Executive Session" sign, stating that the meeting was off-limits to the public (and certainly closed to reporters and photographers.) Pearson was talking about "freedom of the press" just as Carvajal was going about setting up his big 4X5 Speed Graphic camera to get a shot.  The irate Chairman, Congressman Clare Hoffman, finally said, "Young man, just what in the hell do you think you're doing in here?!"  Carvajal replied that he was getting ready to take a picture of Mr. Pearson.  Hoffman turned to Pearson and asked, "Is this what you mean by freedom of the press?"
Pearson smiled (as Carvajal took the shot) and said, "Yes, this is a good example."  Everyone in the room laughed and Hoffman relented, telling Carvajal to take his pictures and get out, so that they could get on with their closed-door meeting.
Pearson was known for being very combative, and he did not smile very often.  He liked this photo so much that he ordered dozens of copies from the news agency.  Some years later (in 1962), Carvajal was in the White House office of JFK's Press Secretary Pierre Salinger.  He saw a framed, autographed print of the picture on the wall and said to Pierre, "I took that picture, back in 1953."  Salinger said, "Drew calls that his favorite picture of himself.  So you took it, huh?" Back in those days, news photographers wrote their own captions for their photos.  Here is what Carvajal wrote for this one:
Drew Pearson Before Small Business Subcommittee

Washington, D.C., March 24, 1953 — Drew Pearson today appeared before a Small Business Subcommittee hearing.  Clare E. Hoffman (R.-Mich.), Chairman of the Government Operations Committee, had supoenaed Pearson to appear and explain a recent column of his about Hoffman's dealings with the Fontana brothers of Iron Mountain, Michigan. Pearson had written that Joe and Mario Fontana "went crying to their Congressman" (Hoffman) when they lost out on their bid for an Air Force contract.

Links: http://www.joecarvajal.com/DrewPearson.html
https://www.francaisdeletranger.org/en/2017/12/20/mdfdeusa-wwii-here-is-to-you-drew-luvie-pearson-mdfdefriendshipmercitrain70/
For The Pentagon Papers: Neil Sheehan of Times Receives The First Drew Pearson Prize SPECIAL TO THE NEW YORK TIMES
https://www.nytimes.com/1971/12/14/archives/neil-sheehan-of-times-receives-the-first-drew-pearson-prize.html
https://www.francaisdeletranger.org/en/2017/12/18/mdfdeusa-kudos-to-jan-neuhart-peter-prichard-scott-williams-for-their-leadership-in-citizenship-mdfdejesuisladyliberty131/
For Watergate: 3 From Washington Post Win Award for Reporting SPECIAL TO THE NEW YORK TIMES
https://www.nytimes.com/1972/11/22/archives/3-from-washington-post-win-award-for-reporting.html
https://www.thedailybeast.com/when-nixons-henchmen-plotted-to-assassinate-a-journalist-with-lsd