George Floyd, 46, died while in police custody on May 25 in Minneapolis, Minnesota.
Houston, Texas, June 9, 2020:
George Floyd memorial service in Houston – Watch Live
https://edition.cnn.com/us/live-news/black-lives-matter-protests-george-floyd-06-09-2020/h_163b476ac2ca26d558095944011b85ac
BREAKING NEWS:
All four officers charged in Floyd case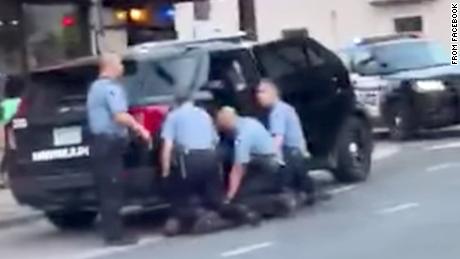 Dereck Chauvin, the officer who pressed his knee on Floyd's neck; now faces a charge of second-degree muder, US senator says https://edition.cnn.com/2020/06/03/us/george-floyd-officers-charges/index.html
***********************
Obama to discuss George Floyd death and policing reform in virtual town hall tonight
Former President Barack Obama plans to address in a virtual town hall tonight the death of George Floyd, stressing the importance of "ensuring that this moment becomes one for real change, and that we can turn protest into policy," according to an Obama aide.
Those comments will mark Obama's first time addressing Floyd's death on camera (via Zoom). In recent days, he has addressed the topic on social media as well as a lengthy Medium post, where he condemned police brutality and called for political solutions to address protesters' grievances about criminal justice.
Following opening remarks at the event tonight, Obama will participate in a panel discussion, which the aide said is expected to center on policing reform and other issues related to law enforcement.
The town hall tonight is at 5 p.m. ET and is hosted by My Brother's Keeper Alliance, a program of the Obama Foundation.
An earlier statement for the event also said this: "The killings of George Floyd, Breonna Taylor, Ahmaud Arbery, and the loss of far too many Black lives to list, have left our nation anguished and outraged. While now is a time for grief and anger, it is also a time for resolve." https://edition.cnn.com/us/live-news/george-floyd-protests-06-03-20/h_fdb6012544a600764cf0500b33ca801b
 

Anguish and action

We work to help leaders change their world—and the world needs changing. The killings of George Floyd, Breonna Taylor, Ahmaud Arbery, and the loss of far too many Black lives to list, have left our nation anguished and outraged. While now is a time for grief and anger, it is also a time for resolve. Find resources below to learn what you can do to create a more just and equitable world.

The MBK Alliance Town Hall livestream will be available here at 4PM CT/5PM ET. We look forward to your participation.

A conversation  with President Obama: REIMAGINING POLICING IN THE WAKE OF CONTINUED POLICE VIOLENCE with PRESIDENT OBAMA

5 PM EST/4 PM CST

                                                          
Over 1,000 people are killed by police every year in America, and Black people are three times more likely to be killed than White people. We can take steps and make reforms to combat police violence and systemic racism within law enforcement.
President Obama pushed many of these reforms during his time in office, and started the My Brother's Keeper initiative in the wake of Trayvon Martin's death to break down barriers and expand opportunity for boys and young men of color. But far more progress remains to be made. We're inspired by those protesting for accountability and change, even in the face of a pandemic. If you're looking for additional ways to advocate for change, below you'll find resources to learn about police violence and antiracism, as well as actions you can take to encourage reform, from organizations who have been working on these issues at the local and national level for years. And be sure to read the statements from President Obama and Mrs. Obama on the killing of George Floyd, and learn more about the work of the My Brother's Keeper Alliance.
Get Informed
Learn about police violence and antiracism in America.
Leadership Conference on Civil and Human Rights—New Era of Public Safety: A Guide to Fair, Safe, and Effective Community Policing
The recommended reforms in this report, which are intended to create accountability and build better relationships between law enforcement and communities of color, stem from President Obama's Task Force on 21st Century Policing.
Equal Justice Initiative—Tragic Death of George Floyd Reveals Continuing Problem of Police Violence
A reflection on the current state of police reform with recommendations for progress.
A look at data- and research-informed policy solutions that communities can put in place to end police violence.
Center for Policing Equity—The Science of Justice: Race, Justice, and Police Use of Force
This detailed report delves into police administrative data to show disparities in the use of force. You can watch the director of the Center, Phillip Atiba Goff, deliver a TED talk on fighting racism and improving policing here. 
The Opportunity Agenda—Promoting Accountability
Learn how police accountability works, and the four mechanisms—community-based, political, civil, and criminal—for holding law enforcement accountable.
The National Museum of African American History and Culture—Talking About Race
An online portal to help families, individuals, and communities talk about racism and commit to being antiracist.
Take Action
Take steps and lend support to encourage reform.
GET ENGAGED
CONNECT WITH THESE ORGANIZATIONS ON THE FRONT LINES OF SOCIAL JUSTICE.
Stand Together
See how neighbors are joining forces to advocate, mobilize, care, and heal.