Latest:
HOORAY FOR EARTH: #Si2 HAS LANDED AT JFK!
"The Statue of Liberty is a symbol of American values: the liberty to be a pioneer, the freedom to explore and invent. It welcomes travellers who arrive in this country, and flying over it was a tribute we paid for the special welcome we received at each destination."
André Borschberg, First man flying a solar plane over the Statue of Liberty in New York City before landing at JFK, N.Y. on June 11, 2016.
Solar Impulse Airplane – Leg 14 – Flight Lehigh Valley to New York
https://www.youtube.com/watch?v=JW4jzOKWOJI
 https://www.youtube.com/watch?v=c_hqDw2gJug
Ajoutée le 11 juin 2016
http://www.solarimpulse.com
  A Historic flight over the Statue of Liberty. This flight will bring Solar Impulse over the Statue of Liberty to New York City, with a final landing at JFK.
Frank Sinatra – "Theme from New York New York" (Concert Collection)
https://www.youtube.com/watch?v=xMfz1jlyQrw
Si2 landed in New York City after a flight over the Statue of Liberty
This flight has stood out from the rest – it was short (a relief for the engineers at the Mission Control Center who didn't lose much sleep) but, more importantly, it included a flight over the Statue of Liberty.

We have now finished the crossing of the United States of America, finally landing at bustling JFK, in New York City. This flight marks the completion of a huge milestone in our journey around the world with Solar Impulse 2. Ending it with the flight over the Statue of Liberty is symbolic for Solar Impulse as the statue serves to welcome travellers to the country. Although Si2 will soon be leaving with Bertrand Piccard to cross the Atlantic Ocean, we wanted to pay tribute to all those who welcomed us in the land of pioneers this past month and a half.
After a flight that lasted just over 5 hours from Lehigh Valley, Pennsylvania to New York City, André Borschberg touched down at JFK at 7:59AM UTC, 9:59AM CET, 3:59AM on June 11th.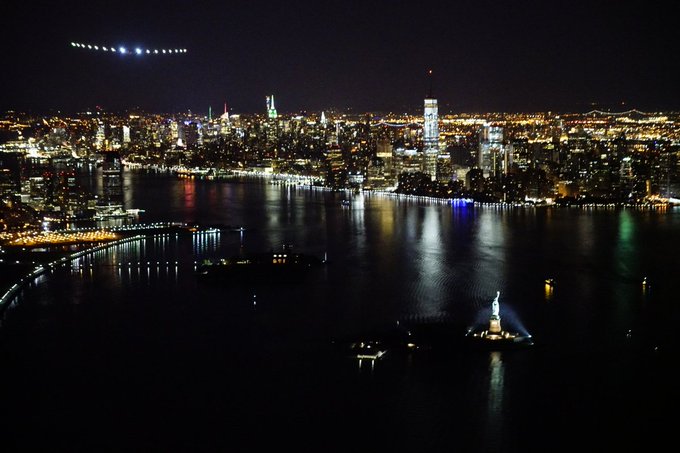 BREAKING: just a solar airplane flying above #NYC & @StatueEllisNPS to prove that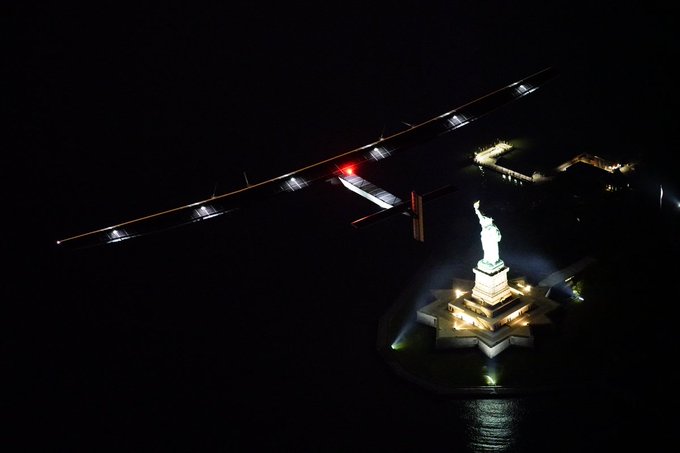 Another spectacular image of #Si2 above @StatueEllisNPS ! #futureisclean #ilovenyc
Unfortunately, we won't be able to host a public visit of the plane as JFK is a very busy airport. But hopefully you'll be able to catch a glimpse of Si2 when it takes off for the crossing of the Atlantic.
When will that be? No idea yet. The Monaco Mission Control Center has already started looking for a clear weather window to cross the pond. We'll be landing somewhere between Ireland and Morocco, destinations include Ireland, France, Portugal, Spain, and Morocco.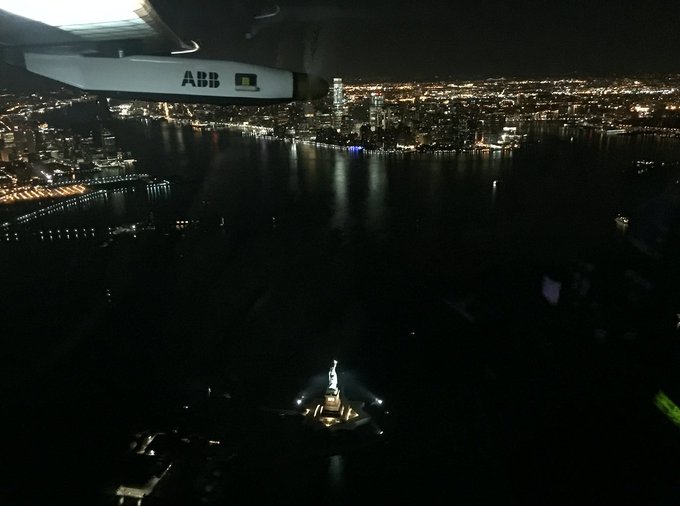 The #StatueofLiberty welcomes travellers, flying over it now we pay tribute to the special
welcome we received here
Yes, it's a vast distance, but we'll keep you posted as soon as we know which country will be our next destination. To be the first to know, here's where you have to be.
http://blog.solarimpulse.com/post/145747088080/landed-new-york-jfk-solar-impulse?utm_source=Supporters&utm_campaign=9683cc36ba-Newsletter_159_landing_JFK&utm_medium=email&utm_term=0_1fe3c4e880-9683cc36ba-207001209&mc_cid=9683cc36ba&mc_eid=87f947786e
*************************
Si2 flight to New York City postponed
The flight to New York City has been postponed until further notice. Due to worsening weather conditions, the Mission Control Center has decided to prioritize pilot and airplane safety. The engineers are continuing to study the weather over the coming days to find the next flight possibility to bring Solar Impulse to New York City. Stay tuned!
http://www.solarimpulse.com/join-us
Put some spice into your life.
This chance may only come once – to see a solar-powered airplane fly around New York City! Come out and join us. We have prepared a map for you with all the best viewpoints to see Si2.
Spot Si2 fly over the Statue of Liberty!
Post your photo/video on social media using #futureisclean. The ten best posts will be selected and the contributors will be invited to visit Si2 at JFK and meet the pilots!
Links: https://www.francaisdeletranger.org/en/2016/04/24/mdfdeusa-from-hawaii-to-mountain-view-ca-solar-impulse-flight-9-is-landing/
https://www.francaisdeletranger.org/en/2015/07/04/mdfdeusa-wow-its-a-bird-its-a-plane-its-the-solar-impulse-2-landing-in-hawaii-ii/
https://www.francaisdeletranger.org/en/2015/07/03/mdfdeusa-wow-its-a-bird-its-a-plane-its-the-solar-impulse-2-on-its-way-to-hawaii/