Leilani Estates in Pahoa, Hawaii, U.S.A. Photo: Multiple new vents, or openings in the Earth's surface where lava emerges, have formed. (AP: US Geological Survey)
http://www.abc.net.au/news/2018-05-06/hawaii-braces-for-more-lava-quakes-from-kilauea-volcano/9732290
Latest:
Hawaii lava has destroyed more than 70 homes
By Susannah Cullinane, Holly Yan and Steve Almasy, CNN Updated 0623 GMT (1423 HKT) May 30, 2018
(CNN)The number of homes swallowed by lava flowing from fissures spawned by Hawaii's Kilauea volcano has jumped to 71, authorities said Tuesday.
About 20 homes burned down in the past two days, Civil Defense Administrator Talmadge Magno told reporters in the Big Island city of Hilo.
Magno said lava also crossed a highway not far from a geothermal energy conversion plant. The road and the plant are closed.
All the injection wells at the plant have been plugged to prevent any leakage of hazardous gases, Emergency Management spokesman Tom Travis said.
More: https://edition.cnn.com/2018/05/29/us/hawaii-kilauea-homes-destroyed/index.html
5/24/18 Blue flames burn during Kilauea eruption
Hawaii resident Tam Hunt shot images of his neighbors' home falling into cracks in the earth caused by fissures that opened up due to volcanic eruptions. Source: CNN
https://edition.cnn.com/videos/us/2018/05/24/blue-flames-kilauea-volcano-eruption-hawaii-epr-vstan-orig.cnn
The health side effects of volcano eruptions
https://edition.cnn.com/videos/weather/2018/05/07/what-is-vog-orig-wxc-tc.cnn/video/playlists/hawaii-volcano-eruption/
CNN Meteorologists Allison Chinchar explains what "vog," or volcano smog is and how it can be a dangerous side effect of volcanoes. Source: CNN
5/20/18 See lava spew from Kilauea volcano
Video: New fissures are forming after another eruption from the Kilauea volcano in Hawaii while smoke in the region reaches 30,000 feet. CNN's Scott McLean reports. Source: CNN
https://edition.cnn.com/videos/us/2018/05/18/hawaii-volcano-new-eruption-scott-mclean-poppy-harlow-nr.cnn
Dangerous levels of sulfur dioxide prompt health warning in Hawaii
By Madison Park and Holly Yan, CNN Updated 1129 GMT (1929 HKT) May 15, 2018
https://edition.cnn.com/2018/05/15/us/hawaii-kilauea-volcano/index.html
New crack from Hawaii volcano is spewing lava near geothermal plant
By Nicole Chavez, CNN Updated 0848 GMT (1648 HKT) May 13, 2018
https://edition.cnn.com/2018/05/13/us/hawaii-kilauea-volcano/index.html
The Latest: New evacuations ordered
Posted: May 09, 2018 12:00 PM Updated: May 09, 2018 12:00 PM
Video: http://www.kitv.com/story/38109291/the-latest-new-evacuations-ordered
For additional news on Kilauea Volcano Eruption Visit:
Kilauea Volcano Erupts
https://www.usgs.gov/news/kilauea-volcano-erupts
HAWAIIAN VOLCANO OBSERVATORY STATUS REPORT
U.S. Geological Survey
Tuesday, May 8, 2018, 11:18 PM HST (Wednesday, May 9, 2018, 09:18 UTC)
https://volcanoes.usgs.gov/volcanoes/kilauea/status.html
https://volcanoes.usgs.gov/observatories/hvo/
Residents brave toxic fumes and thundering eruption in brief dash to their homes
By
Dan Nakaso
May 7, 2018 Updated May 7, 2018 12:53am
http://www.staradvertiser.com/2018/05/07/hawaii-news/residents-brave-toxic-fumes-and-thundering-eruption-in-brief-dash-to-their-homes/
https://la1ere.francetvinfo.fr/polynesie/1-700-habitants-big-island-fuient-eruption-du-kilauea-585887.html
Hawaii eruption: 'Not the time for sightseeing' in lava-hit neighborhood
By Susannah Cullinane
Updated 0907 GMT (1707 HKT) May 7, 2018
(CNN) Hawaiian authorities are urging sightseers to stay away as Leilani Estates residents return to check on their neighborhood, which is threatened by lava and toxic gases emerging from fissures in the subdivision.
Big Island's Kilauea volcano erupted Thursday, spewing molten rock and high levels of sulfur dioxide.
Cracks emerged in the volcano's East Rift Zone — an area of fissures miles away from the volcano's summit. All residents of Leilani Estates, a community of about 1,700 people near Big Island's eastern edge, and nearby Lanipuna Gardens were ordered to evacuate.
The eruption was followed by a 6.9-magnitude earthquake Friday.
As of Sunday, 10 fissures had opened and 26 homes had been destroyed. The Hawaiian Volcano Observatory said that active venting of lava and hazardous fumes continued.
The Kilauea volcano has been erupting almost continuously since 1983, according to the US Geological Survey. Activity along the East Rift Zone has shifted down and then back up the rift, said CNN meteorologist Michael Guy. Each one of the episodes that has occurred in this 35-year period has lasted months to years, so there's no definitive way to predict how the volcanic activity will last, Guy said.
Residents return briefly
Some Leilani Estates residents were able to return to their properties from Sunday to retrieve pets, medicine and vital documents.
Sunday evening, Civil Defense said Leilani residents would be able to check on their properties until further notice between 7 a.m. and 6 p.m. local time, with authorities on the scene determining which areas were safe to enter.
"Please be aware that because of unstable conditions that involve toxic gas, earthquakes and lava activities, lines of safety can change at any time. You must be prepared to leave areas if required," it said in a statement.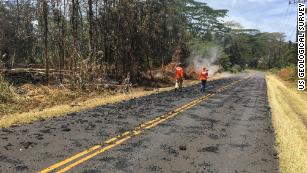 USGS scientists monitor the eruption in Leilani Estates Sunday.
"Please, the residents of Leilani need your help. This is not the time for sightseeing. You can help tremendously by staying out of the area," Civil Defense said, warning that police had established a policy of zero tolerance towards looting or vandalism.
"Under Emergency Provisions, any looting or vandalism will be treated as a felony," the statement said.
Volcanic gases at Lanipuna Gardens meant residents did not have access to that neighborhood, it said.
Dangerous volcanic gases
Eruption in Kilauea rift zone
The eruptions have released high levels of sulfur dioxide into the air, according to the civil defense agency. The federal Agency for Toxic Substances and Disease Registry says the gas can be life-threatening.
Breathing large amounts of sulfur dioxide can result in burning of the nose and throat, and breathing difficulties. Senior citizens, the young and people with respiratory issues are especially vulnerable to the gas, the state's Emergency Management Agency said.
The Hawaii Department of Health has warned consumers that no masks sold to the general public in stores will protect against "the extremely dangerous volcanic gases" being released.
"First responders require special masks and training not available to private citizens," the department said in a statement Sunday.
"The best way to protect yourself and your family from the extremely dangerous volcanic gases is to leave the immediate area of the volcano defined by the police and fire department," it said.
Hawaii County Civil Defense administrator Talmadge Magno told CNN affiliate KHON Saturday that some first responders had been affected by the gasses on the first night when levels were particularly high — experiencing "headaches and so forth" — but that they had recovered.
The American Red Cross has opened two shelters at the Pahoa and Keaau Community Centers, where some evacuees have gathered while they await news about their homes.
Mayor Harry Lim said on Twitter Sunday that an eruption information center would open in Pahoa Monday to address questions from those affected.
The Hawaii State Department of Education said that all public schools on Big Island would be open Monday but that students absent due to evacuations would not be penalized. It said in a statement that school buildings had been checked for earthquake damage and found to be safe.
Uncertainty
Corey Hale is one of the residents staying at the Pahoa Community Center. She was originally staying with a friend, but later chose to camp out in the parking lot.
"I wanted to be around a lot of people," Hale said. "It just felt better." Volunteers there have kept evacuees safe, well-fed and have plenty of hot coffee ready in the mornings.
Still, Hale wishes she'd been able to get more things from her home in Lanipuna Gardens before she left, like a compass that belonged to her great-grandfather, and other family heirlooms.
"At this point, I've got what I've got on my back," she said. "I didn't realize until this morning, I've got one pair of shoes."
More: CNN's Steve Almasy and Dakin Andone contributed to this report.
Links: https://edition.cnn.com/2018/05/07/us/hawaii-kilauea-volcano/index.html

https://www.francaisdeletranger.org/en/2017/12/30/mdfdeusa-congrats-to-maui-hawaii-winners-of-travel-weekly-readers-choice-2017-mdfdefriendshipmercitrain70/
https://www.francaisdeletranger.org/en/2016/05/31/mdfdeusa-the-maui-county-sister-cities-foundation-celebrates-the-230th-anniversary-of-la-perouses-landing{4d24daa5a359aa22e51c71c531e935ff229d31c7c5eb0da4885e362fa152ead6}e2{4d24daa5a359aa22e51c71c531e935ff229d31c7c5eb0da4885e362fa152ead6}80{4d24daa5a359aa22e51c71c531e935ff229d31c7c5eb0da4885e362fa152ead6}8f-cop21-solarimpulse2-mdfdejesuisladyliberty130-nps/
https://www.francaisdeletranger.org/en/2016/04/21/mdfdeworld-earth-day-happy-60th-anniversary-sister-cities-international-cop21-mdfdejesuisladyliberty130-nps100/
https://www.francaisdeletranger.org/blog/mdfdeusa-may-you-rest-in-peace-pierre-pierrot-moulin/
https://www.francaisdeletranger.org/en/2014/05/30/mdfde-20th-anniversary-of-the-la-perouse-memorial-in-maui-hawaii-u-s-a/