Latest:
Today we witnessed a historical moment – the topping off of our new #StatueofLibertyMuseum. The final beam was signed by Diane von Furstenberg, as well as staff from @StatueEllisFdn, @FXFOWLE,
@PhelpsConstrGrp, NPS and others. #We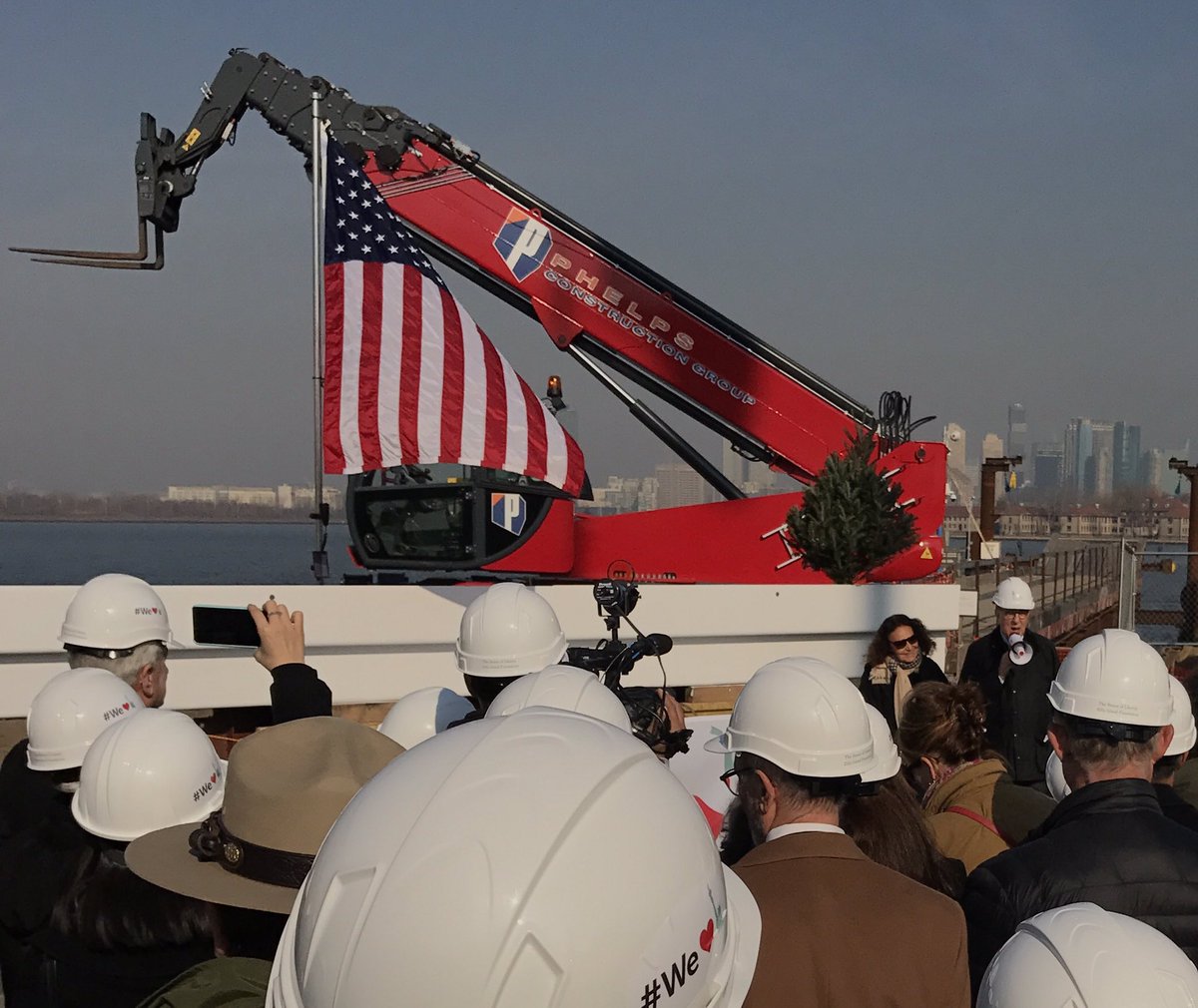 The Statue of Liberty: Standing tall for diversity | Diversity
Monday, December 4, 2017 3:36pm
Greg Baruso
On Oct. 28, 131 years ago, the Statue of Liberty was dedicated in New York City. The statue has become an icon of freedom for the United States and has been a welcoming sight to immigrants arriving from abroad. Lady Liberty is one of the first New York icons seen when sailing into its harbor. It remains an enduring symbol of freedom, democracy and even diversity.
Many of us only know the statue to be the color that we have seen over the years as the patina layer that hides the copper body. The true color of the Statue of Liberty before patination was a shiny reddish-brown. But just like the statue changing colors in the many years that it has stood on Liberty Island, our community has come to reveal faces of differing colors – black, brown, yellow, red and many more.
As a child I grew up surrounded by the many friends and relatives of my mother and father, immigrants. They often came to visit and spoke a language I could not understand nor speak. Because of this, many of my friends were sons and daughters of the same associative group. These individuals and family members became my immediate social circle, a group of socially interconnected people with similar perspectives, norms and values creating a cohesive unit. To this day I still tend to operate the same way, having both older and newer friends knowing that they share the same common interests and hold the same values that I myself aspire to possess.
What does your own social circle look like? In today's world and even in our community, social circles consist of more than just our relatives and friends. The make-up is now made up of all those that you interact with on a monthly, weekly and daily basis. They are those you see every day at your local coffee shop, grocery stores and restaurants. They are lawyers, doctors, police officers, firefighters and teachers. For many of us, our social circle is as diverse as our city. How many in your social circle are people of color? How many of them have parents that immigrated here or are immigrants themselves?
In the past few months, immigration has been a subject of many discussions. One issue that has sometimes dominated conversations is Deferred Action for Childhood Arrivals. DACA was created to protect eligible immigrant youth who came to the United States when they were children with their parents from deportation. DACA gives young, undocumented immigrants protection from deportation and a work permit. Eliminating this program will have a negative impact on our economy. Some estimate that a reduction of $260 billion in economic growth will occur over the next decade if eliminated and will equally disrupt the lives of those that have proven themselves to be hard-working and law-abiding. All DACA recipients are required to reapply every two years by presenting documentation that they have been contributing and investing in the United States, and with that renewal comes a cost of $500 for each person applying. Out of the 800,000 DACA recipients in the United States, Washington state hosts 17,000 of them. Many of these children are attending our Federal Way schools and have even attended local and state colleges. Over time, these children have become working professionals, working right here in our Federal Way community. Your social circle could even contain a DACA recipient, and you may not even be aware of that fact.
I recently have become aware of such a person, one of my daughter's high school teachers. This teacher came to the United States as a young child, unaware of the ramifications of her parents' decision in wanting to create a better life for their children. After high school, she attended college and has even gone on to receiving her master's degree this past summer. She remembers during college being scared to tell any of her friends that she was a DACA recipient because of uncertainty and feelings of ever-present anxiety and even shame. She told me a story of her friends wanting to visit Canada during a college break, but she turned them down. She couldn't bring herself to tell her friends that it was because she is a DACA recipient.
In the state of Washington, our children are required to attend no less than 180 days of school per year. That equates to an annual average of 1,000 hours for grades 1-8 and 1,080 hours for grades 9-12 of school attendance time per year. We entrust our children to teachers and partner with them in forming and framing our children's values and principles. As many of us know, at times, quality teachers are hard to come by. Quality teachers not only teach subjects required in school, but they also tend to teach emotional and psychological skills, something not part of the curriculum in any school district. And yet here we have a quality teacher right here in our school district who happens to be a DACA recipient.
President Barack Obama once wrote, "The dreamers are Americans in their hearts, in their minds, in every single way but on paper."
We need quality residents who believe in our children and the American values that many of us cherish and live by. In the eyes of Lady Liberty, diversity reigns true. For 131 years, the inscription of receiving the tired, poor and huddled masses yearning to breathe free have stood the test of time.
How many attacks on individual freedom can she endure? What should members of her social circle comprise of? Let's all embrace diversity and make sure that in our own social circles we don't undervalue the work of DACA recipients and others of color. We can't afford to and should not let the Statue of Liberty stand alone for another 131 years in welcoming those seeking to call America home.
Gregory Baruso has lived in Federal Way for 15 years and has been a member of the city of Federal Way's Diversity Commission for eight years and is currently serving as chair.
Links: http://www.federalwaymirror.com/opinion/the-statue-of-liberty-standing-tall-for-diversity-diversity/
http://www.cityoffederalway.com/content/diversity-commission
2019: Patience Everyone: The New Statue of Liberty Museum is coming to NYC… E.J.
A new museum for Lady Liberty's old flame | Di Ionno
Updated ; Posted
The flame of the torch — that lit beacon of welcome in the outstretched arm of Lady Liberty — is in the basement of the world-renown monument.
It's been there since 1986 but only those lucky enough to get tickets to go inside the monument seem to know the gold- plated torch in the statue's hand these days is not the original.
And that means most Americans do not, since the number of international tourists to the landmark always seem to outnumber the locals.
The old flame was gingerly dismantled and taken down during the Reagan Era, when the president put Chrysler boss Lee Iacocca in charge of a full and expensive renovation around the time of the lady's 100th birthday.
While the new flame is covered in 24-karat gold leaf, and shines and glints in sunlight and flood lights. The old flame was lit from the inside and is the natural the old flame is the original design of French sculptor Frederic Auguste Bartholdi.
One hundred years of welcoming the tired, the poor, and the huddled masses yearning to breathe free through snow and rain and heat and gloom of night (sorry for the mixed metaphor) had left the original flame a little battered. Some of the glass panes are cracked or sagging. One place it is held together ignominiously with duct tape.
But that will all change in 2019 when the old torch becomes the centerpiece of the new Statue of Liberty Museum now under construction.
The museum building is being built by Phelps Construction Group of Boonton, a major New Jersey builder that did the heavy construction of the Peopling of America Center at Ellis Island and, most recently, the Grammy Museum at the Prudential Center.
The $75 million project, financed by the Statue of Liberty Foundation, will give visitors to the island a greater insight into history, art and architecture, and construction of the statue.
"The truth is, when you come to the island, if you can't get a ticket (to the statue) there isn't much to see," said Doug Phelps, president of the construction company.
The foundation estimates that 80 percent of the 4.3 million visitors to the Statue of Liberty each year can't get the limited amount tickets to get inside the monument. This is especially true for spur-of-the-moment day trippers.
Since the Sept. 11, 2001 terror attacks, security measures slow the flow of access, leaving most people unable to see the one-room museum in the base of the statue. Those without tickets have no access to it.
"Most people come, they walk around the statue, take pictures, and that's really it," Phelps said. "The new museum will give them a chance to experience much more."
The new museum won't have the same security measures because the iconic statue isn't at risk.
Inside will be a theater and exhibits of how the statue came to be, and the efforts over the next 130 years to keep it open and upright. In the basement museum today, there are models of the statue in various stages of construction, with the Victorian Era scaffolding and cranes to make it rise.
Those builders faced the same problem Phelps faces – how to get heavy construction equipment to the island.
The company built a dock on the opposite side of the island from the tour boat docks for the delivery of the massive amount of material going into the new museum.
One a recent Saturday, 40 cement trucks – 16 at a time – where barged in to pour the last of the museum footings. The 35-ton wall panels were also brought across on tractor trailers carried across the waterway by barge.
"This project is all about logistics," Phelps said. "It's been pretty tricky. And the more we build, the less room we have for a staging area (for new supplies)."
The 26,000 square-foot museum's steel structure will be going up after most of the walls and ground floors are done.
But despite its size, it will not detract from the statue itself.
"It's going to have a green roof (of grasses and plants natural to the island)," Phelps said, as well as natural boundaries along the stairway leading in.
Those areas will allow pedestrians to climb toward high points to view the statue, and the skylines of Jersey City and Lower Manhattan.
The museum will also have a glass observation deck, 45-feet high, to look out over the island, and the skylines.
It's a view the workers enjoy every day.
"It's a nice place to come work. We get to look at the lady all day," said Anthony Stefanacci, one of the Phelps' construction superintendents.
"You can always tell when it's a guy's first day on the job," Phelps said. "He's looking around thinking, 'Am I really here?' It makes the morale really great."
When the torch is moved to the new museum – which Phelps said will require another dismantling – it will be restored and sit in the ground floor entrance, a fitting place for the beacon to the new world. It will be surrounded by glass walls, and relighted – the gem it was always intended to be.
But it will be high, high above the dangers of coastal flood or a Sandy-like storm surge.
"The museum will be 19-feet above sea level," Phelps said, "and basement is six feet above Sandy's highest level. Believe me, if the water gets that high, we'll have bigger problems than the torch."
Links: http://www.nj.com/news/index.ssf/2017/11/a_new_museum_for_lady_libertys_old_flame_di_ionno.html
https://www.architecturaldigest.com/story/statue-of-liberty-museum-tops-out
https://www.francaisdeletranger.org/en/2017/10/28/mdfdeusa-happy-131th-birthday-lady-liberty-mdfdejesuisladyliberty131/
https://www.francaisdeletranger.org/en/2017/08/16/mdfdeusa-may-you-rest-in-peace-dear-heather-heyer-mdfdejesuisladyliberty131-charlottesville/
https://www.francaisdeletranger.org/en/2017/04/21/mdfdeusa-washington-la-fayettes-spirits-live-on-in-philly-yorktown-mdfdejesuisladyliberty131/
https://www.francaisdeletranger.org/en/2016/11/19/mdfdeusa-new-lady-liberty-museum-congrats-douglas-phelps-frank-salerno-jeffrey-rainforth-for-your-leardship-in-construction-mdfdejesuisladyliberty130-nps100/
https://www.francaisdeletranger.org/blog/mdfdeusa-lady-in-liberty-visite-historique-du-comte-gilbert-de-pusy-la-fayette-a-leiny-mdfdejesuisladyliberty130-nps100/
https://www.francaisdeletranger.org/en/2016/10/02/mdfdeusa-kudos-to-diane-von-furstenburg-barry-diller-for-their-leadership-in-sponsorship-cop21-mdfdejesuisladyliberty130-nps100/