The poet
Alan Seeger
(1888-1916) as French legionnaire in 1916 Photograph: HUD 3567.219.2 no. 296, Harvard University Archives
http://harvardmagazine.com/2016/11/alan-seeger
#GRATI
TUDE
#RESIS
TANCE
#FREE
PRESS
#MDFDE
Friendship
MerciTrain
70
© The Official French-American Project entirely conceived by Ms. Elisabeth JENSSEN to celebrate the 70th Anniversary of the Friendship Train and the Merci Train (2017- 2019).
Chair, Elisabeth Jenssen Co-Chair, Tyler Abell
Honorary President: The Comte Gilbert de Pusy La Fayette
Contact: elisabeth.jenssen@francaisdeletranger.org
1916 —  The Battle of the Somme film
https://www.youtube.com/embed/UhHdZLioRZg
Shot and screened in 1916,
The Battle of the Somme
was the first feature length documentary about war. In the first three months of its release the film was seen by around 20 million people in Britain and Ireland, informing and challenging the public with its images of warfare, and changing the way both cinema and film was perceive.
More:
http://www.1914.org/the-battle-of-the-somme-film/
1917 —  Le 4 juillet 1917 à Paris et le serment sur la tombe du marquis de La Fayette

Video: http://archives.ecpad.fr/le-4-juillet-1917-a-paris-et-le-serment-sur-la-tombe-du-marquis-de-la-fayette/
On 4 July 1917, three months after the United States entered World War I on the side of France and her Allies, U.S. Army Colonel Charles E. Stanton, General Pershing's aide, along with American troops, gathered with French forces at General La Fayette's tomb to celebrate their arrival in France, where he placed an American flag.
America has joined forces with the Allied Powers, and what we have of blood and treasure are yours.  Therefore it is that with loving pride we drape the colors in tribute of respect to this citizen of your great republic.  And here and now, in the presence of the illustrious dead, we pledge our hearts and our honor in carrying this war to a successful issue.
Lafayette, we are here.

— U.S. Army Colonel Charles E. Stanton (November 22, 1858 – May 8, 1933) at the Picpus Cemetery in Paris, July 4, 1917.

 WELCOME
TO
AMERICA!
Pete Seeger, Tao Rodríguez-Seeger & Bruce Springsteen – This Land is Your Land
https://www.youtube.com/watch?v=HE4H0k8TDgw
Peter
"Pete"
 Seeger (May 3, 1919 – January 27, 2014), Alan Seeger's nephew. The song was written by Woodie Guthrie in 1940, first recorded by him in 1944 at Folkway Records, but not released until 1951. This was performed for President Barack Hussein Obama at the "We Are One" Presidential Inaugural Concert, January 19, 2009    
Statut d'Alan Seeger sur le monument aux volontaires américains sur la place des États-Unis dans le XVIème arrondissement.
(Collection privée)
http://amalep.free.fr/le/histoire/grande-guerre/monuments/monument-us01.htm
Dear members MDFDE, my Fellow Americans,
Happy Fourth of July, America! Happy Independence Day brought to us by our brave military forces, veterans and Allies in charge of keeping us free, keeping us safe since… 1776 and going!
Yet, this year surely feels different with so many bullies around to defeat… So, before we get our country back in one piece, before our institutions start running smoothly just like it used to be under the watchful eye of the Statue of Liberty.
As this year marks the 100th Anniversary of when the United States entered World War I (April 1917), let's make this Fourth of July truly inspiring by reflecting on what our country stands for, by Honoring Our Fallen Heroes! Who is yours? Let me tell you a little bit about my own modern American hero. His name is Alan SEEGER.
Alan SEEGER, the New Yorker (1888-1916), who fell in love with France and dreamed of following La Fayette's footsteps while living his chilhood in Staten Island, right in front of the Statue of Liberty.
Alan SEEGER, the early-20th century American poet, a brilliant young Harvard graduate (1910), Classmate of T.S. Eliot, best known for the poem in which he foresaw his own destiny: I Have a Rendezvous with Death, a favorite of President John F. Kennedy, published posthumously.
Alan SEEGER, the soldier, who joined the French Foreign Legion in 1914 during World War I. Who was asked, in 1915, to write an "Ode in Memory of the Americans Volunteers Fallen for France" to be read before the statue of La Fayette and Washington in Paris… but was killed in action during the bloody Battle of the Somme, right on the 4th of July, 1916 at Belloy-en-Santerre, exactly 101 years ago today.
Alan SEEGER, the late 28-year-old peace messanger (an uncle to the late Peter "Pete" Seeger, the famous American folk singer and social activist also from New York), to whom we will pay a very special tribute via our 2019 project #MDFDEFriendshipMerciTrain70 in honor of the French Foreign Legion, the American Legion turning 100, and the 40 & 8 Society in (where else?) New York City. Have a great one Everyone! Enjoy your Friends and Family!
Faithfully yours,
Elisabeth Jenssen
Chair, #MDFDEFriendshipMerciTrain70
American Volunteer Monument
http://www.uswarmemorials.org/html/monument_details.php?file=monument_details.php&SiteID=127&MemID=204&page=1
Monument to American Volunteers Fallen for France Long before the United States entered the European war in April 1917, thousands of Americans had already fought and hundreds had already died in service to France. They were members of the French Foreign Legion, the French Army and air forces, most notably the Lafayette Escadrille. As important were the thousands who traveled to France to serve in humanitarian, medical and ambulance corps. The Monument to American Volunteers Fallen for France in the Place des États-Unis, Paris was conceived by French General Charles Mangin, who had commanded American battalions in league with his own French forces. By 1922, he could still become emotional about Americans who fought for France before their own country joined the fight, and felt that they must never be forgotten. He determined that the monument would be an entirely French creation, and it was funded by 500,000 francs raised from 50,000 French citizens and school children. It was inscribed with names of dead American members of the Legion, the Escadrille and the American Field Service ambulance corps, and topped with a statue in the likeness of the poet soldier Alan Seeger (it would later include the name of one World War II American, see this newsletter January 2017). The monument was dedicated on the seventh anniversary of Alan Seeger's death, July 4, 1923. Though badly vandalized in 2012, then restored by the city of Paris, it would continue to be a location of annual celebrations of the relationship between the US and France nearly 100 years after its creation. http://www.uswarmemorials.org/html/documents/Newsletter%2035.pdf
 ***********************
À la mémoire d'Alan Seeger.
www.monongahelabooks.com/alansee6.html
Alan Seeger sur le Chemin des Dames 
http://14-18.aisne.com/a-la-une/actualites/article/alan-seeger-sur-le-chemin-des
1914-1918
6 – LE RÉGIMENT DE MARCHE DE LA LÉGION ÉTRANGÈRE
6 – C – La Somme : juillet 1916 Belloy-en-Santerre
6 – C – 4 – Alan Seeger
«Estimant infime le payement de sa dette pour que son drapeau puisse, l'honneur intact, flotter sur les tours de la Liberté, de sa poitrine le soldat fit un rempart et de son sang combla le fossé…»
A la lecture de ces lignes nul ne peut rester insensible. Le Caporal Alan Seeger, charmant poète américain tombé à Belloy, en est l'auteur.
Après l'attaque, lorsque, au petit jour, les brancardiers purent s'approcher de lui, Alan Seeger, qui durant toute la nuit avait chanté des refrains populaires français, s'était tu. Il était mort.
Les remous de la guerre détruisirent le cimetière où il reposait avec ses camarades. «Mais si on réussit à détruire un homme, à tuer un soldat ; il est impossible de faire disparaître l'œuvre d'un poète, le souvenir glorieux d'un héros.»

Venu en France et ne retrouvant plus rien de son enfant, le père d'Alan Seeger fit placer dans le clocher reconstruit de Belloy-en-Santerre, une cloche baptisée au nom de la mère du disparu. Ainsi, la mémoire de celui qui, par sa plume, entraîna ses compatriotes au secours de la France, est rappelé chaque soir à l'Angélus, au-dessus du champ de bataille de 1916. http://amalep.free.fr/le/histoire/grande-guerre/rmle/6-c-4-belloy.htm

NOS ILLUSTRES ANCIENS
LE LÉGIONNAIRE ALAN SEEGER
POÈTE AMÉRICAIN
Sous chacune des petites croix érigées repose le légionnaire
Il est sans épouvante au milieu du canon qui tonne
Et, dans sa nuit, il dort en paix, sous l'éternelle fusillade.
Pour que d'autres générations puissent dans les ans à venir,
Libre de l'opprobre et de la menace,
Posséder un plus riche héritage de bonheur,
Il marche à cet héroïque martyr.
Estimant infime le paiement de sa dette,
Pour que son drapeau puisse, l'honneur intact,
Flotter sur les tours de la Liberté, de sa poitrine,
Il fit un rempart et, de son sang, comble le fossé.
L'auteur de ces vers
Alan Seeger, de nationalité américaine, est né le 22 juin 1888 à New York où il passe toute son enfance, entre un frère aîné et une sœur cadette. En 1900, la famille part s'installer au Mexique ; avec son frère il reçoit l'éducation d'un précepteur. Tous trois rédigent une revue qu'ils ont intitulée "Le Prophète". Alan en est le rédacteur sportif mais il s'intéresse aussi à d'autres sujets faisant ainsi preuve de qualités précoces pour la littérature.
A l'âge de quatorze ans, il retourne aux Etats-Unis, dans un collège puis entre à l'université Harvard en 1906. Il y mène une vie studieuse et contemplative sans beaucoup se lier avec les autres étudiants, du moins au début, mais sa participation à la rédaction de "Harvard mensuel" auquel il donne de temps en temps des poèmes, l'amène à se mêler à la vie sociale de ses camarades qui le décrivent ainsi : grand, élancé, le visage pâle mais plein d'énergie, étrangement mobile, comme un masque ; ses cheveux sont coupés courts, carrément au ras du front, le regard lointain… http://amalep.free.fr/le/grands/seeger/seeger01.htm
Alan quitte l'université en 1910, passe deux ans à New York puis va s'installer à Paris, dans une chambre rue Sommerard, près du musée de Cluny. Conquis par la France et sa capitale, il fréquente surtout le Quartier Latin, les artistes et les étudiants. Pour lui Paris est une cité des mille et une nuits. Entre 1912 et 1914, il se consacre surtout à la poésie et rédige des chroniques dans le Mercure de France, Soirées de Paris et autres revues. En 1914, il cherche à faire publier un recueil de poèmes en anglais qui a pour titres "Juvenilia" d'abord à Londres puis à Bruges en Belgique où il est interrompu dans ses démarches par la déclaration de guerre entre la France et l'Allemagne. Il confie son manuscrit à un imprimeur et rentre précipitamment à Paris pour s'engager dans la Légion Etrangère avec une cinquantaine de compatriotes.
Alan expliquera son geste dans "Lettres écrites des tranchées de l'Aisne" qui paraît dans "New Republic" de New-York, le 22 mai 1915 et dans une lettre à sa sœur datée du 26 février 1916, il confie : "Il n'y a dans la nature que deux principes, l'amour et la lutte… De toutes les formules que revendique ma jeunesse, celle dont je suis resté partisan comporte trois catégories : soif de science, soif de sentiment, soif de puissance", et poursuit dans son journal "Je me suis engagé pour que la France et spécialement Paris que j'aime ne cessent pas d'être la beauté qu'ils sont."
Sous le fanion vert et rouge de la Légion
Au cœur de la guerre, Alan est affecté au Régiment de Marche du 2ème Régiment Etranger qui devient Régiment de Marche de la Légion Etrangère lors de sa fusion avec le Régiment de Marche du 1er Régiment Etranger en novembre 1915. Il est de tous les combats de son unité jusqu'à ce qu'il tombe blessé à mort en juillet 1916, vivant toutes les souffrances de la vie au front et dans les tranchées, ne cessant d'exalter les vertus guerrières malgré la mort côtoyée sans répit. Il porte toujours dans sa musette de quoi écrire son journal de route, des lettres à tous ses proches et des poèmes. Nommé caporal, il étonne les autres légionnaires par sa bravoure, son courage, un comportement distingué et généreux à l'égard de tous.http://amalep.free.fr/le/grands/seeger/seeger02.htm
Sa dernière lettre, destinée à l'un de ses amis, est datée du 28 juin 1916 : "Nous montons à l'attaque demain ; ce sera probablement la plus grande affaire encore entreprise. Nous aurons l'honneur de marcher dans la première vague. Pas de sac mais deux musettes, toile de tente roulée sur l'épaule, profusion de cartouches, de grenades et baïonnettes au canon.
Je vous écrirai si je m'en sors ; sinon, mon seul souci terrestre est pour mes poèmes. Ajoutez à mon dernier volume, l'ode que je vous ai envoyée et les trois sonnets et, vous aurez opéra omnia quae existant.
Je suis content de marcher dans la première vague. Quand on est dans de telles affaires, le mieux est d'y être en plein. Et ceci est la suprême expérience."
La bataille de Belloy-en-Santerre. La suite est décrite par ses compagnons d'armes. Son ami légionnaire, Rif Bear, d'origine égyptienne s'exprime en français :
"Dans la nuit du 30 juin au 1er juillet nous quittâmes Bayonvillers pour nous rapprocher de la ligne de feu. Nous allâmes au Proyard, en réserve d'armée. Le 1er juillet à 8 heures l'on nous rassembla pour le rapport et l'on nous annonça que l'offensive générale commençait à 9 heures sans nous, puisque nous étions en réserve, et que l'on nous aviserait du jour et de l'heure où nous entrerions en action. Le rapport terminé, nous fîmes la corvée d'obus ; nous déchargions les obus de "205" des camions automobiles qui les amenaient jusqu'à nous.
Il régnait partout un remue ménage effroyable. Les coloniaux avaient enlevé les premières lignes allemandes, des milliers de prisonniers arrivaient de partout, et les ambulances défilaient continuellement sur les routes. Avides de nouvelles, nous délaissions notre travail pour courir aux renseignements qui étaient de très bon augure.
Vers 4 heures, nous quittâmes Proyard à destination de Fontaine-les-Cappy, en première ligne. Alan était radieux et attendait impatiemment le moment de prendre part à l'action. Partout c'était le délire et la joie d'avoir repoussé l'ennemi sans perte de notre part. L'on croyait ne plus éprouver de résistance et que notre choc serait fatal aux Allemands. http://amalep.free.fr/le/grands/seeger/seeger03.htm

Après avoir passé la nuit à Fontaine-les-Cappy, nous nous dirigeâmes le matin vers les anciennes premières lignes allemandes. Je passais presque toute la journée avec Alan ; il était heureux ; une émotion délicieuse l'étreignait, me disait-il, "mon rêve approche ; c'est peut-être ce soir ou demain que nous attaquerons. Je suis très content mais cela m'ennuie un peu à cause de la permission du 4 juillet. Je n'ai aucun espoir de revoir Paris avant le 6 ou le 7, mais si cette permission ne m'est pas accordée, "Maktoub, Maktoub", ajouta-t-il en souriant.
Le champ, de bataille était relativement calme ; peu d'obus tirés par l'ennemi en déroute, et nos troupes avançaient de tous les côtés ; les coloniaux avaient pris Assevillers et le lendemain nous devions les remplacer en première ligne. Le 3 juillet, vers midi, nous nous dirigeâmes vers Asservillers et nous devions faire la relève avec la tombée de la nuit. Nous allâmes, Seeger et moi, visiter Asservillers. Il avait son calme habituel. Nous ramassâmes des souvenirs, des cartes postales, lettres, des carnets de route, tout en bavardant… quand, tout à coup, l'on appela : la compagnie se rassemblait pour aller en première ligne.
Le soleil était couché, une pénombre croissante enveloppait la terre ; à la faveur des ténèbres naissantes la relève se fit sans incident. On ignorait les positions des Allemands en les supposant à quelques cent mètres de nous tandis que réellement ils avaient reculé jusqu'à Belloy-en-Santerre et n'avaient laissé devant nous que quelques sentinelles et petits postes avancés. Toute la nuit fut employée à se fortifier, creuser des tranchées et faire des patrouilles pour se rendre compte de l'emplacement de l'ennemi. J'étais en petit poste et Alan travaillait.
A l'aube je rencontrais Alan et lui demandais ses impressions. Il était enchanté. " Sans ces sales pelles et pioches, ce serait superbe, me dit-il, mais ces outils tuent le charme de la guerre. Heureusement, ajouta-t-il, que c'est fini, – maintenant c'est la guerre en rase campagne et nous n'aurons plus de tranchées ", – et il me montra ses mains si fines, salies et meurtries par le dur labeur de terrassier. La pluie commença à tomber et nous courûmes chacun de notre côté nous mettre à l'abri sous nos toiles de tente.
Vers 4 heures, le cri : "en tenue ! en tenue pour l'attaque !" passe de bouche en bouche et fait naître un remue-ménage… http://amalep.free.fr/le/grands/seeger/seeger04.htm

En prenant ma place je rencontre Alan, qui va rejoindre la sienne ; nous nous serrons la main et nous souhaitons de tout cœur bonne chance. Notre compagnie est la réserve du bataillon. Deux bataillons doivent attaquer Belloy-en -Santerre. Les compagnies formant la première vague sont déployées dans la plaine ; les baïonnettes brillent au-dessus des blés déjà très hauts.
La première section, celle d'Alan, forme la droite et l'avant-garde de la compagnie et la mienne forme l'aile gauche. Après le premier bond, nous nous couchons à terre et je vois la première section prendre de l'avance sur nous ; elle se dirige vers l'extrême droite du village de Belloy. J'aperçois Alan, je l'appelle et lui, fais un signe amical de la main. Il me répond d'un sourire.
Comme il était pâle ! Sa haute silhouette se détachait sur le fond vert des champs de blé ; il était le plus grand de sa section. La tête haute, le regard fier, je le voyais courir baïonnette au canon ; bientôt il disparut. C'était la dernière fois que je voyais mon ami."
L'assaut est terrible, les pertes sont importantes : les compagnies de la première vague se trouvent prises en enfilade par un feu très dense de l'ennemi, le tir de ses mitrailleuses frappe impitoyablement. Mortellement blessé, le caporal Alan Seeger est l'un des premiers à tomber mais encore vivant, il regarde passer ses camarades qu'il ne peut suivre ; aucun secours n'est possible. Les officiers et sous officiers sont tous mis hors de combat les uns après les autres. Cloués au sol, sans lever la tête, les blessés commencent à s'interpeller pour se compter et échanger des nouvelles ; lorsque, tout d'un coup, un moment de flottement s'établit sur le champ de bataille, un silence lourd et pesant envahit tout quelques instants.
Puis, brusquement vers le village, le clairon d'un légionnaire sonne la charge, les gradés crient à l'assaut … les survivants du 3ème Bataillon s'emparent de Belloy-en Santerre. http://amalep.free.fr/le/grands/seeger/seeger05.htm
"A ce moment-là, écrira plus tard le Capitaine de Tscharner, qui vient d'être grièvement blessé, il se passa quelque chose de sublime parmi les blessés et les mourants : on entendit soudain un cri vibrant : Ils y sont … Belloy est pris !… Vive la Légion ! Vive la France ! C'étaient les légionnaires qui prenaient leur part de victoire."
La défense de Belloy est aussitôt organisée pour repousser les nombreuses contre attaques qui vont rendre la situation très critique à plusieurs reprises. La bataille va durer toute la nuit ; le dernier assaut de plusieurs compagnies allemandes est repoussé à 4 h 45. Avec le lever du jour, les secours se mettent en place pour venir en aide aux blessés et ramasser les morts parmi lesquels l'on retrouve le corps du Caporal Alan Seeger ; ils sont regroupés et inhumés sur place. Plus tard, des survivants évoquant la fin du poète, ont affirmé l'avoir entendu chanter des chansons folkloriques françaises durant la nuit. Victorieux, le R.M.L.E. qui comptait près de 2.000 hommes avant la bataille, a perdu 25 officiers ainsi que 844 sous-officiers et légionnaires, faisant 750 prisonniers dont 15 officiers.
Dès la fin de la Grande Guerre, le père d'Alan Seeger rechercha la sépulture de son fils. Il ne retrouva rien. Poursuivant ses ravages, la guerre avait tout effacé. Aussi, lors de la reconstruction du clocher de l'église de Belloy, il offrit une cloche frappée du nom de la mère du poète disparu. Peut-être pour qu'elle sonne en écho aux appels d'une mère recherchant son enfant ?
En 1923, la France a fait ériger un monument à la mémoire des "Volontaires Américains morts pour la France" durant la grande Guerre. Il est situé à Paris, place des Etats-Unis, en bordure de l'avenue d'Iéna, non loin de "l'Arche immense où repose l'Inconnu". La statue de bronze qui le surplombe est l'œuvre du sculpteur Jean Boucher qui a travaillé d'après une photographie d'Alan Seeger qui figure ainsi en bonne place au cœur de Paris qu'il aimait tant.
Son nom se trouve à l'arrière du monument sur lequel sont gravés ceux des 23 autres américains tombés dans les rangs de la Légion Étrangère. http://amalep.free.fr/le/grands/seeger/seeger06.htm
Sur le socle, de chaque côté, l'on a aussi sculpté deux citations du poète, en anglais, traduites par Alain Rivoire, extraites de "Ode à la mémoire des volontaires américains tombés pour la France", écrite peu avant sa mort pour être lue devant les statues de La Fayette et de Washigton à Paris au Decoration Day", le 30 mai 1816 :"…Ils ne poursuivaient pas de récompenses vaines, ils ne désiraient rien que d'être sans remord, frères des soldats bleus, à l'honneur à la peine et de vivre leur vie et de mourir leur mort…""… Salut frères, adieu grands morts, deux fois merci. Double à jamais est votre gloire d'être morts pour la France et d'être morts aussi pour l'honneur de notre mémoire…" Benoît Guiffray et Jean-Michel Lasaygues"Jeune légionnaire, enthousiaste et énergique, aimant passionnément la France. Engagé volontaire au début des hostilités, a fait preuve au cours de la campagne d'un entrain et d'un courage admirables.—Glorieusement tombé le 4 juillet 1916." (Citation à l'ordre du jour de la Division du Maroc, 25 décembre 1916.)
http://amalep.free.fr/le/grands/seeger/illustration2.htm
Lire des poèmes d'Alan SEEGER
I have a rendez-vous with death
Ode in memory of the volunteers fallen for France
http://amalep.free.fr/le/grands/seeger/seeger07.htm
http://www.picardie1418.com/fr/decouvrir/cimetiere-militaire-francais-de-lihons.php
*************************
"I Have a Rendezvous with Death"
Dallas, Texas, November 22, 1963 
Ironically JFK loved this poem and would often ask his wife Jacqueline to recite it for him.
https://fr.pinterest.com/pin/358458451565279754/
https://www.jfklibrary.org/Research/Research-Aids/Ready-Reference/JFK-Fast-Facts/I-Have-a-Rendezvous-with-Death.aspx
Alan Seeger
Brief life of a premonitory poet: 1888-1916
by Dick Friedman  November-December 2016
A hundred years ago, at the height of World War I, the Battle of the Somme raged in northern France. More than 600,000 British and French troops became casualties trying to break the German lines, yet an American became arguably as celebrated as any of them, even though his nation had not yet entered the war. A few weeks before he was killed, Alan Seeger, A.B. 1910—a tall, mop-haired French Foreign Legionnaire—composed an eerie, premonitory three-stanza poem. Either despite or because of its brevity, "I Have a Rendezvous with Death" was an instant classic—the most famous American poem of a verse-filled war. It became not only a staple of high-school English-class recitations but also the favorite poem of President John F. Kennedy '40.
Seeger's death wish was not lifelong. His early days were spent happily on Staten Island. When he was 10, the family began two years in Mexico, where his father had business interests; that country, with its exotic flora, figured in many of his later poems.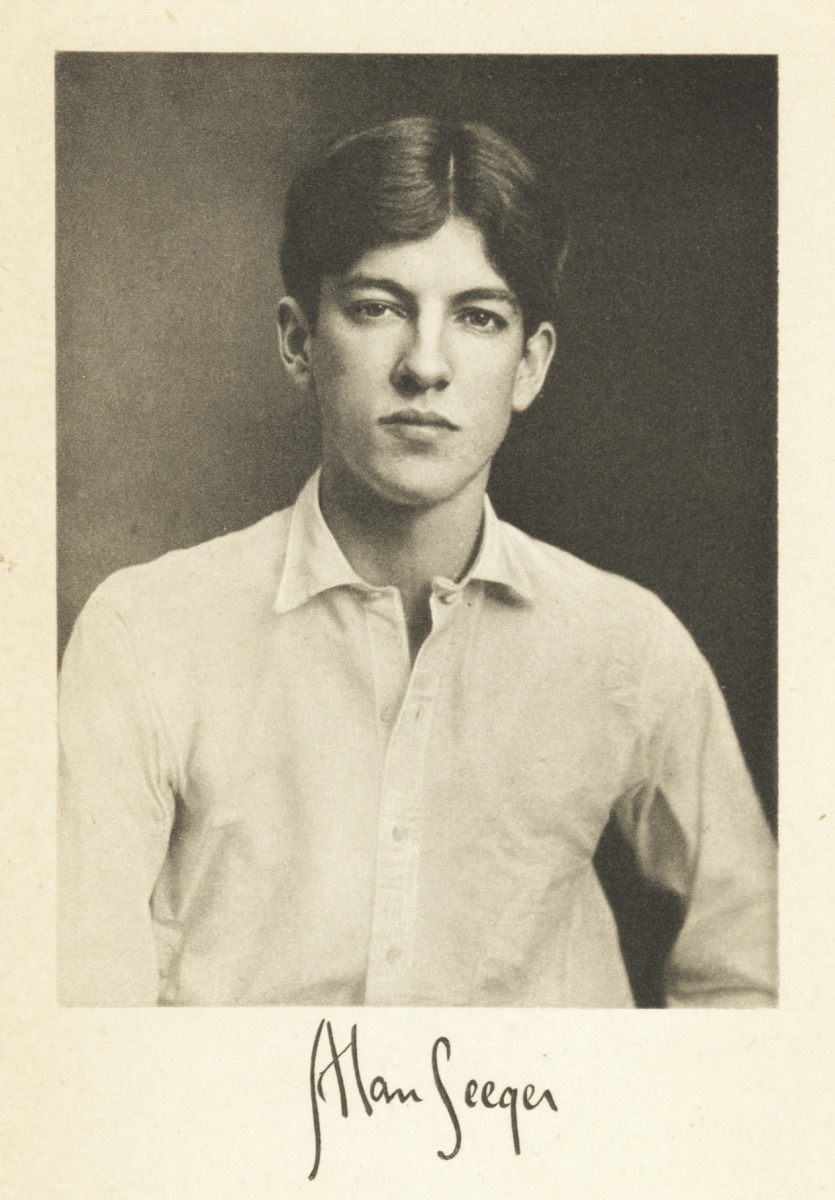 The poet as a senior at Harvard
At Harvard, he took a while to find his footing. Recalling those days a decade later, in a letter from the front to an old friend, he wrote: "My life during those years was intellectual to the exclusion of almost everything else. I shut myself off completely from the life of the University. I felt no need of comradeship." He was more social as an upperclassman, earnestly composing poetry (heavy on truth and beauty) and finding a congenial group of fellow aesthetes (including classmates Walter Lippmann and John Reed) as an editor of the literary magazine The Harvard Monthly.
These years may have launched him, at least literarily, on his rendezvous with death. In Memoirs of the Harvard Dead in the War Against Germany (1920), the entry for Seeger notes: "In The Advance of English Poetry in the Twentieth Century, by Professor Phelps of Yale, there is quoted a letter from Professor Robinson of Harvard telling of the strong impression made upon Seeger by the Irish 'Song of Fothad Canainne,'…a song which sings: 'It is a blindness for one who makes a tryst to set aside the tryst with death.' "
After graduation, Seeger aimed to become a full-time man of letters—first in New York City, then in Paris. The market for aspiring poets was no better then than now, but in the City of Lights, Seeger "was happier than he had ever been before," recalled another Monthly colleague, poet John Hall Wheelock, A.B. 1908. But "he was still uncertain of himself and his aims, still waiting for that destiny which he felt every day more clearly and steadfastly was somehow in preparation for him."
The guns of August 1914 announced his path: 23 days after the outbreak of war, Seeger enlisted in the Foreign Legion. Like many who rushed to the colors, he envisioned a brief, glorious conflict he would survive. On October 17, from training camp at Aube, he wrote his mother: "Do not worry, for the chances are small of not returning and I think you can count on seeing me…next summer."
Soldiering proved no less Seeger's metier than sonnetry. In the next two years he was shuttled from trench to trench, in harm's way from German artillery and bullets, one of which "just grazed my arm, tore the sleeve of my capote and raised a lump on the biceps which is still sore, but the skin was not broken and the wound was not serious enough to make me leave the ranks." In October 1915 he was mistakenly reported killed in the Battle of Champagne.
All along, he was writing—poems, sonnets, a diary, and picturesque letters as well dispatches to U.S. newspapers. In spring 1916, he composed the eloquent "Ode in Memory of the American Volunteers Fallen for France"; he was bitterly disappointed when he didn't receive leave to read it in Paris on Decoration Day.
On July 4, three days after the start of the Somme offensive, Seeger's battalion was ordered to capture the village of Belloy-en-Santerre. The first wave went forward, Seeger's reserve company following. A friend and fellow legionnaire, an Egyptian named Rif Baer, chronicled his final moments. "His tall silhouette stood out on the green of the cornfield," Baer wrote. "…His head erect, and pride in his eye, I saw him running forward, with bayonet fixed. Soon he disappeared and that was the last time I saw my friend." Twelve days before, Seeger had turned 28.
As is often true for artists, death was (to be blunt) a good career move for Seeger, especially after the United States entered the war. Scribner's published a collection of his poems, and his diary. The New York Times Sunday Magazine ran an admiring profile. Sportswriting icon Grantland Rice lionized him in verse in Songs of the Stalwart.
Later critics, including a fellow soldier, Paul Fussell, Ph.D. '52, have been more jaundiced. In his groundbreaking The Great War and Modern Memory, Fussell dismisses "Rendezvous," all but labeling it second-rate, especially beside contemporary British war poetry: "It is unresonant and inadequate for irony compared with works like…[Wilfred] Owen's 'Exposure,' which begins with a travesty-echo of the first line of Keats's 'Ode to a Nightingale.' " Unfortunately, Fussell does not mention Seeger's "Ode in Memory," a work of honest sentiment, historical sweep, and considerable elegance.
Seeger had asked that weeping be tempered at his death. A year before, he wrote: "The tears for those who take part in [battle and] …do not return should be sweetened by the sense that their death was the death which beyond all others they would have chosen for themselves, that they went to it smiling and without regret."
Link: http://harvardmagazine.com/2016/11/alan-seeger
Related posts: http://www.francaisdeletranger.org/en/2017/04/21/mdfdeusa-washington-la-fayettes-spirits-live-on-in-philly-yorktown-mdfdejesuisladyliberty131/
http://www.francaisdeletranger.org/en/2017/04/02/mdfdeusa-wwi-la-fayette-nous-voila-the-united-states-declare-war-on-germany-mdfdejesuisladyliberty131/
http://www.francaisdeletranger.org/en/2016/12/11/mdfdeusa-troubled-times-lets-hear-it-for-la-fayette-hamilton-for-some-inspiration-mdfdejesuisladyliberty130-hamilton/
http://www.francaisdeletranger.org/blog/mdfdeusa-lady-in-liberty-visite-historique-du-comte-gilbert-de-pusy-la-fayette-a-leiny-mdfdejesuisladyliberty130-nps100/
http://www.francaisdeletranger.org/blog/mdfdefrance-le-comte-gilbert-de-pusy-la-fayette-nomme-president-dhonneur-du-mdfdeparis-nyc16-cop21-mdfdejesuisladyliberty130-nps100/
http://www.francaisdeletranger.org/blog/mdfdefrance-happy-4th-of-july-america-et-vive-feu-la-fayette-4julyfrance-mdfdejesuisladyliberty130-nps100/
http://www.francaisdeletranger.org/blog/mdfdefrance-kudos-to-pascal-morand-for-his-leadership-in-haute-couture-cop21-mdfdefriendshipmercitrain70/
http://www.francaisdeletranger.org/en/2017/06/13/mdfdeusa-mr-tyler-abell-named-co-chair-of-executive-committee-mdfdefriendshipmercitrain70/
http://www.francaisdeletranger.org/en/2017/06/06/mdfdeusa-congrats-mayor-bill-peduto-for-your-leadership-in-green-citizenship-mdfdejesuisladyliberty131-cop21-mdfdefriendshipmercitrain70/
http://www.francaisdeletranger.org/en/2017/06/02/mdfdeusa-dear-world-may-we-all-be-bartholdi-mdfdejesuisladyliberty131/
http://www.francaisdeletranger.org/en/2017/05/04/mdfdeusa-wwi-live-from-austin-texas-all-aboard-the-merci-train-mdfdefriendshipmercitrain70-2/
http://www.francaisdeletranger.org/blog/mdfdefrance-paques-2017-que-les-cloches-paccard-ne-cessent-jamais-de-sonner-mdfdefriendshipmercitrain70-2/
http://www.francaisdeletranger.org/en/2017/04/05/mdfdeusa-wwi-the-mcny-commemorates-the-centennial-of-the-us-entrance-into-wwi-mdfdejesuisladyliberty131/
http://www.francaisdeletranger.org/en/2017/03/22/mdfdeusa-wwi-centennial-happy-97th-anniversary-40-8-mdfdefriendshipmercitrain70/
http://www.francaisdeletranger.org/en/2016/12/20/mdfdeusa-all-aboard-the-american-friendship-train-1947-2017-kudos-to-the-late-drew-pearson-mdfdejesuisladyliberty130-131-mdfdefriendshiptrainmercitrain70/