New York, N.Y. November 18, 1947:
Mr. Drew Pearson, American Journalist and Father of the Friendship Train speaking to a crowd gathered at City Hall Plaza in New York City… E.J.
https://media1.britannica.com/eb-media/42/134242-004-323AB4B5.jpg
Latest:
The Friendship Train: The Amazing Story of Drew Pearson's Own « Little Engine » That Could… E.J.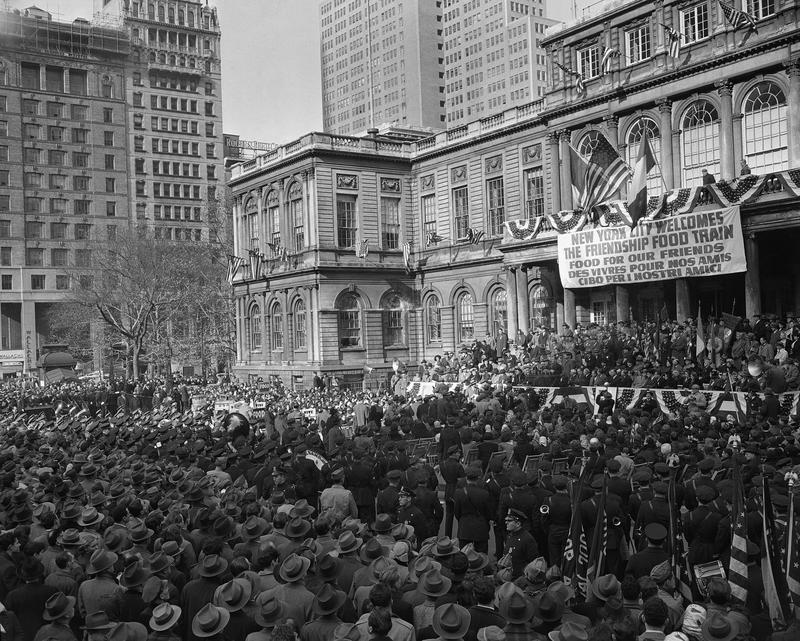 Nov 18, 1947
Summary Transcript This episode is from the WNYC archives. It may contain language which is no longer politically or socially appropriate.
Mayor O'Dwyer addresses a crowd of children about the importance of the Friendship Food Train, which is ending its journey across the US in New York City. No people in the world have show this level of a desire to alleviate the pains of the people of the world. The food in the train is a material symbol of our desire to ease the pain of the people of Italy and France.
Appreciation of the unselfish behavior of participating children. Introduces U.N. Ambassador Warren Austin (whom he's sure the children want to meet). The friendship food train is an example of "peace mongering."
Drew Pearson updates those in attendance on the success of the trip. There are far more cars than they'd expected. This has been by-and-far the American people; it's been magnificent to see the teamwork. Examples of some donations.
An unidentified speaker (Whalen?) tells the audience he thinks NYC will be the best donors of the whole drive. The crowd cheers. He reads a letter from the foreign minister of France. The counsel general of France, Ludovic Chancel, accepts the donation and thanks the Mayor.
The Mass Band (Police, Fire, and Sanitation) plays French National Anthem.
Signora Alberto Tarchiano, wife of the Italian Ambassador, speaks for her husband and describes riding on the friendship train. She repeats (?) a part of her speech in Italian. Italian Consul General Luigi Nardi thanks Drew Pearson for his work. Compares the friendship train to ancient Greeks passing on a torch of solidarity. Discusses the condition of life in Italy after the war and a bad farming season.
The Mass Band plays the Italian National Anthem.
Whalen (?) thanks everyone for coming. Cowan closes the program.
For more on the Friendship Train please see: http://www.wnyc.org/blogs/neh-preservation-project/2013/feb/11/what-american-music/
Audio courtesy of the NYC Municipal Archives WNYC Collection
WNYC archives id: 71650 Municipal archives id: LT2424
http://www.wnyc.org/story/friendship-train/
http://www.wnyc.org/blogs/neh-preservation-project/2013/feb/11/what-american-music/
OTD: November 18, 1947 – November 18, 2017
70 years ago today in New York, New York, Drew PEARSON and his Friendship Train, a "one-of a kind" people-to-people humanitarian program – 11 States in 11 days across the United States – to collect food for starving France and Italy after WWII, including individual contributions gathered at 5 final stops in the Empire State (Buffalo, Syracuse, Utica, Rome and Albany, its capital), ended its triumphal journey in New York City before embarking for Le Havre, France.
Today was Drew PEARSON's proudest day of his life and for good reason!
As word of his noble mission had spread across the nation these past eleven days, his project was so well-organized by his Team in cooperation with Friendship Train local committees, so well received by the population that it had grown to… seven hundred boxcars filled with forty million dollars' worth of supplies (as valued at that time), far exceeding Drew PEARSON's original goal of… eighty cars.
And so, right after the ceremonies and speeches at City Hall Plaza attracting more than 25,000 citizens, in pure New York tradition (please listen to the recording linked above) – a tradition the Big Apple started with the Dedication of the Statue of Liberty on October 28, 1886 honored with its very first ticker-tape parade – one million of New Yorkers, thousands of school children and their teachers happily released by the school district so they would not miss this historic event, welcomed Drew PEARSON with a huge reception, complete with another unforgettable Parade up Broadway…
Well done, Drew PEARSON, well done! (to be continued on Thanksgiving Day, Thursday, November 23, 2017…)
Elisabeth Jenssen
#GRATI
TUDE
#RESIS
TANCE
#MDFDE
Friendship
MerciTrain
70
© The Official French-American Project entirely conceived by Ms. Elisabeth JENSSEN to celebrate the 70th Anniversary of the Friendship Train and the Merci Train (2017- 2019). All rights reserved.
Chair, Elisabeth Jenssen Co-Chair, Tyler Abell
Honorary President: The Comte Gilbert de Pusy La Fayette
Contact: elisabeth.jenssen@francaisdeletranger.org
MDFDE Drew Pearson Posts: https://www.francaisdeletranger.org/en/2017/11/15/mdfdeusa-wwii-here-is-to-you-drew-pearson-iii-mdfdefriendshipmercitrain70/
https://www.francaisdeletranger.org/en/2017/11/07/mdfdeusa-wwii-here-is-to-you-drew-pearson-ii-mdfdefriendshipmercitrain70/
https://www.francaisdeletranger.org/en/2017/10/11/mdfdeusa-wwii-here-is-to-you-drew-pearson-mdfdefriendshipmercitrain70/
https://www.francaisdeletranger.org/en/2016/12/20/mdfdeusa-all-aboard-the-american-friendship-train-1947-2017-kudos-to-the-late-drew-pearson-mdfdejesuisladyliberty130-131-mdfdefriendshiptrainmercitrain70/
Related MDFDE posts: https://www.francaisdeletranger.org/en/2017/10/14/mdfdeusa-wwi-wwii-here-is-to-you-gabrielle-griswold-mdfdefriendshipmercitrain70/

https://www.francaisdeletranger.org/en/2017/09/18/mdfdefrance-wwii-heres-to-you-guy-de-la-vasselais-gabriel-hocquart-mdfdefriendshipmercitrain70/
https://www.francaisdeletranger.org/en/2017/08/21/mdfdeusa-merci-kentucky-kudos-to-bess-tyler-abell-for-their-leadership-in-citizenship-mdfdefriendshipmercitrain70/
https://www.francaisdeletranger.org/en/2017/06/13/mdfdeusa-mr-tyler-abell-named-co-chair-of-executive-committee-mdfdefriendshipmercitrain70/
https://www.francaisdeletranger.org/en/2017/08/01/mdfdeusa-merci-arkansas-kudos-to-gov-asa-hutchinson-first-lady-susan-hutchinson-for-preserving-our-merci-train-heritage-mdfdefriendshipmercitrain70/
https://www.francaisdeletranger.org/en/2017/05/04/mdfdeusa-wwi-live-from-austin-texas-all-aboard-the-merci-train-mdfdefriendshipmercitrain70-2/
https://www.francaisdeletranger.org/en/2017/03/22/mdfdeusa-wwi-centennial-happy-97th-anniversary-40-8-mdfdefriendshipmercitrain70/