Nov. 1947:
A group of Arkansas officials standing in front of one of the
"Friendship Train"
cars to be sent to France in the late 1940s. Courtesy of the Arkansas State Archives.
http://www.encyclopediaofarkansas.net/encyclopedia/entry-detail.aspx?entryID=2681

#GRATI
TUDE
#RESIS
TANCE
#MDFDE
Friendship
MerciTrain
70
© The Official French-American Project entirely conceived by Ms. Elisabeth JENSSEN to  celebrate the 70th Anniversary of the Friendship Train and the Merci Train (2017- 2019). All rights reserved.
Chair, Elisabeth Jenssen
Honorary President: The Comte Gilbert de Pusy La Fayette
Contact: elisabeth.jenssen@francaisdeletranger.org
From Paris, France to Little Rock, Arkansas U.S.A…. All Aboard!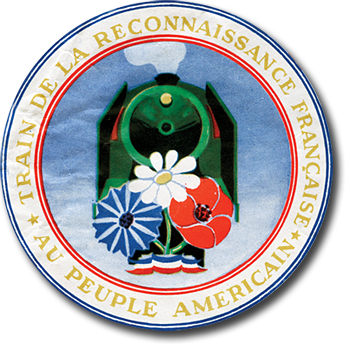 Happy Summer 2017 Everyone!
70 years after the facts: As we, the MDFDE, continue commemorating the United States World War One Centennial, the 100th anniversary of the United States' entry into World War I alongside France and its Allies this year – and till 2019 – via our ambitious French-American project #MDFDEFriendshipMerciTrain70…
A decision that would mobilize American society with nearly five million Americans entering service (of which four million served in the Army) while women became a major presence in the workforce and joined the armed forces.
A move that would cost the lives of nearly 117,000 American Doughboys, most of them carried to the French front on board the "cramped" 40 & 8 boxcars, these small 20′ x 8′ rail cars that would hold either 40 men or 8 horses, built in France between… 1872 et 1885… One of the said rail cars being for sure this Arkansas Merci Train boxcar still standing proudly in Helena, AR today!
Restored Arkansas Merci Train boxcar in new shelter built for the car in 2012. Location:
American Legion Post #41 Porter Street Helena, AR U.S.A.
http://mapio.net/geo/34.527422/-90.588423/en/
Merci Train gets a face lift
http://www.helena-arkansas.com/article/20120806/News/120809821
And so, as part of my own on-going, challenging but so exciting research on the "very inspiring" story of the Historic Friendship & Merci Trains we all need to learn from, and celebrate, in these dark times…
Thrilled to report to the Honorable Asa HUTCHINSON, Governor of Arkansas, and First Lady Susan HUTCHINSON, the exquisite Valdo-Barbey Merci Train painting (seen below) can now be clearly identified and hopefully, thanks to Arkansas, this multi-talented French artist will be better known in America.
Living Room
:
This untitled painting by Louis Valdo-Barbey
housed at the Governor's Mansion in Little Rock, Arkansas was part of the "Merci Train" collection of gifts to America from the people of France after World War II.
http://www.arkansasgovernorsmansion.com/virtualtour/living-room-merci-train.html
Humbled to thank, 70 years later, the generous People of Arkansas who, back in 1947, so kindly, so enthusiastically contributed to Drew PEARSON's Friendship Train campaign (had no connection with the Marshall Plan, the former was sponsored by the People, not the government) which raised over 40 million dollars worth of food, clothing, fuel and medicine for war-torn France and Italy.
Every package had this label: "All races and creeds make up the vast melting pot of America, and in a democratic and Christian spirit of good will toward men, we, the American people, have worked together to bring this food to your doorsteps, hoping that it will tide you over until your own fields are again rich and abundant with crops." Also on every label were these words, "This gift is sent to you by a tag which had these lines: 'first and last name and address of donor'. This message was written in Italian and French and printed beside the American flag.
Indeed, as one can discover in the "Merci Train" articles below that, besides the boxcar, one of the other precious French Gifts received by Arkansas in Feb. 1949, was this "untitled" painting (shown above) with no attached info. – well, that is until now – by French artist Louis Valdo-Barbey.
So who was Louis VALDO-BARBEY? Here is my first (short) presentation of this amazing artist, elegant designer and decorator, who, like the poet Alan SEEGER who died for France on the Fourth of July 1916, also fought for France in WWI but had luckily survived, two years earlier…
Louis VALDO-BARBEY, the son of William Barbey, a famous Swiss botanist and politician and Caroline Boissier, daughter of Pierre Edmond Boissier, another prominent Swiss botanist, was born in Valeyres-sous-Rances, near Yverdon-les-Bains, in the francophone canton of Vaud, Switzerland, on November 1, 1880.
VALDO-BARBEY began studying painting with the Vaudois Eugène BURNAND (1850-1921), a prolific and well respected painter and illustrator whose best known work, The Disciples Peter and John Running to the Sepulchre on the Morning of the Resurrection (1898), hangs in the Musée d'Orsay in Paris (formerly the Gare d'Orsay, home of the Merci Train in Dec. 1948/ early January 1949 where all the gifts for America, including Valdo-Barbey's painting, were collected), who sent him pursue his training, the classical art training being to copy the work of the Old Masters, those who painted before the 18th century, in Florence, Italy.
He then studied with Jean-Paul LAURENS (1838-1921), one of the most notorious French painter and sculptor in Paris under the French Third Republic, who taught at the famous Académie Julian. He settled there definitively to be admitted to the École des Beaux-Arts in 1902. There, he became close friend to other very famous French artists like André Dunoyer de SEGONZAC (1884-1974), Jean-Louis BOUSSINGAULT (1883-1943), André VILLEBOEUF (1893-1956) and Charles PÉQUIN (1879-1963). He also travelled to Spain, England, Romania, Finland, the Antilles, and Egypt.
Valdo-Barbey became a French citizen by naturalization in 1909. His artistic career was blooming before WWI, having exhibited at the Salon des Indépendants from 1906, at the Salon d'Automne from 1909, and at the Salon de la Société Nationale des Beaux-Arts from 1910-1914.
Valdo-Barbey was 34 years old when the war broke out. Enlisted in the 109th Régiment d'Infanterie de ligne in September 1914, in his capacity as an artist, he was first assigned to draw the different enemy uniforms. Not exactly how he intended to serve – so far back from the battlefield – his adopted country. He wanted to fight. At the end of October, his wish was finally fulfilled. Valdo-Barbey was sent to the Artois front, in the Pas-de-Calais.
Sixty days later… On December 22, 1914, Valdo-Barbey was struck by two bullets and very seriously wounded in the head and shoulder in the woods of Noulette, Pas-de-Calais, which earned him the military medal and the war cross.
Valdo-Barbey, Louis
"Soixante jours de guerre en 1914" was re-published in 2004 under the title Soixante jours de guerre en 1914  / Valdo Barbey ; préf. de Michel Mohrt,… Publication : Paris : B. Giovannangeli, 2004 Impression : 58-Clamecy : Impr. Laballery Description matérielle : 156 p. : ill., couv. ill. ; 23 cm ISBN 2-909034-47-X (br.)  
Very seriously ill, Valdo-Barbey spent the next 16 months in the hospital. He was definitively invalided out of the army in 1916.
In 1917, with no literary intention behind, as he explains in his preface, Valdo Barbey published under the very Stendhalian pseudonym Fabrice Dongot: "Soixante Jours de Guerre: Journal d'un fantassin," his own vivid eyewitness account of the Great War, his war, his daily horrific life from the trenches…
"The author of this paper is a painter incapable of any literature. He … dares to deliver to a public already saturated with books of war this little notebook where not a word, not a letter have been modified and that was picked up on the battlefield at the same time as its owner. "
Louis Valdo-Barbey
The legendary "ex-poilu" and historian Jean NORTON CRU (1879-1949), a maverick who recensed the testimonies of the Great War in his life's work "Témoins" (Witnesses), critically examining some 300 eyewitness accounts published between 1915 and 1928, enthusiastically admired Valdo-Barbey's authentic story:" A pure jewel … After reading this Journal , I still wonder whether any painting has ever rendered the soldier's life from day to day. "
After the war, Valdo-Barbey resumed his artistic career. He became interested in operatic scenography and made sets and costumes for the Paris Opéra and the Comédie-Française. He exhibited again at the Salon d'Automne and the Salon des Tuileries from 1923. He was also featured at the Exposition Internationale in 1937.
Rue des Saint-Pères
http://famille.dardel.info/artistes/ValdoBarbey/index.html
When he was not traveling – from Brest, Le Havre, Anvers, Flanders, Venice, London, Marseille, Sicily to New York – many ports he enjoyed drawing, Valdo-Barbey mostly lived in Paris on the rue des Saint-Pères: As shown in his paintings below, his Studio offered a magnificent view over the Seine River and the Louvre.

Vue de l'atelier du peintre
http://famille.dardel.info/artistes/ValdoBarbey/index.html
Vue de l'atelier du peintre
http://famille.dardel.info/artistes/ValdoBarbey/index.html
L'atelier du peintre 
http://famille.dardel.info/artistes/ValdoBarbey/index.html
Vue sur le Louvre prise de l'atelier.
http://famille.dardel.info/artistes/ValdoBarbey/index.html
Appointed official painter of the French Navy in 1947, the artist died in Paris, France on December 5, 1964. Louis VALDO-BARBEY was an Officer of the Legion of Honor.
Which now brings us back to Arkansas and that "untitled" French painting. As we can clearly see on the above pictures… And thanks to Mr. François de Dardel, Louis Valdo-Barbey's great nephew (the artist was the brother of his maternal grandfather) who had known him as a child, (please check his wonderful website http://famille.dardel.info/artistes/ValdoBarbey/index.html) and recently confirmed it to me, the Arkansas painting does indeed represent "L'Arc de triomphe du Carrousel devant le Louvre" (the Arc de Triomphe du Carrousel in front of the Louvre) the artist must have also painted right from the window of his Rue des Saints-Pères Studio.
Puzzle solved! Again, I wish to thank again Gov. Asa Huntchinson, First Lady Susan Hutchinson and last, but not least, their dedicated Staff for their kind assistance and preserving in such a way our Merci Train Heritage. Until we all get a chance to visit Little Rock and Helena, Arkansas… Please enjoy the Gov. Mansion's Virtual Tour!
Kind regards,
Elisabeth Jenssen
Chair, #MDFDEFriendshipMerciTrain70
Merci Train
aka: Gratitude Train
aka: Train de Reconnaissance
On Feb. 2, 1949, 49 boxcars filled with gifts from France arrived in America. The "Merci Train" was a thank-you to the American people from the French in response to food shipped to Europe during World War II. The "American Friendship Train" consisted of 700 boxcars of relief supplies to France.
Each state was given a boxcar containing hundreds of gifts donated by French citizens. Gifts included art, food, wine, letters and more. Arkansas received its boxcar on Feb. 13, 1949. Gifts were distributed throughout the state to schools, museums and other institutions.
Today, the boxcar sits in Helena.
http://www.encyclopediaofarkansas.net/encyclopedia/entry-detail.aspx?entryID=2681
Festooned boxcar from the Merci Train, on display outside the American Legion post in Helena-West Helena (Phillips County); 1997. Photo by Buck Brantly.
Arkansas Gazette editor J. N. Heiskell, a member of the Merci Train Committee, views the Arkansas car.
Courtesy of the Arkansas State Archives.
Note: Mr. Robert P.Hall was Secretary-Treasurer of the State of Arkansas Chamber of Commerce, Little Rock. E.J.
Tours
---
It is our pleasure to share the Mansion's beautiful buildings and grounds with both Arkansans and visitors to our State. Tours are offered free of charge. Because the Arkansas Governor's Mansion is the full-time home of the Governor and his family, tours of the Mansion are scheduled by appointment only and are available only on days when other events are not scheduled. Outside volunteers are scheduled to lead tours, therefore it is imperative that tour groups keep their scheduled tour time or give at least three days' notice of cancellation. Please call 501-324-9805 to check on tour availability.
---
Online Tour
Show Mansion Tour | Show Garden Tour
The Formal Living Room of the Mansion is the center of welcoming activities. The Governor and First Lady often host receptions and meetings with visiting dignitaries in this elegantly furnished room. The Mansion's oldest piece of furniture is located here. The "grandfather" or "cabinet" clock was made in Waterford, Ireland, in 1770 and was a gift given to honor Governor Francis Cherry (our 35th Governor) by his wife, Margaret Frierson Cherry. The clock is older than the United States and still runs and chimes every hour on the hour.
Winthrop Rockefeller, Arkansas's 37th Governor, donated the beautiful antique Persian rug in this room. It is considered a treasure of the State.
The peg-and-groove wood flooring in this room, the library, and the dining room was also installed during the Rockefeller administration and was donated by Potlach Corporation (a wood-products company in Arkansas) and contains no metal nails, only wooden pegs.
Other features of the room include a baby grand piano made by Baldwin Piano Company (another Arkansas company) and a painting by a French artist depicting a scene in Paris. The painting was part of the "Merci Train" collection of gifts from the people of France that came to this country after World War II.
Related MDFDE posts: https://www.francaisdeletranger.org/en/2017/07/16/mdfdeusa-wwi-heres-to-you-alan-seeger-the-french-foreign-legion-bastilleday-mdfdefriendshipmercitrain70/